Learn everything you need to know about how to record, press, and distribute vinyl records worldwide!
About this Event
"THE GO-TO EVENT FOR THE VINYL RECORD INDUSTRY "
Making Vinyl is a B2B two-half day virtual event that covers all aspects of the vinyl record industry, including audio content creation, mastering, manufacturing, packaging, and distribution, from the perspective of North America's leading executives.
A Virtual Event With A Physical Feel
Meet the right people: with 2 days of unlimited one-on-one meetings
Use the (video) chat-functionality to connect with peers & prospects
Meet new people with our unique networking carousel
Customize your profile for targeted networking
Connect with participants before, during, and after the event via our free conference app for participants
Get full access to world-class content, best practices, and market intelligence
Interactive workshops: join the conversation with industry experts
Virtual exhibition: Meet your next suppliers and discover the latest in vinyl record technology from some of the most influential companies in the world!
Our first virtual conference promises to demonstrate how the vinyl format remained resilient – and even grew – during this most turbulent of years.
Preliminary topics to be covered in our solo and panel discussions include:
Smoothing demand and making turnaround predictable
The logistics involved in producing and selling vinyl exclusives
Applying lean efficiency principles to record pressing operations
Is the lacquer shortage real and are new suppliers on the horizon?
How Record Store Day retailers fared with the 3 "drops" and Black Friday
The need to establish Quality Control standards that the industry will adopt
Pinpointing where problems start in the process from mastering to pressing
Helping your customer succeed even with their unreasonable expectations
Creative decisions that makes the project cool but also can be profitable
Mastering/cutting engineers on the tricks of the trade and facing challenges
An artist's analysis of touring with vinyl vs. CDs
Attention-grabbing LP packaging
Live plating session from a leading supplier
Demonstration and factory tour from PVC alternative
Update on availability of the new 10-inch crowd-funded cutting machine
Who Should Attend
Musicians, Recording Artist, Management, Record Labels, Music Publishers, Vinyl Record Pressing Plants, Recording Engineers, Service Providers, Vinyl Mastering & Cutting, Equipment Manufacturers, Packaging Suppliers, Record Labels, Release Planners, Illustrators, CD/DVD Replicators & Duplicators, Consumables Suppliers, Copyrights Holders, Transportation & Freight Companies, Music Brokers, Turntable Manufacturers, Music Retailers , Printing Companies, Merchandisers, Vinyl Enthusiasts, Song Writers, Publishers, Technology & Licensing Companies, Online Retailers, & Physical Retailers
Learn more at http://www.makingvinyl.com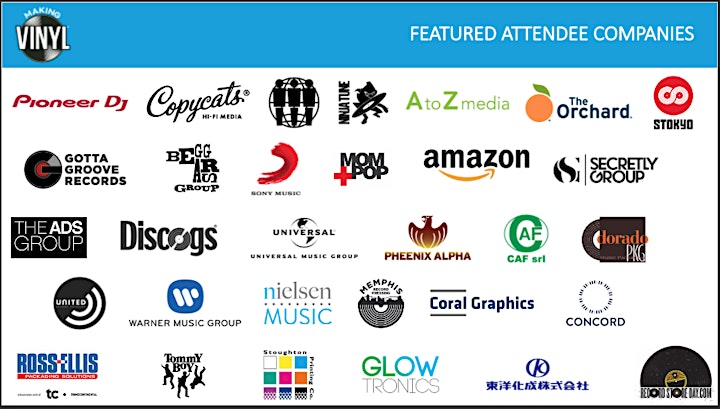 Making Vinyl Hollywood Recap Video
Date and Time
Location
Refund Policy