Description
CFOLC's SIG Discussion
Making The Jump From Large Company CFO To Startup
hosted by The CFO Leadership Council
Wed January 9, 2019
12:00PM - 1:00PM ET
Note: Dial In info will be sent in your registration confirmation
SIG (Special Interest Group) discussions are led by a current CFOLC member and are collaborative in nature. Open to CFOLC Premium & Virtual members only. They are limited to 15 members.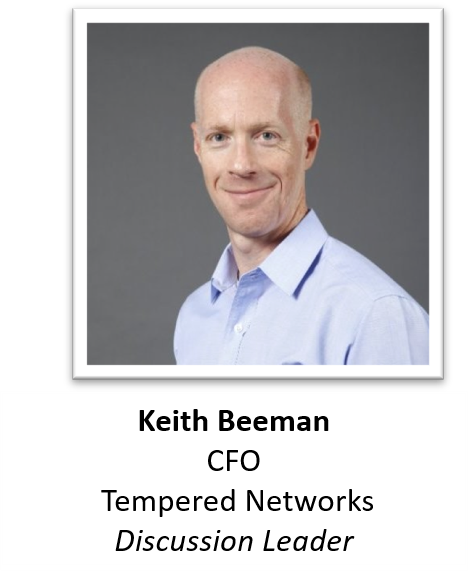 Discussion
This SIG discussion leader is Keith Beeman, CFO, Tempered Networks.. Have you thought about taking (or recently taken) the leap from a large company to a start up environment? Join in on this collaborative discussion where Keith will pose thought-provoking questions to attendees and share his experiences making his brave and successful leap from Microsoft to Tempered Networks. Reserve your seat at the virtual table!
Space is limited to 15 CFOLC members.
Bring Your Questions
Get ready to actively participate in this collaborative session! You will have the chance to talk through issues along with your peers. Prepare questions and relatable points to bring to the conversation.
SIG Discussions - These one-hour calls are collaborative discussions centered around one hot topic chosen and facilitated by a CFOLC member.
Registration
To register for this program, simply click on the green tickets button. All current CFO Leadership Council Premium and Online members can attend this event for free. (If you don't know your code, contact your chapter Marketing Director).

Please note The CFO Leadership Council reserves the right to decline any registration.
CPEs are not offered.
About Our Discussion Leader
Keith Beeman, CFO, Tempered Networks
With 25 years of business and finance leadership experience, Keith has led a diverse set of businesses and high performing teams. He is a tenacious and adaptable leader with a track record of high impact.

Keith is thoroughly enjoying his current role and being part of a great team at Tempered Networks. Every day he comes to work to create enduring impact in our people and business by creating clarity and enabling sustainable growth. He cares deeply about creating a culture where we can all do our best work and bring out the best in others.

He is a graduate of University of Puget Sound and holds an MBA from Seattle University. He's also proud to serve on the Sammamish Rowing Association and Timberlake Church boards.

---
More Information
For more information about this program or The CFO Leadership Council, please contact Angela Tise, Northeast Regional Director at angela@cfolc.com.
---