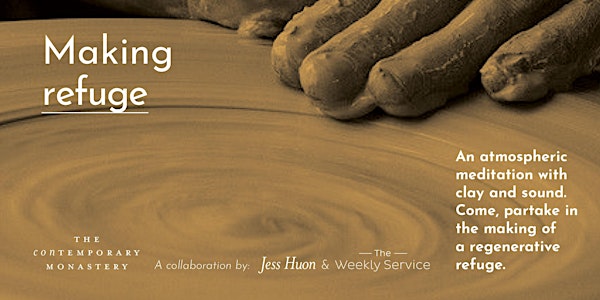 When and where
Location
Abbotsford Convent 1 Saint Heliers Street DORM 1 Abbotsford, VIC 3067 Australia
Refund Policy
Contact the organizer to request a refund.
Description
About 'Making Refuge'

You are invited to an atmospheric meditation with clay and sound. Come rest in an immersive and textured experience, as we collectively take part in the making of a regenerative refuge.
This event is the pre-event to the 'Refuge Ceremony' that we are hosting on April 6th. You're welcome to come to one or both of these events. We invite you to prepare, connect and shape your intention with clay. The clay vessels that we create here will be used in the following 'Refuge Ceremony'. There's a reduced rate if you'd like to attend both events.
Getting There:
The convent is easily accesible by public transport and by car. Paid Parking is available. DORM 1 is located in the upstairs of the Rosina Building. The venue will be sign posted on arrival.

We look forward to hosting you.
––––
About the 'Refuge Ceremony' on April 6th.
We invite you to join us in encountering ceremony in a fresh and energising (Con)temporary monastery.
Everybody is welcome. Sit amongst others in an enchanting urban environment. Engage in a ceremony of modern spoken word and symbolic movements. Open the gateways, bring down the fences – come be fed.
This is a ritual, drawing on but not bound by Buddhist principles. We will uncover and reconnect with bedrock places of support. This intends to ignite our own seeds of insight and compassion, held within a wider network of life.

If you would like to only attend the 'Refuge ceremony' please click here.

_____

We intend for everyone to be welcome to this event. If you'd like to come along but find yourself in a situation of financial difficulty, please get in touch here service@theweeklyservice.org

_____

The (Con)temporary Monastery is a collaboration by Jess Huon & The Weekly Service. With generous support from Rollercoaster Theatre & Small Giants.