Description
For some clients there is a distinct difference between their perception of their body and the reality of it, and yet for many others, the pain they experience about their body isn't a distortion- it's based in their lived experience. We live in a world where not all bodies are viewed as equally valuable, not all bodies are treated with the same respect or given the same access to care, services and opportunities.

How do we help a client make peace with their body when they have a chronic illness that causes chronic pain or changes to the body's function or abilities? How do we handle discussion of weight when the desired outcome is not the runway but the desire to sit on a plane or in a theater? What about when a client has diabetes? These are not easy conversations. These conversations often challenge us to consider how we might respond, possibly triggering our own fears and biases.

All of us swim in messages of weight bias, healthism and ableism everyday. As clinicians, we are not immune, and it's important for us to really examine these topics, personally and professionally. This talk will invite clinicians to consider how we can step into brave conversations with our clients so that they can begin to identify and externalize the shame and oppression they often have internalized, to develop self-compassion and to bolster resilience.
Presented By: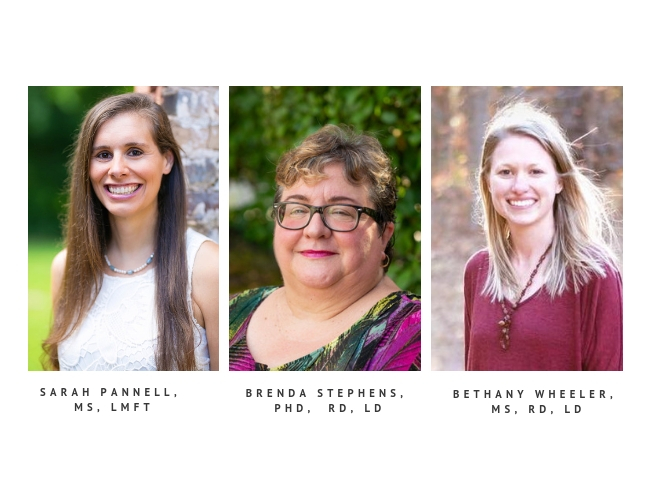 Learning objectives:
Following this presentation, participants will be able to:
Explain how a provider can compassionately examine their own biases and privileges around issues of weight, health and ability.

Identify 3 ways in which a provider can make their services more inclusive and accessible to clients with diverse body sizes and health and ability statuses.

Discuss ways in which a provider can assist clients to develop self-compassion and resilience.

Diversity Statement:
This discussion will focus most directly on topics of size diversity and ability but will also touch upon the intersectional nature of privilege and oppression, thus touching on all of these areas of diversity. Since chronic illness, disability and other body changes can occur as we age, this workshop can be especially relevant to those who are experiencing body dissatisfaction and eating disorders later in life. Case studies will include clients with intersecting areas of marginalization.

About the Speakers:

Sarah Pannell, MS, LMFT is a therapist and owner of Whole Embodied Psychotherapy, Inc in Atlanta, Georgia. Sarah specializes in the treatment of anxiety, trauma and eating disorders. Sarah is especially passionate about helping clients who have an eating disorder and a significant trauma history and integrating the treatment of both alongside one another. Alongside her clinical practice, Sarah is actively involved in raising awareness about the prevalence of eating disorders across all populations. Sarah has assisted in creating presentations and curriculum for students of all ages, parents, school counselors, coaches, trainers, medical professionals and fellow clinicians. Sarah is passionate about de-stigmatizing eating disorders, drawing attention to the underlying factors that influence their development and hinder recovery, and advocating for trauma-informed care. Sarah is the former Executive Director of the Eating Disorders Information Network (EDIN) and currently serves on the organization's Medical Advisory Council. Sarah also serves as treasurer of the board for the Association of Size Diversity and Health (ASDAH).

Brenda Stephens, PhD, RD, LD is a dietitian in private practice at Fat Body Peace, based in Marietta, GA. Brenda specializes in helping higher weight individuals make peace with food and their bodies. In addition to holding a BS in Dietetics and a PhD in Nutrition Science, Brenda is also a Certified Body Trust Provider (trained and certified by the Be Nourished Training Institute, Portland, OR). Before starting her private practice, Brenda worked in a variety of positions in the field of dietetics, including long term care, public health, and teaching at Tennessee Tech University and Life University. Brenda has always been passionate about addressing the issue of weight bias, especially in research and health care. She is also passionate about helping clients let go of internalized weight stigma, and build resilience to weight shaming. She has been a proponent of the principles of the Health at Every Size paradigm since before it was actually named and copyrighted. She lives with the personal experience of weight stigma, Type 2 diabetes, and PCOS on a daily basis, and has also dealt with the chronic pain of osteoarthritis. Brenda is a long-time member of the Association for Size Diversity and Health (ASDAH).

Bethany Wheeler, MS, RD, LD is a dietitian specializing in eating disorders, body image and sports nutrition through social and health justice lenses and whose practice philosophies include Health at Every Size, weight inclusivity, body autonomy and self-compassion. She is also the owner of B. Wheeler Nutrition, LLC in Sandy Springs, Ga. Bethany believes diversity is valuable and that all forms of diversity (size, gender, sexual orientation, gender identity, religion, ability, immigration status, age, class, etc) need to be recognized and honored. Bethany holds a BS in Dietetics and a MS in Applied Exercise and Health Science. Prior to opening her practice, she worked at Kennesaw State University (KSU) where she was a founding member of their eating disorder treatment team and provided outpatient nutrition therapy for students including athletes. She is currently a member of the Association for Size Diversity and Health (ASDAH), Eating Disorder Registered Dietitians and Professionals (EDRDPRO) and the International Federation of Eating Disorder Dietitians (IFEDD).
Time:
10:00 am -2:30 pm
10:00-10:30 am Registration & Networking
10:30 am - 2:30 PM Presentation & Q/A
*We will be breaking for lunch*

Cost:
Light Refreshments & Meal Included

iaedp Atlanta Chapter Member: $20
Non-member: $25
Student: $20

Refund Policy: Please contact Lauren Greenway for refund up to 7 days before the event.



Continuing Education

:
3 CE credits being offered for Licensed Professional Counselors, Registered Dietitians, and Licensed Clinical Social Workers. All Pending Approval
3 CE credits for psychologists Pending GPA Approval
iaedp Foundation has been approved by NBCC as an Approved Continuing Education Provider, ACEP No. 5912. Programs that do not qualify for NBCC credit are clearly identified. iaedp Foundation is solely responsible for all aspects of the program. iaedp is a Continuing Professional Education Accredited Provider, under Provider #IN004 recognized by the Commission of Dietetic Registration.
Sponsored By: