Description
REGISTER EARLY! SPECIAL RATES AVAILABLE THROUGH WEDNESDAY, AUGUST 29, 2018.
As human beings we have the privilege and responsibility of fashioning not only our lives, but our very selves, in accord with our highest vision of meaning and beauty. The nature that we create in our mind and heart accompanies our soul through life and leaves its signature on the world. Over the course of two days, through the practice of meditation, prayer, spiritual reflection, and sacred sound, we will participate directly in making our own nature.
Our gathering will take place at The Shambhala Center in Berkeley, convenient to public transportation, hotels, various AirBnBs, and many wonderful restaurants. There will be a special program the Friday night before, on the life of Noor Inayat Khan, at the HUB925 in Pleasanton, and then possible activities Saturday night in Berkeley. These evening programs are separate from the day program with details to come.
SCHEDULE
Tuition includes Pir Zia's teaching Saturday and Sunday during the day, from 10-1 pm and then 2:30-5:30 pm.
BIOGRAPHY
PIR ZIA INAYAT-KHAN, Ph.D. is the spiritual leader of The Inayati Order, an interfaith mystical fellowship with branches worldwide. He is a scholar of religion and teacher of Sufism in the lineage of his grandfather, the Indian mystic and musician Hazrat Inayat Khan (1882-1926). Pir Zia's books include Saracen Chivalry: Counsels on Valor, Generosity and the Mystical Quest (2012) and Mingled Waters: Sufism & the Mystical Unity of Religions (2017). He and his family live in Richmond, Virginia, where he regularly offers classes and programs at the Astana, the Inayati Order's North American headquarters. www.inayatiorder.org.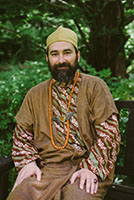 CONTACT
Please contact the Inayati Order's offices, astana@inayatiorder.org or 518-794-7834, with questions, scholarship requests, and for any other details. We look forward to meeting you late September in Berkeley!
All are invited to join us and are welcome. We are committed to making our programs as open and accessible as possible. Please let us know what is needed to help accomodate your participation.
Please note that registration closes on Wednesday, September 26, 2018.
---
CANCELLATION POLICY
If you register, and then are unable to join us for any reason, we accept cancellations up to two weeks before the event, for a full refund minus a $50 processing fee. If you cancel within 48 hours of the event, we refund 50% of the tuition cost. Thank you for understanding this policy!