Making Music with Robotic Instruments

Saturday, March 7, 2015 from 1:00 PM to 4:00 PM (EST)
Event Details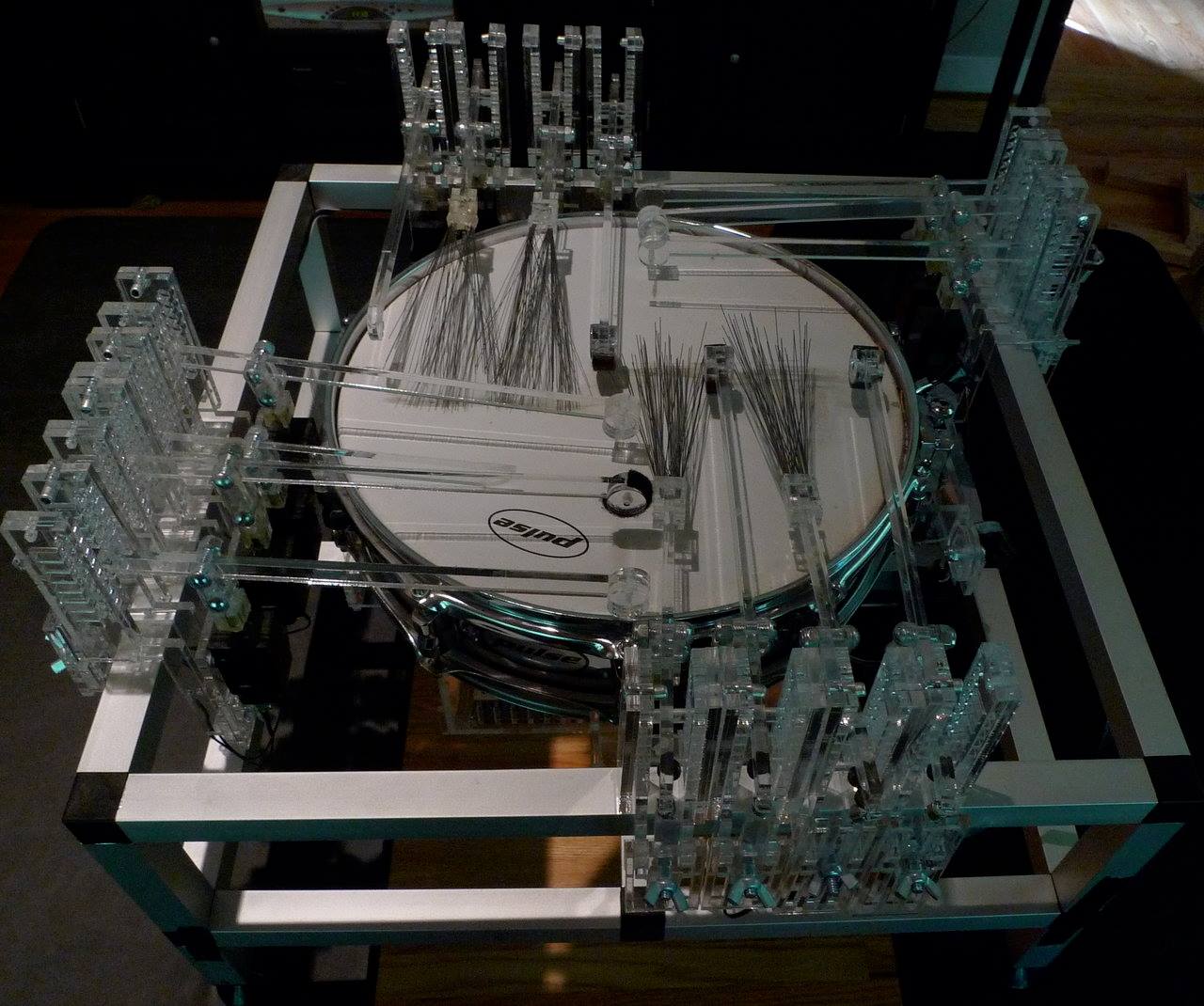 Making Music with Robotic Instruments
Troy Rogers
Co-founder of Expressive Machines Musical Instruments (EMMI)
(depending on schedules, fellow EMMI co-founders Scott Barton and Steven Kemper may also present)
Musical robotics combines many of the technical skills and interests relevant to the NYC Resistor community, including mechanical, electronic, hardware and software design, as well as musicality. In this workshop, Expressive Machines Musical Instruments (EMMI) co-founder Troy Rogers will guide participants through a hands-on workshop that will focus on various aspects of designing robotic musical instruments. Using EMMI-designed kits, participants will assemble a simple percussion robot, as well as get a chance to compose a short study for this new instrument, which will with luck result in an uninhibited robo jam session to close the workshop. In addition to the hands-on portion of the event, the presenters will discuss the history of robotic instruments as well as provide a survey of contemporary practitioners in the field. They may also discuss more advanced topics related to robotic instruments, including human-robot interaction, electroacoustic hybrid instruments, and compositional aesthetics.
This workshop is geared towards NYC Resistor community members who have an interest in learning more about designing, building, and composing for robotic musical instruments. Basic understanding of electronics, programming, computer music, or composition may be helpful but no other specialized knowledge is needed. Participants should bring a laptop pre-loaded with Arduino IDE and software capable of generating MIDI, and may also bring instruments or found objects they would like to try automating.
Participants will work with a preassembled electronics kit created by EMMI, which will help to minimize assembly and maximize play time for the workshop. Small screwdrivers, pliers, wire strippers, multimeters, soldering irons and other basic electronics assembly tools will be provided by NYC Resistor. Unassembled robotic electronics and actuator kits created by EMMI will be available for purchase at a discounted price ($100-350, depending on options) to workshop participants. 
EMMI:
Expressive Machines Musical Instruments (EMMI) is a band of sonic thrill seekers, composers who have turned to the creation of novel robotic musical instruments to achieve their musical vision. Founded in Charlottesville, VA by Troy Rogers, Scott Barton, and Steven Kemper in 2007, the group and their mechanical string, wind, and percussion instruments have turned heads and opened ears at festivals and venues throughout North America and Europe. Exploring the expanded palette of sounds offered by these new devices, the group provides audiences with a sonic and visual experience unlike any other. (expressivemachines.com)
Presenters:
Troy Rogers (http://troy82.com) is a composer, musical robot maker, educator, and semi-nomadic robot herder. For more than ten years, the predominant locus of his artistic output has been the development of robotic musical instruments and the creation of music for these devices. In this work, the compositional act begins with the conception, design, and fabrication of each new instrument, and the personality of each device becomes understood and expressed through musical play. Troy Rogers is a co-founding member of Expressive Machines Musical Instruments (EMMI). A Fulbright Fellowship in 2009-10 allowed him to spend time at the Logos Foundation in Ghent, Belgium, where he apprenticed with Godfried-Willem Raes, developed a vocal robot, and composed music for the M&M Robot Orchestra. Troy is currently based in Duluth, Minnesota, where he creates music, robotic musical instruments, and other assorted contraptions and concoctions; and, weather allowing, pushes a rickshaw of musical robots around town wearing a hazmat suit + teddy bear.
Scott Barton (scottbarton.info) is an Assistant Professor of Music at Worcester Polytechnic Institute who composes, performs, and produces (electro)(acoustic) music. His interests include rhythm, auditory and temporal perception, musical robotics, and audio production. As a researcher, programmer, and author, he has collaborated with the Kubovy Perception Lab at U.Va. on psychological experiments involving rhythm perception. He founded and directs the Music, Perception and Robotics lab at WPI, which develops robotic musical instruments and software that enables human-robot musical interaction. He co-founded EMMI, a collective that designs, builds and performs with robotic musical instruments. He studied music and philosophy at Colgate University, received his Master of Music in Composition from the Brooklyn College Conservatory of Music, and completed his Ph.D. in the composition and computer technologies program at the University of Virginia. His music has been performed throughout the world including at SMC; ICMC; CMMR; NIME; and the Leeds IFIMPaC.
Steven Kemper (www.stevenkemper.com) creates music for acoustic instruments, instruments and computers, musical robots, dance, video, and networked systems. His compositions have been performed by the Boston Modern Orchestra Project, NOW Ensemble, and the Grupo Sax-Ensemble, and presented at NIME, SMC, ICMC, SEAMUS, SIGCHI, 12 Nights, Third Practice Festival, Pixilerations, American Composers Alliance Festival of American Music, and the Seoul International Computer Music Festival. In 2010, he won the ICMA 2010 Student Award for Best Submission for Shadows no. 5, part of a collaborative series of pieces for belly dance, electroacoustic music, and RAKS system. Steven's research has been presented at ICMC and KEAMSAC, and published in Organised Sound. He is a co-founder of Expressive Machines Musical Instruments, a musical robotics collective, and co-designer of Movable Party, a bicycle-powered system for interactive electroacoustic music. Steven received a Ph.D. in composition and computer technologies from the University of Virginia, an M.M. in composition from Bowling Green State University and a B.A. in music from Bowdoin College. He is currently Assistant Professor of Music Technology and Composition in the Music Department at the Mason Gross School of the Arts at Rutgers, The State University of New Jersey. 
Organizer
NYC Resistor is a hacker collective with a shared space located in Boerum Hill, Brooklyn. We meet regularly to share knowledge, hack on projects together, and build community. Our interests range from laser-cutting to knitting, and programming to pop-up books.
All NYC Resistor events are strictly 18+, and attendees are expected to abide by our Code of Conduct, which can be found at https://www.nycresistor.com/participate/.