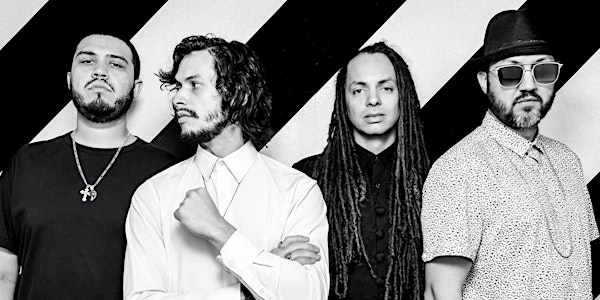 Making Movies with Dama Vicke **Free Show**
Presented by Heroes Live Entertainment & Las Rosas
Performers
Making Movies
MINIMAL presents: FINDELMUNDO
Location
Las Rosas
2898 NW 7th Ave
Miami, FL 33127
Get set for Making Movies to bring their mix of afro-latino rhythms and psychedelic rock'n'roll to the Magic City on their debut Miami show.
About this event
Get your FREE tickets here.
Info: http://HeroesLiveEnt.com
Entry only w/ticket. Early arrival strongly suggested. Space is limited!
_____________________________________
Making Movies with Dama Vicke & MINIMAL presents FINDELMUNDO
Energy, mysticism, roots– it's hard to describe the genre-breaking music of Making Movies, a band that Rolling Stone says is "breaking down walls in the United States," with a mix of afro-latino rhythms and psychedelic rock'n'roll that makes the group's sound something unique. The connection between the Chi brothers (hailing from Santiago, Panama)– together with their Mexican bandmates, the Chaurand brothers– results in an overwhelming musical presence that takes you through landscapes festive, furious, refreshing, and dark.
At times the falsetto of Diego Chi (bassist) takes you to the underworld, while the fuzz of Enrique Chi's guitar anchors his spirited voice in the midst of the Chaurand brothers' primal and folkloric percussion. An explosion of energy on the stage––does the soundtrack make the movie, or does the movie make for the soundtrack?
In 2017 Art As Mentorship was created by Enrique Chi, born out of six years of collaboration between Making Movies and local non-profits Base Academy of Music and the Mattie Rhodes Center. What began as a week-long music education camp for youth in an underserved community has grown into a six-month songwriting and mentorship program called the Rebel Song Academy. Students get to record with and learn from industry professionals, like Grammy-winning producer Steve Berlin of Los Lobos who recorded the first class in 2018.
The world turned their attention to Making Movies as Rubén Blades, Flor De Toloache, Asdru Sierra of Ozomatli, David Hidalgo of Los Lobos and Las Cafeteras joined forces with the band on their new album, ameri'kana, which releases in May 2019. The first two singles, "No Te Calles" and "Cómo Perdonar", were launched along with a movement that invites artists and fans to participate on the website NoTeCalles.World, by joining the chorus with Rubén Blades and Making Movies. The album includes "Delilah", a song about immigration written during a week-long writing session between Blades and Lou Reed that had never before been recorded. Saying that "Rock'n'roll is Latin music" the band dedicates the album to the beautiful inhabitants of the ameri'kana continent.
When Making Movies performs live it is as though a spirit descends upon the room, entrancing audiences with the pulse of their Afro-Latino rhythms, psychedelic jams and rock'n'roll riffing. Armed with their ambitious and politically charged new album, I Am Another You, the band punches out one high-energy song after another, with theatrics and head-banging climaxes riding atop a bed of driving percussion. Their Latin American roots are placed front and center with moments where the front-man Enrique Chi trades his electric guitar for a folkloric Panamanian mejorana, and the Chaurand brothers hop off drums and percussion to instead supply the rhythmic pulse with a dueling zapateado huasteco, a traditional form of dance from Veracruz, Mexico.
The band's political idea is straightforward enough that they can express it in four words: "We are all immigrants." In supporting that cause, a portion of all proceeds from their latest release I Am Another You will goes to the National Immigration Law Center.
The band has shared the stage with Arcade Fire, Cold War Kids, Los Lobos, Ozomatli, Tennis, Sergio Mendoza of Calexico, Rodrigo y Gabriela, and Hurray for the Riff Raff.
Support:
Dama Vicke
Dama Vicke, Best Songwriter at Best of Miami 2018 and winner of American Tracks Music Awards as Best Independent Artist and Best Lyrics released a 5 song debut EP titled "Point of Inflection" a beautiful cinematic-like yet eerie and melodic, dressed in a mixture of alternative rock fusion with hints of experimental jazzy folk accents; her lyrics narrate true story scenes from her real life events.
​Dama has performed in recognized USA venues, as well as internationally, La Habana, Cuba, Colombia, and Mexico City.
Her music videos have been directed by filmmaker Carla Forte, produced by Alexey Taran, also, filmmaker, choreographer, and professional dancer both from Bistoury Physical Theater.
Dama Vicke from Mexico City, a fanatic of suspense and horror films has been one of the most active artists in the South Florida music scene since early 2000's. She began her career collaborating with US and Mexican artists, currently devoted to her solo EP where poetry, visual arts, dance, film, and theater form a strong essence supported by her live band.
Point Of Inflection highlights her talent as a singer-songwriter, working with Javier Guell guitar player and song-writer, along with producer Roger Izaguirre from Earplay Studio.
Point Of Inflection promises to be an endearing project with a band to be savoured live, with a theatrical yet sensual form of expression and an outstanding musical performance by every single member of her band.