About this Event
Making Movies is back for another New Years Eve party! This time they are taking on "Combat Rock" by The Clash w/ support from Wick and the Tricks, DJ Thundercutz & guests appearances by: Radkey, Mireya Ramos (of Latin Grammy winning band Flor De Toloache), Una Walkenhorst, Victor and Penny, Brandon Phillips (of the Architects), The Freedom Affair, Khrystal, The Royal Chief, and Yes You Are. PLUS drag performances by: Jaharia Von Du, Moltyn Decadence, Dick Von Dyke, and KC Sunshine (the Midwest Michael Jackson).
VIP NYE PACKAGE GIVEAWAY!
Enter our giveaway for a chance to win:
(1) Night Stay for 2 people at the Hilton President on Tuesday, December 31
(2) VIP Tickets to the Making Movies NYE show
(1) $75 VISA GIFT CARD for your ride share & anything you want to treat yourself to ring in the new year!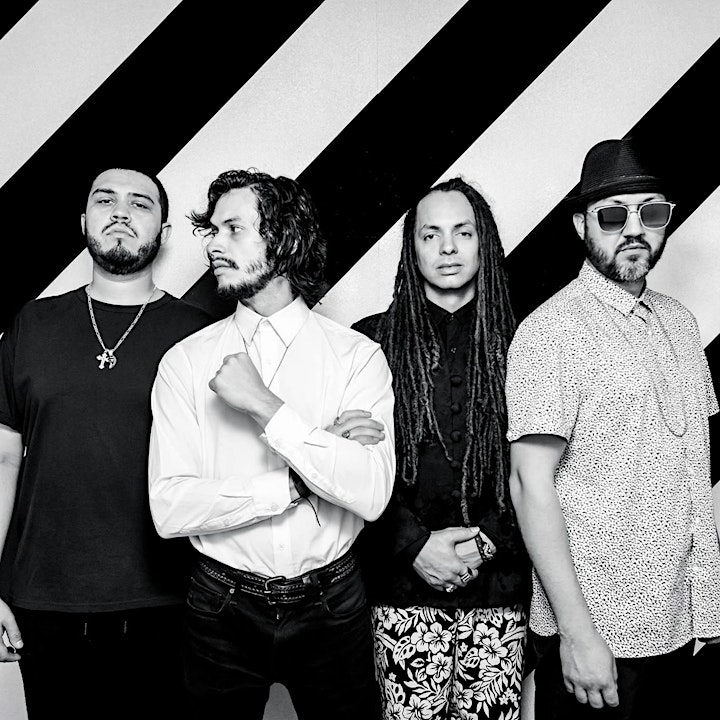 Making Movies
Website | Facebook | Twitter | Instagram
Energy, mysticism, roots– it's hard to describe the genre-breaking music of Making Movies, a band that Rolling Stone says is "breaking down walls in the United States," with a mix of afro-latino rhythms and psychedelic rock'n'roll that makes the group's sound something unique. The connection between the Chi brothers (hailing from Santiago, Panama)– together with their Mexican bandmates, the Chaurand brothers– results in an overwhelming musical presence that takes you through landscapes festive, furious, refreshing, and dark.
At times the falsetto of Diego Chi (bassist) takes you to the underworld, while the fuzz of Enrique Chi's guitar anchors his spirited voice in the midst of the Chaurand brothers' primal and folkloric percussion. An explosion of energy on the stage––does the soundtrack make the movie, or does the movie make for the soundtrack?
In 2017 Art As Mentorship was created by Enrique Chi, born out of six years of collaboration between Making Movies and local non-profits Base Academy of Music and the Mattie Rhodes Center. What began as a week-long music education camp for youth in an underserved community has grown into a six-month songwriting and mentorship program called the Rebel Song Academy. Students get to record with and learn from industry professionals, like Grammy-winning producer Steve Berlin of Los Lobos who recorded the first class in 2018.
The world turned their attention to Making Movies as Rubén Blades, Flor De Toloache, Asdru Sierra of Ozomatli, David Hidalgo of Los Lobos and Las Cafeteras joined forces with the band on their new album, ameri'kana, which releases in May 2019. The first two singles, "No Te Calles" and "Cómo Perdonar", were launched along with a movement that invites artists and fans to participate on the website NoTeCalles.World, by joining the chorus with Rubén Blades and Making Movies. The album includes "Delilah", a song about immigration written during a week-long writing session between Blades and Lou Reed that had never before been recorded. Saying that "Rock'n'roll is Latin music" the band dedicates the album to the beautiful inhabitants of the ameri'kana continent.
---
Absolutely no refunds - no exceptions. Lineups and times are subject to change. Any ticket suspected of being purchased for the sole purpose of reselling can be canceled at the discretion of The Truman and/or Eventbrite. Valid government-issued photo ID required for entry to age-restricted events. Tickets available at the door (if not sold out). No re-entry. Physical tickets available at the box office.
Performers
Date and Time
Location
Refund Policy