Description
Making Money with Security
Opens Doors, Creates New Business Opportunities, and Drives Annuity Services...Don't Miss This!

April 9-11th, 2012; 1:00 PM - 3:00 PM ET each day - so you don't spend all day in class!
Sign up before March 30th and get an earlybird discount...
Call for large group rates...but hurry, we only allow 24 total participants!
About the Class
Forget security budgets! When people don't have a budget it simply means you are talking to the wrong people or lack valid justification. In my book, The House & the Cloud, I explain why IT organizations don't make buying decisions - Simply put, they don't have any liability. Asset Selling focuses on the Assets and Asset Owners - the people creating the budgets. With this in mind we have developed the following program to move your organization from opportunistic sales to a sales process that has consistently doubled and tripled close rates. Security issues will create new business and this workshop will show you how.
Who Should Attend

This class was developed with high-tech sales people in mind, but also contains valuable marketing insight. If you sell high tech solutions, security products and services, or managed services; and work in sales or marketing, plan to attend.
Anyone selling security related technology - projects or products
If you are building a managed services program and working to add new clients
Opening up a new region or territory
Trying to sell more consultatively
Working on caling higher in the account
Need a more effective way to attract higher level audiences
Working to increase the effectiveness of marketing event selling
The Experience
For years people have been asking if I would consider doing this online. Here it is...In just three, 2 hour sessions you will go from fulfilling business to creating business. Over the past six years this program has been consistently voted the best sales training attendees have ever received. Companies including Cisco Systems, Presidio, ePlus Technologies, and Qwest have found this material to be eye-opening, stimulating, and unique. In this class you'll work through each of these sessions:
How to leverage security as the number one motivator for buyers.
Cybercrime update - compelling justification to move forward now!
Asset focused selling - uncovering the issue every client has.
Creating dynamic messaging at the executive level.
Moving from influencers to decision makers.
Creating justification that will close the sale.
Discovery Strategies that win business.
Perfect for teaching presales consultants and engineers how to support the sale!
Because this class does not deal with highly technical concepts, almost any sales person will benefit. A background in selling security is not necessary, in fact, many times we find that attendees with a strong technical background find executive level selling to be more of a challenge. So whether you come from heavy product sales or are new to technology sales, you will leave this course with a new perspective on how to reach executives who generally send technical sales people down to their IT department. Don't get delegated to IT custodians, but rather learn to address business issues with a message that 99% of your customers need addressed.
Here is What People Are Saying About it...
"This training is phenomenal. Dave presents the information in a simple, clear and compelling manner. After the first 20 minutes, I knew I would purchase the recorded version of "From Vendor to Advisor." Not only was the training excellent, but the MP3 series is an amazing resource that I have gone back to again and again. If you are in IT Security Sales, this is a must have for your own career development." - Dorothy Burrell, Account Manager, Accuvant
_______________________________________________________________________________
"I highly recommend David. While working at Praxis Computing, Inc, David was hired as my sales coach and business planning mentor. He played a significant role in our success selling IT security equipment and services. The "Cloud and House" presentation that he devised was implemented throughout our process from seminars and events to board room presentations and deal negotiations. Furthermore David is extremely efficient and helped me to successfully leverage my calendar utilizing time and work flow management to increase performance. In conclusion, David Stelzl's advice is extremely valuable."
_______________________________________________________________________________
"This course gave me great tools I could use immediately and spoke in a language that was current for today's sales events." - Darrell Potie, Analysts International
_______________________________________________________________________________
"This was the BEST class technical, sales or otherwise I have been too in a long time." - Mark Melvin, ePlus Technology
_________________________________________________________________________________
"As a BDM for Cisco I have always known security and always tried how I could make selling of security portfolio simple. Being part of the worlds largest security vendor with USD 2 billion turn over actually makes life even more complex as the portfolio itself is extremely hard to manage.

All of this until I met David as our mentor, coach, presenter etc for 3 days in bangalore training organized by Cisco for us the BDM. It is only fair to say he made & helped us to make sense of the madness & gave us practical approach on position and managing the sales cycles of security.
During the 3 days I got to know David on a personal level as well & I understood his wisdom is even beyond security.
I have invited him to Sri Lanka and hope he will oblige."
_________________________________________________________________________________
"This class has given me the confidence I need to call higher in the accounts I work with." - Glenn Thompson, Single Path
_________________________________________________________________________________
"A fresh perspective on the way to get a conversation started with senior executives that focuses on risk to their assets rather than what a technology can do for them." - Maureen Kaplan, Verizon Business
_________________________________________________________________________________
Organizer of Making Money with Security Online Workshop w/ David Stelzl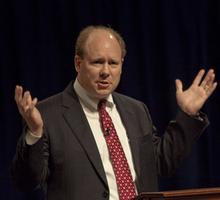 Keynote speaker and technology sales trainer, David Stelzl is an innovator in sales & marketing - He brings a fresh perspective on the high-tech consulting business - He believes the sales business should be exciting, helpful to clients, and highly successful. He believes there is a better way, as sales & marketing professionals embrace his vision and passion for helping solve today's complex business problems rather than vending point products.
Described as a visionary thinker and entrepreneur, David teaches his clients to function more like high-priced consultants and less like "sales" people. With a vision to bring back the concept of "Trusted Adviser", David is leading a movement where sales people embrace integrity, deliver value, and learn how to truly advise at the executive management level.