About this Event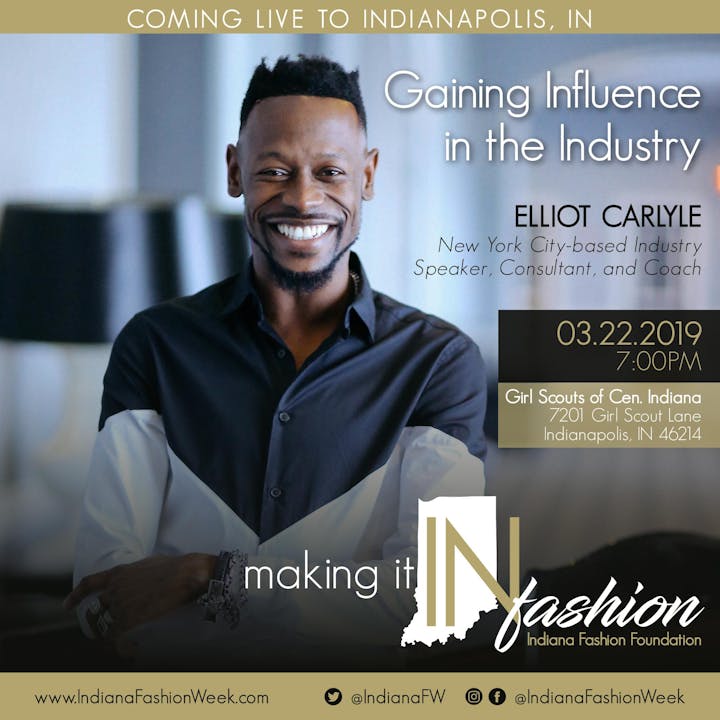 ***SEATING IS VERY LIMITED!!!!***
New York-based Industry Speaker, Consultant, Coach and author of The Influence Workbook, Elliot Carlyle, will be in Indiana for a LIVE edition of Making it IN Fashion presented by the Indiana Fashion Foundation.
"Where do I start?"
"I'm Stuck! How do I get unstuck?"
"What does it REALLY take to make it in fashion?"
"What is it like to work with fashion industry leaders?"
"How can I stay motivated?"
If you've ever asked any of these questions, this event is for you!
Elliot, who navigated his way from a rural Florida town to working with the likes of Gladys Knight and New York Fashion Week creator, Fern Mallis, will be interviewed on the topic, "Gaining Influence in the Industry." In this interview, he will give the audience insight on how he got started and gained influence within the fashion industry. As well, he will share keys, tips, and wisdom that fashion creatives and professionals can apply while establishing themselves in the global fashion industry.
Please Note: You will save $10 on The Influence Workbook ($20 value) if you choose the "Admission with The Influence Workbook" ticket option.
About Elliot Carlyle
Elliot Carlyle, known as "the brand. the voice." is a New York City-based fashion & creative consultant, speaker, and coach with over a decade of tenure in the fashion industry. Elliot began his fashion career in production, working for Mercedes Benz New York Fashion Week for many years. Since this time, he has seamlessly navigated multiple facets and roles within the fashion industry including public relations, model development, and creative direction. Elliot has worked with notable brands and organizations including Atlanta International Fashion Week, Obvious Magazine, and the Legendary Empress of Soul, Gladys Knight. He received his formal education at The Art Institute of Charleston, a branch of The Art Institute of Atlanta, earning a BFA in Fashion & Retail Management. Elliot now works in an executive capacity with award-winning creator of New York Fashion Week and international fashion & design consultant, Fern Mallis. Elliot is also the author of The Influence Workbook, a book filled with clarifying keys, liberating exercises, and empowering takeaways that will position you on a trajectory to get to your "next" by moving you beyond the questions and unblocking your personal power. As his career continues to evolve, Elliot is committed to executing his personal mission and brand statement, "building people for global influence."
Learn more about Elliot on his website or Instagram.
About Making it IN Fashion
​Making it IN Fashion is an initiative of the Indiana Fashion Foundation designed to educate, inspire, and equip fashion professionals in Indiana with information, insight, and tools that will aid in advancing both their careers and the fashion industry statewide. This initiative is comprised of two primary programs, a year-round conversation series and an annual conference. The conversation series involves both online and live events that feature fashion professionals who encompass various functions within the industry including (but not limited to) design, styling, modeling, and communications. The annual Making it IN Fashion Industry Day Conference takes place during Indiana Fashion Week and includes a combination of interviews, panel discussions, and presentations that feature fashion industry experts who provide attendees with information and resources that will elevate their operation and influence within the fashion industry at large.