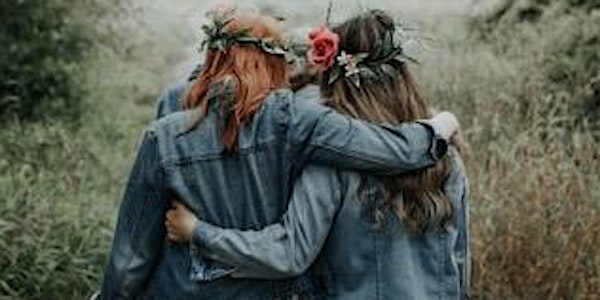 Making Friends with Yourself Training Program (MFY) for Ages 11-13
Making Friends with Yourself: A Mindful Self-Compassion Program for Teens - ONLINE
Refund Policy
Refunds up to 7 days before event
Eventbrite's fee is nonrefundable.
About this event
Making Friends with Yourself (MFY) is a program designed to cultivate the skill of self-compassion in teens ages 11-13. MFY teaches core principals and practice that enable the young person to respond to the challenges of these critical years with kindness and compassion.
Adolescense is a time of change and growth. It is the period reserved for rebellion and self-discovery, but as the demands of life increase for teens , this time is often fraught with confusion, anxiety or depression. For many teens these challenges led to disconnection.
In this course, which meets for 1 1/2 hours per session, young people engage in developmentally appropriate activities and carefully crafted practices and meditations, which provide them with the opportunity to learn how to navigate the emotional ups and downs of life with greater ease. Backed by research, findings indicate increases in emotional well-being and greater resilence after taking the course.
Following in the footsteps of the adult MSC program, MFY is rooted in the three key components of self-compassion: self-kindness, common humanity, and mindful, balanced awareness. These elements serve to open the hearts of teens to their own suffering, so they can learn to give themselves what they truly need, recognize they are not alone in their suffering, and encourage an open-minded acceptance of the struggle they are facing.
Quotes from young people who completed our summer MFY ONLINE course:
"I feel things and others feel that way too."
"Became aware of the harsh inner critic."
"Mindful eating practice and lots of great practices I can use to help with stress."
"I'm not the only person who feels rejected by someone."
"Sometimes our flaw is our greatest strength."
"Noticing or being aware of the harsh inner critic."
"It's ok if you are imperfect. Imperfections make you special and set you apart."
"It was cool, the boiled egg is so much like our emotions… like your anger comes from somewhere else… it is not just anger … anger has other feelings behind it."
MFY Teachers:
Eileen Beltzner
Eileen Beltzner SCC BA MSW RSW was a Special Care Counsellor for several years working with and developing programs for parents and children with special needs . She later returned to university to complete her Bachelor of Arts and her Master of Social Work. What is pertinent in regard to the Making Friends with Yourself (MFY) training program is that for over 10 years Eileen worked at the Reach Out Centre for Kids (ROCK) in Canada, with parents, teens and children, as a Child & Family Therapist; gaining a high level of expertise in clinical work. She was known for her ability to develop respectful and supportive relationship with the young people she had the privilege of working with. Eileen has been teaching (MFY) parent workshops and the MFY training program for young people for several years and is not only a MFY teacher; she is a Certified MSC Teacher, a Mindful Self-Compassion Teacher for Healthcare Communities (SCHC), a Mindful-Based Cognitive Therapy Facilitator and a Senior Faculty Member at the Centre for Mindfulness Studies in Toronto, Canada. Eileen is also an author; her most recent book, How to Tame the Tumbles the Mindful Self-Compassionate Way teaches child sized MSC concepts and practices in story form to parents and children. She was very happy to find her book on Dr. Kristin Neff's recommended reading list. Eileen's passions include music, kayaking, learning, teaching and having lots of fun with her 5-year old grandson. For more information about Eileen please go to https://selfcompassionsolutions.com
Watch & Read more about Making Friends with Yourself (MFY)https://www.chch.com/teen-mindfulness/https://oakvillenews.org/importance-self-compassion-teens-mental-health-anxiety-depression/
 https://selfcompassionsolutions.com/msc-for-teens-making-friends-with-yourself-mfy/
Macy Ratliff
Macy Lawrence Ratliff received her master's degree in Speech and Hearing Science from the University of Washington as well as a Master's in Child and Adolescent Psychology: Prevention and Treatment from the University of Washington. She received her bachelor's degree from Middlebury College in Psychology and Elementary Education. She currently works as a therapist for youth with high anxiety and OCD. Previous work experiences included work as pediatric rehab audiologist in a variety of settings. She has taught mindfulness self-compassion for at risk youth in rural Washington state as well as online recently during the corona virus pandemic. She also was the primary instructor for the mindfulness portion of a Parent-Child Mindfulness Based Training study. She is certified in several mindfulness programs including "Mindful Schools" and Amy Saltzman's "A Still Quiet Place" and "Making Friends with Yourself: self-compassion for youth. Macy is also certified in children's yoga (Registered Yoga Training). She has many years of experience creating mindfulness and yoga programs for students spanning preschool through high school throughout the greater Seattle and Chapel Hill areas. In addition to her passion for her work with children, Macy loves to travel and be outdoors. Her passions include swimming, kayaking, cross country skiing and paddle boarding. Macy's website is https://www.macyratliffyoga.com
Registration Process : Registration on this site should be done in the parent's name. Once registration and payment has been received we will send you a form to fill out to let us know more about your young person and to set up a time for an interview to go over the information you have filled in and to answer any questions you may have.
The purpose of the interview is to make sure that MFY is a good fit for your young person at this time. If MFY is deemed to not be appropriate, the course fee will be returned.
Program Cost: $300 USD
The cost for the full program includes google classroom materials and audio files. There is an additional processing fee for registration through this site. In some cases, an insurance receipt can be issued.
Program Schedule
Oct. 8,15,22,29 : 7:00 - 8:30 pm EST
Nov. 5,12,19: 7:00 - 8:30 pm EST
Dec.3: 7:00-9:00 pm EST. (Last session)
Additional Information
For further background information on this program including the research overview and related publications, please go to https://selfcompassionsolutions.com/msc-for-teens-making-friends-with-yourself-mfy/