Join us to hear from our guest speaker Robin Birn, renowned author of several books on Market Research and Customer Insight.
About this Event
The London CMI Women hub will be hosting this high profile event. Attendees will hear from Robin Birn, renowned author of several books on Market Research and Customer Insight.
Over the last 45 years marketing and market research techniques have been developed to monitor brand success and customer satisfaction. The quality of communications have been improved drastically by Customer Insight - the comparison between management performance data, external market analysis and customer satisfaction surveys.
Marketing is all about understanding customer engagement and behaviour, so in this talk we will discover how decisions and propositions have been improved as a result of analysing Customer Insight.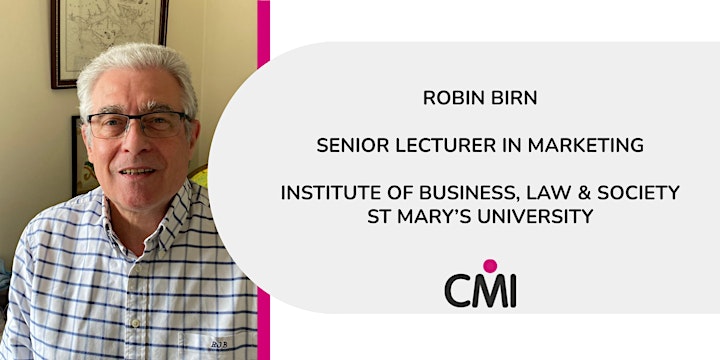 An experienced Professional Marketing, Research and Training Consultant. Specialist skills include training, facilitating and coaching in Business Strategy, Marketing Planning, Customer Insight and Market Research.
Currently Senior Lecturer in Marketing in the Institute of Business, Law and Society at St Mary's University, Twickenham, Module Convenor on both Business and Communications Degrees and manager of Accreditation for the Business School, including the relationship with CMI.
Robin started his career at Taylor Nelson where he developed the Financial Services Division. He then ran his own marketing consultancy Strategy, Research and Action in the UK and the USA, focusing on business strategy for global and small and medium sized organizations, developing business and marketing plans and global market research programs – this included being a leading Consultant in the Enterprise Initiative launched by Margaret Thatcher, when Prime Minister. During this time he published several books, which focused on the skills for using market research and so became one of the founders of Customer Insight. A victim of 9/11 Robin had to return to employment.
As a result he became Head of Consultation at the Institute of Chartered Accountants of England and Wales, developing the marketing and research systems for the Accountancy profession. He then returned to the service side of marketing to become Head of Client Financial Services and trainer in trusted advisor skills at Research International, Kantar TNS Global, Kantar/WPP Company
He joined Imparta in 2008 as Marketing Training Developer and became Head of Marketing Training in 2012 and has developed Marketing Academies covering all marketing competencies for B2B and B2C marketing skills development. He has also developed a Marketing Skills Assessment tool, which provides clients with feedback on the competencies of their skills in each of their marketing roles assessed on a series of behaviours. He is a member of Faculty for the WPP mini-mba programme delivering Business Strategy, Marketing and Leading in a global environment training programmes for the marketing service group all over the world.
Robin is a Fellow of the Market Research Society and the Chartered Institute of Marketing and Freeman of the City of London; and a member of the Marketing Committee for the Market Research industry legacy project, The Archive of Market and Social Research, working on the strategy to make the archive available to academics and students in Universities.
Robin is a British/American dual national born in the UK, and derives his skills from his father, who was a World War Two spy.
In the meantime…
If you're a member of CMI, or subscribe to our content, don't forget you can find thousands of exclusive, practical development resources in ManagementDirect. Log in here and search for a topic to get started.
Not yet subscribed?
From free newsletters packed with the latest trends, insights and tips for managers and leaders, to the full suite of invaluable tools and benefits that come with being a CMI member, we've got something for everyone. Visit our website to find out more.