Description
Thursday, September 20 | 6:30 – 9:00 p.m.
at the Newseum, 555 Pennsylvania Ave NW, Washington, DC 20001
Since 2012 the Historical Society of Washington, D.C. has honored 29 Washingtonians and D.C.-based organizations whose enduring contributions to our community have helped create, define, and preserve our city's heritage. On September 20, the Historical Society welcomes four more history makers to the growing list of distinguished honorees.
Making D.C. History Awards 2018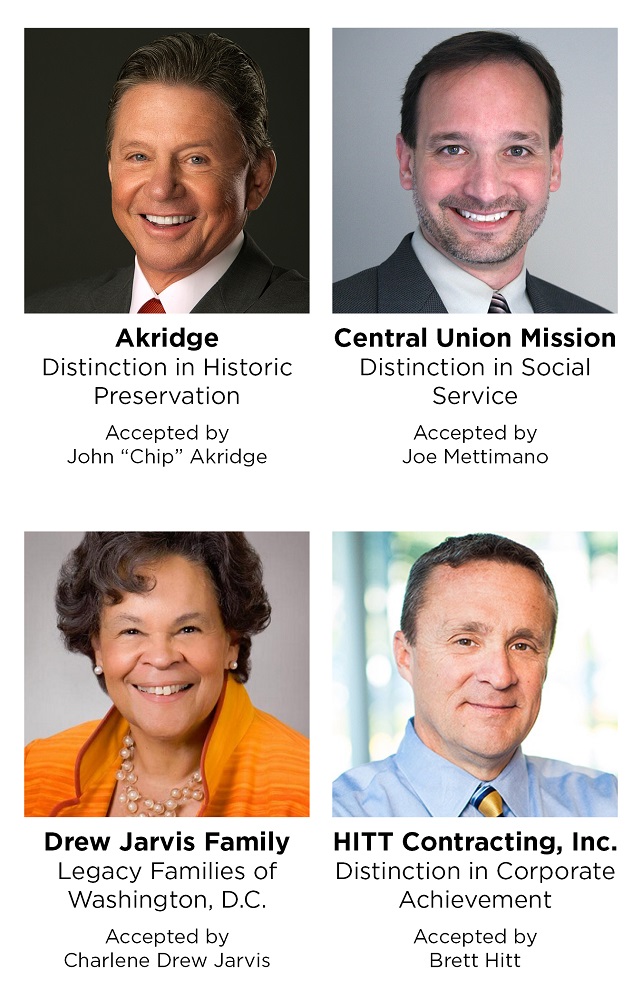 Don't miss this great evening of making and honoring history!
Event Details
Thursday, September 20, 2018 | Newseum, 555 Pennsylvania Ave NW
Honoree Reception, 6:30 – 7:30 p.m. | Dinner and Awards Presentation, 7:30 – 9:00 p.m.
Thank You to our Partners
888 Realty Investors, LLC | Akridge | Bonstra|Haresign | Clyde's Restaurant Group | Digital Conventions, LLC | DowntownDC BID | EagleBank | Events DC | EHT Traceries | HITT Contracting, Inc | Industrial Bank | Newseum | Ridgewells Catering | Washington Walks
---
Sponsorship Opportunities
Become a partner of the Historical Society for both the Making D.C. History Awards (in the early fall) and the Visionary Historian Award (our spring event). Opportunities include tickets to both awards events as well as related promotions and advertising. For more information, please download and view the Making D.C. History Partners document or contact John Suau at 202-249-3953 or jsuau@dchistory.org. Your advertisement in the event program celebrates history makers and reminds attendees of your place in D.C. history! To place an ad in the printed event program, please contact Katrina Ingraham at kingraham@dchistory.org.
Making D.C. History Awards Committee
Eileen Kessler*, Chair
Amanda Ohlke*
Bill Brown
Julie Koczela*
Jacqulyn H. Priestly*
Nikki DeJesus Sertsu*
* Member of the Historical Society of Washington, D.C. Board of Trustees