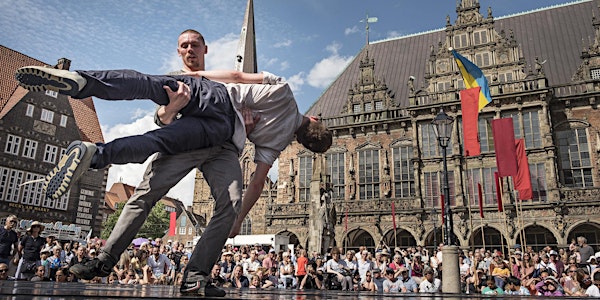 Making Contact - Summer Professional Intensive 2023
Company Chameleon presents: MAKING CONTACT Summer Professional Intensive 2023
Date and time
Fri, 21 Jul 2023 10:00 - Sun, 23 Jul 2023 18:00 BST
Location
Company Chameleon 6 Barrass Street Openshaw Manchester M11 1PU United Kingdom
Refund Policy
Contact the organiser to request a refund.
Eventbrite's fee is nonrefundable.
About this event
2 days 8 hours

Mobile eTicket
July 21, 22, 23
Company Chameleon, Manchester, UK
We invite final year students and professionals to take part in our Summer Professional Intensive with Company Chameleon's Co-Artistic Directors, Anthony Missen and Kevin Edward Turner and Guest Artist, Hugh Stanier.
Want to build your confidence and learn new skills in contact work?
If the answer is yes, then our three-day intensive is for you!
Did you know for many dancers, contact is the area of their practice where they feel most vulnerable and unsure. That's why Chameleon have taken our 15+ years' experience in contact work to create a three-day masterclass that will:
• Boost your confidence.
• Broaden your palette.
• Strengthen your skillset.
What's more, the three-day-er is an opportunity to join the lovely team at Company Chameleon at our studio in Manchester and connect with other dance artists. Expect to leave feeling energised, inspired, and ready to embed your learnings into your own practice.
Anthony Missen, our Co-Artistic Director, said, "There's been a notable touch deficit in dance training and a real lack of training around contact work through Covid. As a dancer, it's easy to learn partner-based choreography as shapes, without fully understanding how another body works. Contact work gives you a deep understanding of the human body because the key to understanding another body is through touch. When you create the space to listen to another person's body, there's a process of going from the inside out, finding where you meet in the middle, and cultivating a feedback loop. You can work with each other's energy, and distribute and redirect energy together, and in flow. Touch has many different meanings. We can touch in different ways. Violently, aggressively, supportively, for pleasure, fun or relaxation. In this way, contact work opens up possibilities for expression and allows stories to be told in a more honest and experimental way."
The programme
DAY 1: HUGH STANIER, GUEST INTERNATIONAL ARTIST
Fri 21 July, 10am-6pm
ABOUT HUGH
Hugh is based in Berlin and a specialist in Contact Improvisation with 20 years teaching and performance experience. Hugh graduated from Northern School of Contemporary Dance in 2008 and has since performed with Wim Vandekeybus / Ultima Vez, 2Faced Dance Company, Tom Dale Company, and STAN Won't Dance. Over the last 10 years, Hugh has taught internationally at the Goa Contact Festival, Goa Dance Residency, Berlin Contact Festival, Portugal Contact Gathering and for National Dance Company Wales. Additionally, Hugh has led his own workshops, retreats, and intensives in the UK, Portugal, Germany, Israel, and India.
What's involved?
Day one will focus on contact improvisation and improvisational practice. Beginning with the core fundamentals of contact work, day one will establish an open and safe environment, focusing on group connection and cultivating a deeper awareness between body and mind. Sharing weight, exploring rolling points of contact and finding momentum, suspension, inertia and falling, Hugh will introduce different exercises and techniques, providing a foundation of knowledge, understanding and confidence in contact work to take forward into the following days.
DAY 2: ANTHONY MISSEN, CO-ARTISTIC DIRECTOR
Sat 22 July, 10am-6pm
ABOUT ANTHONY
Anthony is Co-Founder and Co-Artistic Director of Company Chameleon. Anthony received his formal training at the Northern School of Contemporary Dance and went onto dance with companies including Scottish Dance Theatre, Mad Dogs Dance Theatre, Cie. Willi Dorner (Vienna), and choreographers including Rui Horta, Didi Veldman and Liv Lorent. Anthony is a Choreographer and Movement Director whose work tours all over the world and in many contexts. Anthony has taught, choreographed, lectured, and led residencies in countries including South Africa, Ethiopia, Israel, Trinidad, Morocco, Sweden, Spain, France, Italy, Germany, and Austria.
What's involved?
Day two will focus on the creative application of the contact techniques and fundamentals covered in day one of the intensive. Anthony will introduce improvisational ideas that consider different qualities of touch, broadening choices and possibilities and working with theatricality. Additionally, Anthony will share some of the creative ideas and repertoire from his latest outdoor work, UMBRA.
DAY 3: KEVIN EDWARD TURNER, CO-ARTISTIC DIRECTOR
Fri 23 July, 10am-6pm
ABOUT KEVIN
Kevin is Co-Founder and Co-Artistic Director of Company Chameleon. Kevin studied formally at the Northern School of Contemporary Dance and his professional engagements include working with Rambert Dance Company, Scottish Dance Theatre, Phoenix Dance Theatre, CassaniDance, Rubberbandancegroup (Canada), Henri Oguike Dance Company, Company Decalage, Mad Dogs Dance Theatre, Finn Walker and Roda. Kevin has worked as an independent artist in collaboration with Gansango in Seattle, Crossfade in Budapest and Navala Chaudhari in London. Kevin has taught in most major British contemporary dance institutions, as well as in Canada, USA, Hungary, Trinidad and Tobago, South Korea, South Africa and all-over continental Europe.
What's involved?
Day three will focus on partnering fundamentals, building trust and connection, through lifting and weight bearing techniques. Kevin will share repertoire from acclaimed outdoor works, Amaranthine and Push and day three will culminate with a contact jam, celebrating and giving space to all ideas, approaches, and techniques discovered across the professional intensive.
BOOKING & INFO
Cost: £150*
Time: 10am to 6pm.
Enquiries: email info@companychameleon.com / call +44 (0) 161 223 6280
*We have places reserved for people living on low income. If you would like to access one of these places, email info@companychameleon.com
Frequently asked questions
I would like to attend but I can't afford the full cost
About the organiser
Company Chameleon started when Anthony Missen and Kevin Edward Turner met at Trafford Youth Dance Theatre in the mid-1990s. Two ordinary lads from Manchester, they shared an ambition to dance professionally. After developing their talent at Trafford, they went on to train with the Northern School of Contemporary Dance, and after graduating travelled and worked with some of the world's most innovative dance companies and choreographers.
They came home in 2007 with the aim of setting up their own dance company – and Company Chameleon was born. Today, Company Chameleon tours internationally, staging over 50 indoor and outdoor performances every year. Wherever we perform, we lead a dance class or a workshop. As a result, we have introduced thousands of young people, from countries all over the world, to a different side of dance and movement. In 2019, Company Chameleon welcomed Dame Darcey Bussell on board as the Company's first-ever Patron.