Making Connections - Celebrating Dual Language Education

Saturday, March 9, 2013 from 8:00 AM to 4:00 PM (EST)
Event Details
The Massachusetts Association for Bilingual Education
(MABE) sponsors the SECOND
Southern New England Region Conference for Dual Language Programs 
"Making Connections -  Celebrating Dual Language Education"
The MA Association for Bilingual Education, along with Dual Language Programs and affiliate organizations in Connecticut (CAPELL), and Rhode Island (RITELL), is delighted to host this second conference for teachers, school and district leaders, support staff, and all those interested in and dedicated to Dual Language Education.
Conference Keynote Speaker: 
Kathy Escamilla, Professor of Education
School of Education University of Colorado, Boulder
THEME: BILITERACY 
"the acquisition and learning of the decoding and encoding of and around print using two linguistic and cultural systems in order to convey messages in a variety of contexts." 
Source: Perez, B. and Torres-Guaman, M. E.  (2002). Learning in two worlds: An integrated Spanish/English biliteracy approach. (3rd ed.) Boston, MA: Allyn and Bacon, p.60 
Kathy Escamilla is a professor of education in the division of social, bilingual and multicultural
foundations. Dr. Escamilla's research centers on educational issues related to Spanish speaking
language minority students in U.S. schools. She is specifically interested in issues related to the
development of bilingualism and biliteracy in early elementary grades for this Spanish speaking
population. Her recent research has also examined assessment practices and the impact of high
stakes testing on these children.
Thank you Caslon Publishing for sponsoring
Kathy Escamilla and Cheryl Urow!
Cheryl Urow, from the Illinois Resource Center adds to our understanding of biliteracy in her presentation Strenthening Bridges Between Languages when she presents a framework for developing biliteracy that bulids on the full linguistic repertoire of emerging bilinguals.
Conference Details 
The purpose of the conference is...
Networking (breaking the isolation) of Dual Language Program Teachers

Community Advocacy

Professional Development for Teachers of Dual Language Programs

Encouraging the Creation of NEW Dual Language Programs
Date: Saturday. March 9, 2013
Time: 8:00 am to 4:00 pm
Location: Dever School, 325 Mt. Vernon St., Dorchester MA 02125
Intended Audience: School and district leaders, classroom teachers and support staff (reading specialist, curriculum specialist, special educators, etc.) working in Dual Language programs
Registration Fee: $70.00  Payment accepted by check, purchase order or credit card.  Please read instructions under "News and Updates" on the right panel for payments by check or purchase order.
Onsite registration will not be accepted.  Please note that the registration for this event will close on March 7, 2013.
Tentative Format:  
8-8:45 am           Registration and Breakfast
8:45-9 am           Welcome and Oopening Presentation
9-10 am              Keynote Address: Dr. Kathy Escamilla
10:30-12 pm        Morning Sessions (two-45 minute breakout sessions)
12-1:15 pm          Networking Lunch - "Lunchtime Talk"
1:15-2:45 pm        Afternoon Sessions  (90 minute sessions)
2:55 - 4:00 pm      Awards Ceremony and Closing Keynote Address: Cheryl Urow
A list of Breakout Sessions NOW Available on www.massmabe.org
Registration begins at 8:00 am
Breakfast and Lunch will be served.
Certificates of Attendance will be provided (PDP's/CEU's).
Parking is available on Mt Vernon Street and in the school parking lot.
T-Stop nearby - JFK/UMass Station
Hotels in the area are listed below.
SNOW DATE: March 16, 2013
NEW! Launching Dual Language Leadership Network!
A special session for leaders of dual language programs will address one challenge identified at the November 3rd One Nation Indivisible Strategy Session Language Lessons for the 21st Century Building - Support for Two-Way Bilingual Education in Massachusets, hiring qualified teachers to work in dual language programs.
Liz Howard (UCONN), Patrick Proctor (Boston College), Ann Anderberg (Eastern CT State), and Amanda Sox (RIC) will join program leaders in a panel dialogue for how to reconcile the needs for hiring dual language teachers and higher education teacher prep requirements/constraints/concerns.  Additionally, MABE will share the advocacy work defining the competencies of a dual language educator license.
Continuing this theme, Julie Minikel-Lacocque and Silvia Romero-Johnson from La Cosecha 2012 will present one solution - A Principal and a Professor Team Up: Two-Way Professional Development.
NEW! We listened to your recommendations from last year's conference and added   "Lunchtime Talk" !
Bring your "box lunch" and attend one of several different small group networking sessions for an informal conversation facilitated by a MABE member.  Select a session with one of the following topics:
50:50 or 90:10 – Considering different models

Cross-Cultural Competency – How to maintain cultural as a primary goal of the program

Raising and maintaining the status of the minority language

Dual Language programs within a secondary school - dilemmas of school organization and TWI mission 

Using the Guiding Principals for Dual Language Education

Biliteracy Development – Leadership and Instructional Support

Fostering district and community support for Dual Language Education

Using WIDA in a practical way in the classroom

Monitoring student growth in both languages

A Dual Language Educator license - how do the skills of a Dual Language teacher differ from those of an ESL, SEI or mainstream teachers
NEW! Pre-conference Event!
 Dual Language Program SCHOOL VISITS
      Friday, March 8, 2013
9:30 - 11:30 am
Visit one of the Two-Way Immersion programs in the Boston Public 
Schools: Hurley Elementary, Dever-McCormack K-8, Hernandez K-8, Sarah Greenwood Elementary or the new Margarita Muniz Academy (High School).  Descriptions of schools are below. 
Just added: Amigos School, Cambridge Public School
12:00 - 1:00 pm
Networking Lunch at the Margarita Muniz Academy
1:00 - 3:00 pm  
Presentation: Defining Two-Way Immersion Program followed by a Q&A on Implementing a TWI program
COST: $20.00 (covers lunch)
Questions?  Email massmabe@gmail.com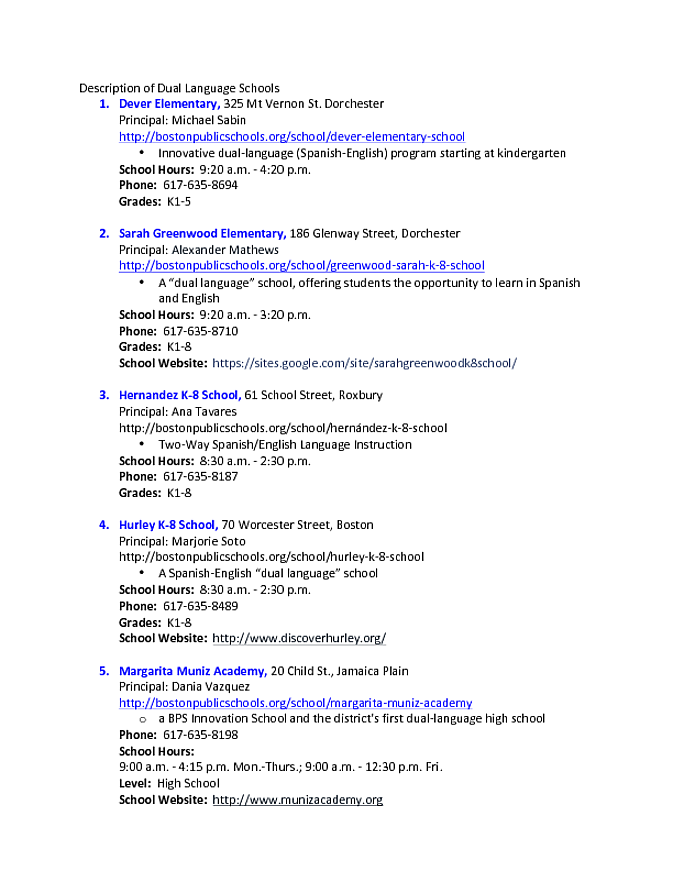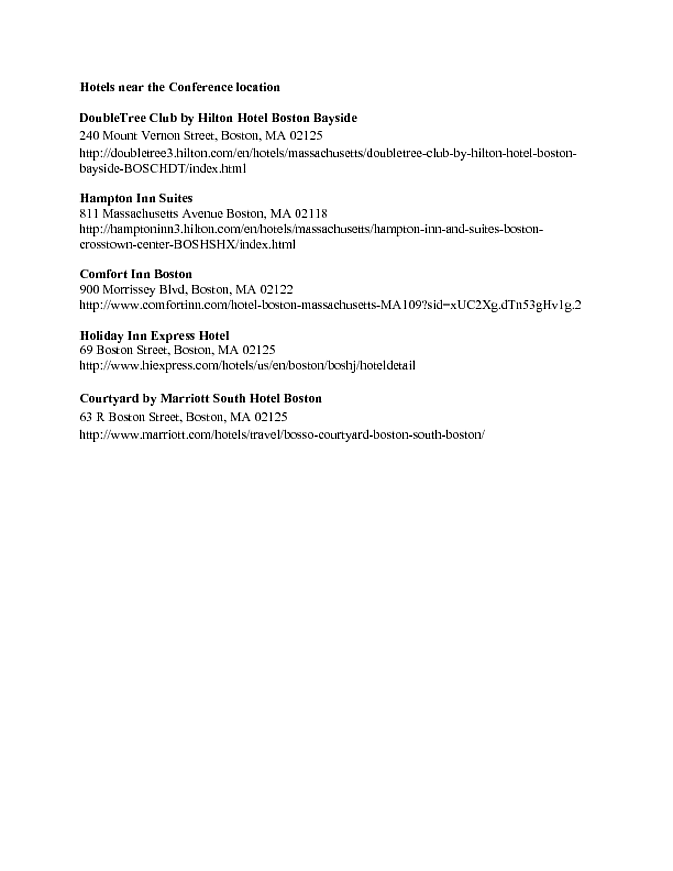 FAQs
Can I update my registration information?
Yes
Do I have to bring my printed ticket to the event?
Yes
What is the refund policy?
Refunds are discouraged, yet we will consider special circumstances.
The name on the registration/ticket doesn't match the attendee. Is that okay?
No, Please correct the information or ask for assistance with this.
Attendee List
Sort by:

Date

|

First Name

|

Last Name
When & Where

Dever-McCormack K-8 School
325 Mount Vernon Street
Dorchester, MA 02125


Saturday, March 9, 2013 from 8:00 AM to 4:00 PM (EST)
Add to my calendar
Organizer
Massachusetts Association for Bilingual Education (MABE)
Vision
Bilingualism and multiculturalism are assets that provide cognitive, social, emotional, educational, and employment advantages for all students.
 Mission
We identify, promote and disseminate research-based programs and practices that support bilingualism and multiculturalism for educational success.
 Visit www.massmabe.org and learn more about Dual Language Programs  
 MABE Membership Rate: $40.00
www.massmabe.org
A nonprofit organization for  educators, families, and policy makers supporting bilingualism and multiculturalism for educational success.
Making Connections - Celebrating Dual Language Education