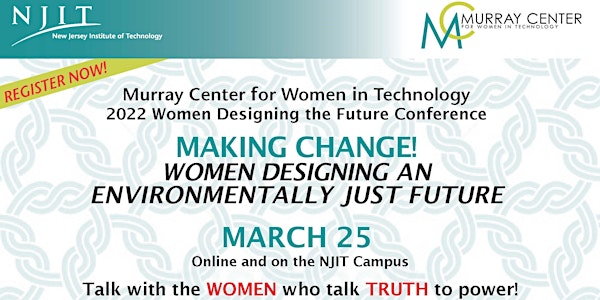 Making Change! Women Designing an Environmentally Just Future
Interact with an advisor to President Joe Biden and local activists who are changing the way we think about race, climate, and justice.
When and where
Location
New Jersey Institute of Technology (NJIT)--The Campus Center 323 ML King Boulevard Newark, NJ 07102
About this event
Featuring...
LIBBY WASHBURN, Special Assistant to President Biden for Native Affairs. A citizen of the Chickasaw Nation of Oklahoma, Washburn has championed efforts to ensure that indigenous traditional ecological knowledge shapes federal environmental policymaking.
Speakers include...
LUCIA RODRIGUEZ-FREIRE (moderator) Assistant Professor, NJIT Department of Civil & Environmental Engineering and Director of the Laboratory of Applied Biogeochemistry for Environmental Sustainability.
ANA BAPTISTA, Assistant Professor of Professional Practice in Environmental Policy & Sustainability Management / Co-Director, Tishman Environment & Design Center at The New School; member, Ironbound Community Corporation Board of Trustees.
ERIN FOODY, NJIT Honors College senior & NJIT Green club president.
KIM GADDY, National Environmental Justice Director for Clean Water Action, responsible for developing & implementing grassroots environmental justice campaigns nationally and in NJ.
CHRISTIAN RODRIGUEZ, Community Organizer, Ironbound Community Corporation, and Urban Agriculture Manager of Down Bottom Farms, Newark.
JULIE WINOKUR, Emmy-nominated Executive Director of Talking Eyes Media, and director/ cinematographer of the 2020 documentary film "The Sacrifice Zone."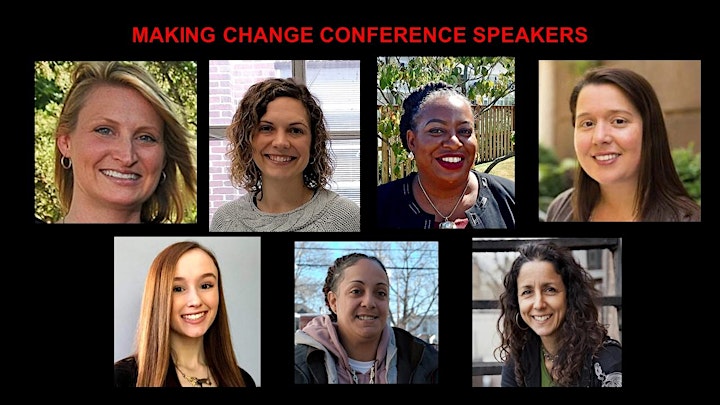 FREE FILM SHOWING: The Sacrifice Zone (2020). Follow Newark's Ironbound Community Corporation leaders as they wage a successful war for environmental justice, fighting to prevent surrounding factories from obtaining "permits to pollute." The film gives an inside look into how a community organization can change the law.
What is this conference about?
The 2022 WDF conference focuses on the communities being hit first and hardest by climate change and environmental degradation—and the creative energy of women in those communities who speak environmental truth to power. Prominent speakers with hands-on understanding of the challenges faced by frontline environmental justice communities, and the resilience of those communities, will frame the conference's message that the very people who struggle daily with environmental destruction are the best sources of the local environmental expertise and agency required for innovation and positive change.
Why should you attend?
To learn from the people who have done it how to make alliances and take effective action to challenge the forces that are threatening their quality of life—and yours!
What can you do at the conference besides listen?
You can speak—ask questions, get support for your projects and ideas. You can watch a short but important documentary film (The Sacrifice Zone) about how leaders in Newark's Ironbound fought to prevent surrounding factories from obtaining "permits to pollute"—resulting in groundbreaking new environmental legislation. You can learn about the tremendous impact that the clothing industry has on carbon emissions and global warming—and, if you attend in person, do something about it right away by participating in the conference's clothing swap and "visible mending workshop." You can also visit the conference's environment-themed VR/AR arcade, have lunch, and enter a raffle for hi-tech prizes.
The conference includes...
Lunch
VR/AR arcade
Clothing swap/ "Visible Mending" Workshop [To understand why swapping & mending are good for the environment, see the short video "The Life Cycle of a Tee-Shirt."]
Hi-tech prize raffle
On-site parking
You can choose to attend the conference in person on the NJIT campus or attend the conference entirely online. If you select an online ticket, you will receive a WebEx link prior to the event.
Online attendees don't get lunch 😎... but they are eligible for the prize raffle!