Description

The Social Stock Exchange thinks the current investment model is broken and we have the objective to fix it.
We aim to support Socially Responsible companies that not only care about the profit that they generate but also about the broader impact they have on society.
It's no longer just about making more money. It's about making money more: more sustainable, more impactful, more responsible – enter impact investing.
And now, maybe for the first time, you can be a part of it through a European crowdfunding campaign: we will be visitng Berlin on 1st December.
Program
17u00-17u30 - Networking

17u30-17u40 - Welcome by Tomas Carruthers (Social Stock Exchange)

17u40-17u50 – "The Internet of Impact" by Karl Richter (EngagedX)

17u50-18u05 – Exclusive interview by Dr Andreas Rickert - Chairman, Phineo with Dr Brigitte Mohn, Bertelsmann Stiftung – winner of the 2016 Ernst & Young Social Entrepreneur of the Year Award

18u05-18u20 – Crowdfunding presentation and video by Tomás Carruthers – CEO, Social Stock Exchange

18u20-18u30 – Q&A

18u30-20u00 – Networking Cocktail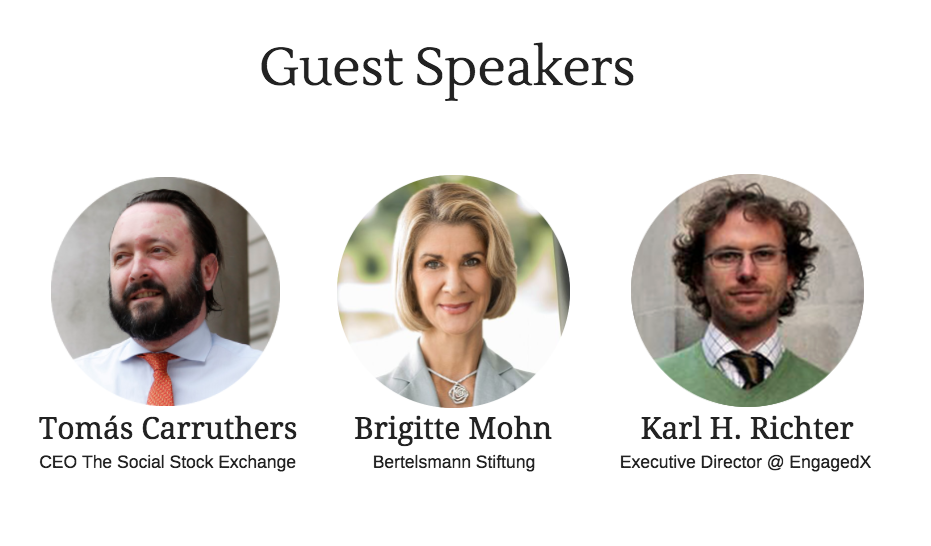 We kindly invite you to join us for this exciting evening where you will get the opportunity meet our team, think together about how we can make capital markets work for society, and enjoy this historical moment together.
Register now!