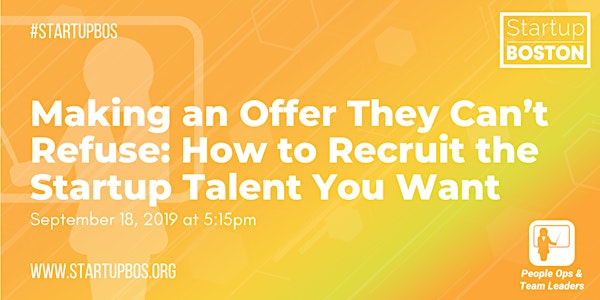 Making an Offer They Can't Refuse: How to Recruit the Startup Talent You Want
When and where
Location
CIC - Boston 50 Milk Street 20th Floor — Lighthouse West Boston, MA 02109
Description
It's more than a numbers game—recruiting today's top talent means offering an attractive and dynamic package, in addition to a base salary.
We'll explore a few different ways companies are locking in the best talent so you can have a full understanding about the most attractive types of compensation to today's all-star career seekers and their advantages—to both employers and employees.
This event is part of the People Ops & Team Leaders Track at Startup Boston Week 2019. And is perfect for companies in the Growth Stage.
Our Speakers:
Amy Spurling, Co-founder and CEO, Compt
Amy is a seasoned executive with over 15 years of experience in leadership roles at venture-backed companies ranging from early startup phase through high growth and ultimately exit. Her current company, Compt, helps businesses create perk programs that employees love.
David Chang, Chief Executive Officer, Gradifi
At Gradifi, David is on a mission to help employers build loyalty with their workforce by providing employee benefits that positively impact their employee's financial well-being. He is also an active mentor and advisor for numerous companies, and an active angel investor, investing in startups such as Crashlytics, clypd, Cuseum, and more.
Tara Griesbach, Head of Technical Talent, Devoted Health
Tara focuses on growing teams and connecting talent to jobs that they can grow and thrive in. She focuses on understanding what makes people tick and employer branding as a supplement to talent attraction. Previously, she was the director of talent acquisition at Mendix and Rapid.
Graham Walters, Chief People Officer, Draft Kings
Graham has almost a decade of experience in managing compensation packages and reward programs for employees. He aims to find win-win solutions to all People challenges and believes centering company policies around employee happiness is the most effective way to foster employee productivity. Before his current position at Draft Kings, he was was the Senior Manager of Compensation and Equity at Trip Advisor.
Our Moderator:
Emma Brudner, Director of People Operations, Lola.com
Emma recently joined the Lola team after running marketing, blog, and community for HubSpot. Lola is currently a rapidly growing startup, based in Boston, which is the most highly rated corporate travel software by customers.
---
This is a Startup Boston Week event.
Startup Boston Week is a free, five-day series of events celebrating, educating, and connecting entrepreneurs in Boston. Taking place from September 16th-20th, 2019 Startup Boston Week brings entrepreneurs, company leaders, innovators, and industry experts together to foster collaboration and fuel growth in Boston's startup ecosystem.
Thank you to our event partners!
About Matter:
Matter is a Brand Elevation Agency unifying public relations, social media, creative services, and search and digital marketing into strategic, content-rich communications campaigns that inspire action and build value. With 15 years of experience working with companies ranging from startups to large enterprises, we understand the fast speed and challenges inherent in marketing a new brand. Whether you're building a business or growing a brand, we can help you achieve the success you deserve.
About CIC Boston:
One of Boston's largest innovation communities, CIC provides office and coworking space, and supports a variety of important programs in Boston's startup scene including Venture Cafe, District Hall, and MassRobotics.