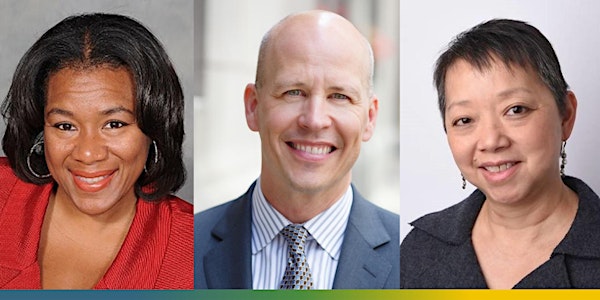 Making an Impact: Leveraging Your Booth MBA to Support Nonprofits
Do you want to leverage your Booth MBA to create meaningful impact in your community, but aren't sure where to start?
About this event
On Tuesday, August 4, join the Rustandy Center for Social Sector Innovation at the University of Chicago Booth School of Business and Booth Alumni Nonprofit Consultants (BANC) for a virtual event to explore how you can make an impact on the issues you care about most in the era of COVID-19 and beyond.
At the event, hear a panel of Booth alumni nonprofit leaders discuss challenges facing the sector's ability to secure resources and support those most impacted by the ongoing pandemic. They will then delve into the many ways in which fellow Booth graduates can use their time and talents to support the vital work of nonprofit organizations. Whether you want to volunteer your time through one-off opportunities, consulting, or board service, or you're looking to make financial contributions, this event will help you understand the diverse ways that you can take action in driving forward meaningful social impact work alongside nonprofits.
Zoom information will be sent directly to registrants via email two hours prior to the start of the event. If you would still like to join the event after registration is closed, please contact Prentiss Smith (prentiss.smith@chicagobooth.edu).
Panelists:
Arshele Stevens, '13, CEO, Girls Inc.
Eric Weinheimer, '94, Immediate Past President and CEO, Forefront
Moderator:
Oi Eng-Crandus, '92, Chief Financial and Operations Officer, Chicago Lawyers' Committee for Civil Rights; Secretary on the Board of Directors, RefugeeOne
About Booth Alumni Nonprofit Consultants (BANC)
Booth Alumni Nonprofit Consultants (BANC) supports Chicago-based nonprofits with pro bono strategy, planning, and advisory services delivered by Booth alumni. The unique program makes a measurable impact in advancing nonprofit mission and objectives by offering nonprofits the opportunity to tap into Booth alumni skills and expertise. Alumni with experience across industries, functions, and all stages in life's journey (retired, stay-at-home parents, full or part-time) have the chance to give back and deepen their knowledge of the nonprofit sector, while building new connections to the community and fellow Booth graduates.