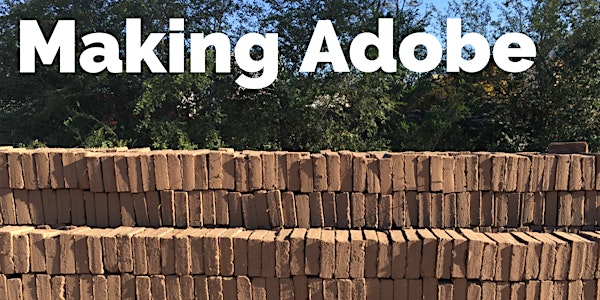 Multiple dates
Making Adobe - Half-Day Intensive
This four hour class is a condensed introduction to adobe brick and construction taught in a single pleasant afternoon.
Date and time
April 23 · 12pm - September 10 · 4pm PDT
Location
Pioneertown Mane Street Pioneertown, CA 92268
Refund Policy
Refunds up to 7 days before event
About this event
This four hour class is a condensed introduction to adobe brick and construction. The course will introduce the basics of how to make an adobe brick, making adobe forms, techniques for improving water resistance, and basic brick laying techniques.
Who is it for?
This introduction is suitable for DIYers, natural building enthusiasts, adobe homeowners, aspiring builders, and the adobe curious.
Prerequisites:
None
Workload:
4 hours
Instruction Type:
This is an in-person, hands-on class. Attendees will have the opportunity to get dirty and use tools and equipment typical of adobe construction. Due to the course format, enrollment will be limited to 8 individuals. Children under the age of 14 unfortunately cannot be accommodated except by prior arrangement. In the unlikely event of inclement weather, instruction will occur indoors.
Course Topics:
Topics Include:
Soil Selection and Testing
Making Adobe Bricks
Water Resistance and Stabilization
Adobe Forms
Brick Laying Techniques
Gravel garden wall foundations
Course Objectives:
Objectives Include:
Discuss safety in earthen construction.
Gain an understanding of how earth has been used as a building material worldwide and in CA.
Learn how to locate and identify suitable soil samples (clay and aggregates) for use in adobe construction.
Gain a basic understanding of clay minerals and aggregates and their role in the adobe mix.
Learn the proportions of a good adobe mix for your area and how to amend/blend your soil if a suitable mix is not naturally present.
Learn how to mix mud in a wheelbarrow.
Learn how to make adobe blocks.
Obtain an overview of the basic adobe block drying sequence.
Obtain an overview of different methods of field testing your adobe bricks for strength.
Learn about the use of stabilizers for improved water resistance, including asphalt emulsion, portland cement, and lime
Learn techniques for laying adobe bricks to form a wall
Learn techniques for properly applying mortar and tooling joints
Evaluation Methods:
20 question written exam
Location:
Pioneertown, California
Instructor:
K. Ben Loescher, AIA
Ben Loescher is a licensed architect, founder of adobeisnotsoftware and principal of Loescher Meachem Architects.
Registration:
The cost for the class is $110/person. Please inquire for discounts for groups of more than four.
Questions:
Please do not hesitate to reach out to us mud@adobeisnotsoftware.org
Fine Print:
Construction is inherently dangerous, and participants are expected to be partners in ensuring their own safety. You may be asked to sign an acknowledgement of this in advance of class participation.
Classes may not be held in the event of insufficient registrations to cover operating costs - adobeisnotsoftware reserves the right to cancel undersubscribed classes and events with at least 7 days prior notice.
In the unlikely event of inclement weather, classes may be rescheduled or canceled.
For individuals who find they may not be able to participate in a class or event for which they are registered, adobeisnotsoftware will offer a full refund if notified at least one week in advance. Cancellations within 7 days of the event are non-refundable.