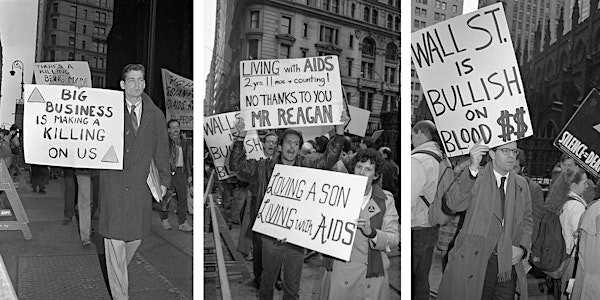 MAKING A KILLING: 34th Anniversary of ACT UP's First Protest
Join NYC LGBT Historic Sites Project; Eric Marcus, Making Gay History; ACT UP co-founder, Eric Sawyer; and ACT UP member Ann Northrop
About this event
** FREE **
ACT UP (the AIDS Coalition to Unleash Power) first brought widespread attention to the AIDS epidemic in the 1980s. The group's first-ever demonstration took place on March 24, 1987, at the busy intersection of Wall Street and Broadway to protest the high cost of the only approved AIDS drug at the time. On the anniversary of this important action, we'll join Eric Marcus, host of the Making Gay History podcast, in conversation with Eric Sawyer, ACT UP co-founder, and social justice and HIV activist, and Ann Northrop, long-time ACT UP member, LGBTQ activist, and co-host of the long-running TV news show, Gay USA. Together, we'll reflect on this defining action in the Financial District, and the many others that followed.
This event is made possible with generous support from American Express, Consolidated Edison, and NYC & Company Foundation.
IMPORTANT:
You will receive an email from Eventbrite on the day of the event with Zoom link and password to attend this virtual event. We strongly recommend you allow yourself extra time prior to the scheduled check-in start time to ensure your Zoom account is setup and up-to-date, to avoid delay in gaining admission.
Check-in will begin at 6:25PM EST; the program will begin at 6:30PM EST.
Please make sure the name/email used for registration via Eventbrite matches the display name on your Zoom. This is essential for a smooth check-in process and to avoid delays being admitted into the virtual event.
To enter the event, click on the Zoom link in the Eventbrite email to check-in. At that time, you will be placed into the Waiting Room. Once our team has confirmed your registration with Eventbrite, you will be admitted.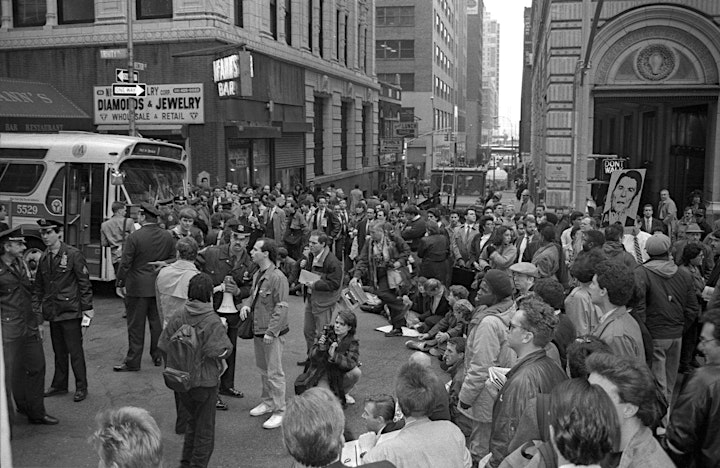 About the NYC LGBT Historic Site Project
The NYC LGBT Historic Sites Project is a nonprofit cultural initiative and educational resource that is making an invisible history visible by documenting extant historic and cultural sites associated with the LGBT community throughout New York City. For more, visit www.nyclgbtsites.org, or follow on Instagram, Facebook, or Twitter.
Photos, left to right and top to bottom; all from March 24, 1988; all by and courtesy of Clay Walker: (1) Demonstrators on Broadway, just north of Wall Street, with Trinity Church at back right; (2) ACT UP member and Broadway performer Mark Fotopoulos and his mother demonstrate on Broadway, just south of Wall Street; (3) Demonstrators on Broadway, just south of Wall Street; (4) Demonstrators and police at the intersection of Trinity Place and Rector Street.