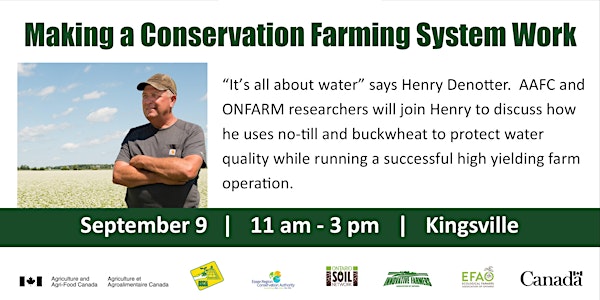 Making a Conservation Farming System Work - a Field Day
AAFC & ONFARM researchers & Henry will discuss how he uses no-till and buckwheat to protect water & run a successful high yielding farm.
When and where
Location
Denotter Farms 1240 Road 3 W Kingsville, ON N0R 1B0 Canada
About this event
Learn how Henry is improving soil health, reducing water quality impacts and increasing biodiversity on his farm. Henry will discuss his tillage methods and crop rotations along with his equipment modifications. Researchers from Agriculture and Agri-Food Canada Living Lab Ontario project and the ONFARM project will share water quality and field trial results. Researchers will take us below the soil surface and explain what is going on below the field in the soil pit.
This event is FREE to attend. BBQ lunch included. Registration is required. The tour will proceed rain or shine (barring severe inclement weather).
This field day is an OSCIA-recognized On-Farm Climate Action Fund (OFCAF) Knowledge Sharing Event for applicants with approved Nitrogen Management or Cover Cropping projects. Questions about OFCAF should be directed to OFCAF@ontariosoilcrop.org
For more information about Living Lab -Ontario, visit our website.
For more information about the ONFARM program visit ONFARM.
We look forward to seeing you there!