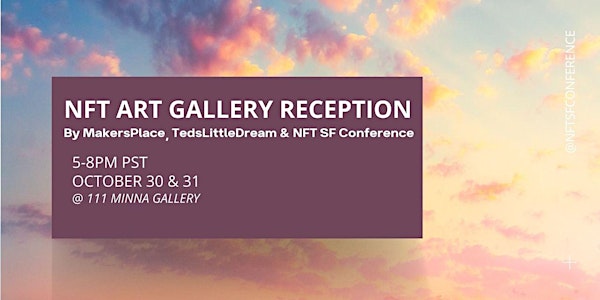 MakersPlace x NFT SF Conference Gallery Reception
Come attend this NFT Gallery Reception! See art pieces from NFT artists and be able to connect with devs, artists, and venture capitalists.
When and where
Location
111 Minna Gallery 111 Minna Street San Francisco, CA 94105
About this event
The NFT San Francisco Conference is planning a series of sponsored afterparties. Come members of the NFT SF Conference in an afterparty networking event on October 30th at 111 Minna Gallery. The theme of the event is based on Identity.
You will see art pieces from local NFT artists and be able to connect with devs, artists, venture capitalists, and guest speakers. There will be FREE drinks and appetizers.
You can come across more info about the NFT SF Conference here: https://nftsanfrancisco.xyz/
This is a collaborative event with MakersPlace and local bay area artist, Ted Chin.
About MakersPlace: MakersPlace is the premier NFT marketplace for digital art. Launched in 2018, MakersPlace utilizes blockchain technology to facilitate the sale of authentic, original digital artwork, ensuring rarity and ownership for both creators and collectors. MakersPlace has emphasized accessibility since its inception, and has attracted a large mainstream audience as the first NFT marketplace to accept both cryptocurrency (ETH) and non-cryptocurrency (USD) payments, which it facilitates through crypto wallet and credit card transactions, respectively. MakersPlace helped catapult digital art and NFTs onto the global stage, with the historic sale of Beeple's Everydays: The First 5000 Days for $69.3 million in partnership with Christie's auction house in March 2021 – the record price for any digital artwork. Our mission is simple: to enable a vibrant future for digital creativity.
You can also follow local bay area artist Ted Chin here: https://www.instagram.com/tedslittledream/?hl=en