Description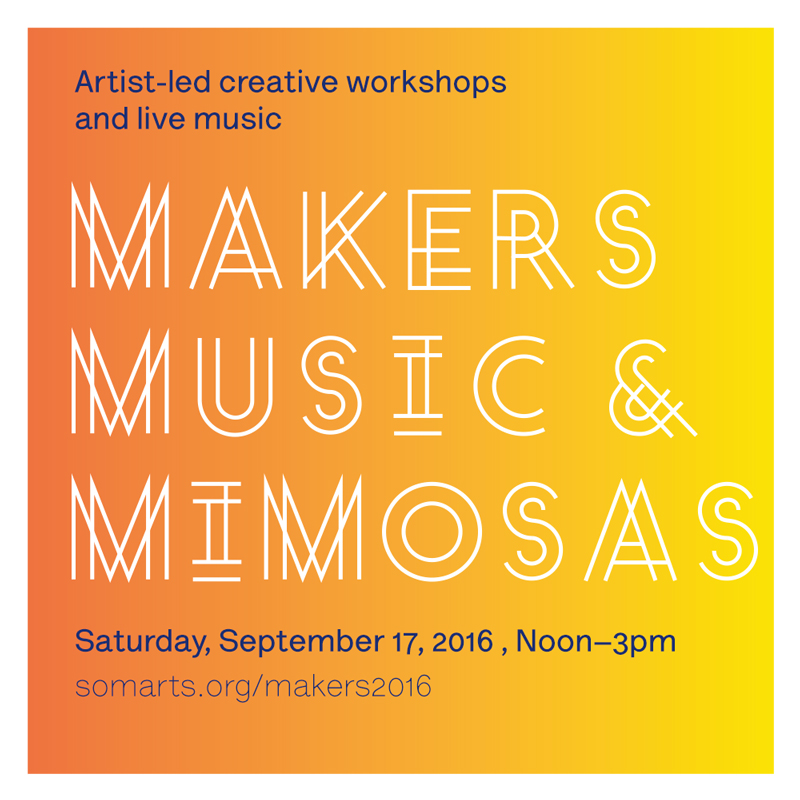 Whether you fancy yourself a maker, artist or craftsperson, or have two left thumbs when it comes to creative production, you can try something new alongside some of the Bay Area's most talented emerging artists. Join five "makers" exhibiting in The San Francisco Foundation & SOMArts Annual Murphy and Cadogan Contemporary Art Awards Exhibition for a free-to-attend afternoon of artist-led creative workshops and live music.
Regardless of your skill level, the only prerequisite is that you bring to the worktable a sense of adventure—you'll find out your two workshop assignments when you arrive. We'll try to honor at least one of your preferences. They say orange is the color of creativity, so mimosas will be served by a cash bar.
WORKSHOP DESCRIPTIONS:
Make Your Own Mythical Halo Halo with France Viana
Artist France Viana offers workshop participants a gustatory experience of her work, Color Palate, with this hands-on Halo Halo workshop. Using a buffet of ingredients, workshop participants will make their own flavor of Halo Halo — the national dessert of the Philippines — and share stories of childhood foods and food myths.
Mixedness with Manny Robertson
This workshop will explore simplified cross-media techniques used in the creation of artist Manny Robertson's large-scale Androids, and ideas around mixedness and binary systems. Using collage materials such as shapes and found photographs, workshop participants will assemble and then begin to illustrate onto the assemblage to create something entirely new.
Light and Memory with Linghao Shen
Exploring themes of light and memory, workshop participants will use luminous materials to create artwork that glows.
Yarn Adventure with Behnaz Khaleghi
Artist Behnaz Khaleghi will teach workshop participants to make sculptures small and large out of wire netting, fabric and yarn. All experience levels are welcome!
State of the Art with Danielle Andress
Workshop participants will learn the basics of loom bead weaving by completing a simple woven patch using glass seed beads. This quick tutorial includes patterns and materials to efficiently teach and discuss the technical aspects of weaving. Each student will walk away with a small, completed bead weaving.
Structured Doodling with Hadley Radt
In this workshop, participants will work with pen on wood panels to create intricate and beautiful artworks. Artist Hadley Radt will teach participants to use a repeated mark to create patterns as a fun and relaxing way to express creativity.
Here's the full order of operations:
Step 1 (right now!): Register on EventBrite. Make yourself a note to arrive by 12pm on the day of the event to be guaranteed a schedule.
Step 2 (by 12pm): Check-in to the SOMArts lobby to receive your two workshop assignments, chosen at random. If your workshops don't appeal to you, do what you were never allowed to do in school: grab a drink & swap schedules socially with other students before the bell rings. Also, spend some time with the art in the gallery!
Step 3 (12:30pm): The bell rings for the first of two 30 minute workshop sessions.
Step 4 (1:00pm): Following a short break for socializing and refreshments, enjoy live music in the gallery and check out the art exhibition.
Step 5 (1:45pm): The bell rings for the second 30 minute workshop session.
Step 6 (2:15pm): Workshops close, but the cash bar is open until 3pm for you to refresh your drinks, stroll through the gallery and enjoy a second set of live music.
The San Francisco Foundation & SOMArts Annual Murphy and Cadogan Art Awards Exhibition and related events are free to attend and take place at SOMArts Cultural Center in San Francisco, CA.
The Annual Murphy and Cadogan Contemporary Art Awards Exhibition
September 1–24, 2016
Gallery hours: Tuesday–Friday, 12–7pm & Saturday, 12–5pm