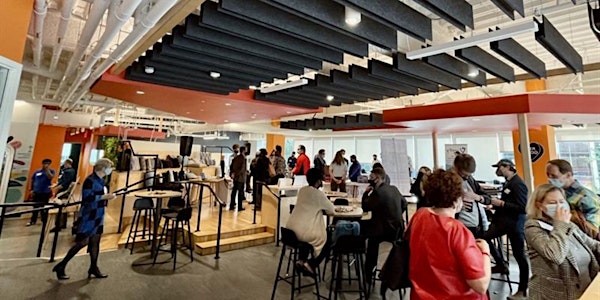 Makers Meetup Free Event at Venture Cafe in University City Science Center
Business/Start-up info Breakout Sessions. 25 of the top startups in the Mid Atlantic Showcase. Sean O'Sullivan Keynote speech. Must RSVP!
When and where
Location
University City Science Center 3675 Market Street #STE 400 Philadelphia, PA 19104
About this event
Attend the Makers Meetup free in-person event on April 7th at the Science Center Venture Cafe! Proof of Vaccination will be required to attend and Covid safety protocols will be followed. We are also offering free food and beverages (soft drinks/beer/wine).
RSVP if you plan to attend! https://www.meetup.com/Makers-Meetup/events/284316736/?isFirstPublish=true
The program will begin in the Quorum event space, on the second floor with a Showcase of 25 of the top (hard product) startups in the Mid Atlantic at 4 pm, followed by a keynote speech from famed investor and philanthropist, Sean O'Sullivan at 6pm.
During these programs, breakout sessions will being going on starting at 3pm in the Venture Café on the 3rd floor. We will also present a seminar conducted by Dylan Crow and Garrett Winther who leads the new $50 million SOSV HAX Program for early stage Hard Tech startups.
Breakout Sessions will include a session on Advanced Arduino Debugging, led by Bob Martin – the "Wizard of Make" - from MicroChip. This intensive 3-hour course will include free eval boards. Space is limited to 25 attendees for each of these breakout sessions and Pre-Registration is required: https://venturecafephiladelphia.org/event/thursday-gathering-april-7-2021/
Sean O'Sullivan founded MapInfo in 1985, pioneering street mapping on computers. Today we see that kind of technology in applications like google and apple maps. This is the man who co-coined the term "Cloud Computing," as in the delivery of services over the internet - "the cloud." After MapInfo he founded SOSVentures in 1995, which is now a venture capital firm with over $1.2 Billion in assets under management. Not only is Sean O'Sullivan promotor of business development, but he also works to promote positive social ventures. He started JumpStart International in 2003 to help Iraqis rebuild their infrastructures post war.