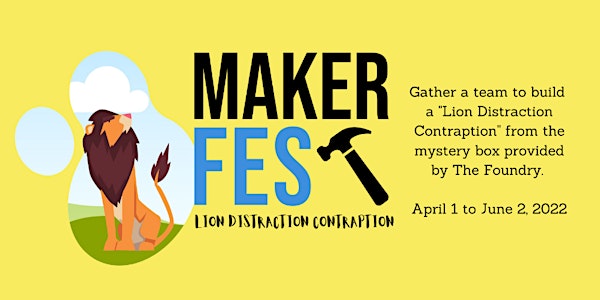 Multiple dates
MakerFest '22 - Team Registration
Do you have what it takes to win the MakerFest Cup?
By The Foundry - Free/Special Events
Date and time
April 6, 2022 · 10am - June 2, 2022 · 9pm EDT
Location
298 Northampton St 298 Northampton Street Buffalo, NY 14208
Refund Policy
Contact the organizer to request a refund.
Eventbrite's fee is nonrefundable.
About this event
MakerFest is a fun design/build competition in support of The Foundry. Teams are asked to build something based on a prompt, and every year a group walks away with bragging rights and the MakerFest Cup!
How to Participate:
1. Pick a date, Gather your Team, and Register! (Individuals register here: https://www.eventbrite.com/e/318072402117)
2. Attend a webinar on April 1 at 7:00 pm for additional information, or watch the recorded webinar later (link will be provided to registered participants).
3. Attend your design/build day at The Foundry. You'll work as a team to construct your contraption using the mystery box of materials that you'll receive from The Foundry. We'll have all sorts of tools, glue and other stuff set up, waiting for you to create with. No experience necessary!
4. Attend the June 2nd judging event with your friends, family, strangers, and people in town. The audience will vote on their favorite. There will be snacks and drinks to enjoy while celebrating each team's creativity.
5. If you win, bask in the glory of victory!
The Design Challenge: The Lion Distraction Contraption
(note: every year, we base the challenge off a fun April Fools joke. It's never a real story, but we love that April Fools jokes provide such fun and silly design challenges!)
On April 1, 1698, townspeople showed up at the Tower of London's moat to observe the first annual "Washing of the Lions." Throughout the centuries, large crowds have gathered to watch this spectacular event. Each year, at least 10 people are maimed by the aggravated (and clean) lions!
To avoid this never-ending public relations scandal, the English Parliament and Queen Elizabeth need a solution. The Foundry was chosen to design and create a "Lion Distraction Contraption." The device needs to distract the animals while they are getting their annual washing.
The staff, board, makers, and youth have been unable to decide on a design. WE NEED YOUR HELP! Will you accept this challenge? Create a lion distraction contraption from the materials provided in your MakerFest mystery box. Design the best solution, and your team wins bragging rights and the MakerFest Cup!
Benefits of Participating
Free admission for all team members to the 6/2/22 event
Space at The Foundry with your team to construct your contraption
A team t-shirt either made by The Foundry staff or by your team
The joy of helping The Foundry while showing everyone your brilliance
All winning team members receive a gift certificate of $20 for FoundryMade goods
Winning teams receive either a cup or medal (depending on the category)
The Design Construction Rules
Must use all of the items in your mystery box
Can also use Screws, Nails, Glue, Staples, & Thread
Can incorporate two other items in your design that are of a value less than $5 each
Can ONLY use these tools to construct your item: Hammer, Scissors, Handsaw, Screwdriver (or drill), Glue gun, Sewing needle, Tin snips, Hole punch & Stapler
Allowed to make any interesting item that you think will win according to the "Lion Distraction Contraption" prompt
Come to The Foundry and create your contraption
Presentation Day
Your final product will be shown at The Foundry at 6:00 pm on 6/2/22.
Your team will give a quick presentation on your design process to the judges.
There will be two winners announced at the 6/2/22 event, and you or a member of your team must be present to win.
Audience Appreciation Medals
Each person who attends the event on 6/2/22 will receive a slip of paper to vote on their favorite design. (This means it's worth getting your associates at the event.)
Whoever gets the majority of the audience votes, wins an Audience Appreciation Medal, one per team member. (In case of any tie, the teams that tie will present their designs to the audience for a voice vote)
MakerFest 2022 Champs-The Cup
A panel of judges will be selected to judge this category
They will have a score sheet of 1-3 in each of the following categories: Overall aesthetically pleasing, Incorporates all items in the mystery box, Incorporates the design prompt of Lion Distraction Contraption, Presentation to the judges convey the design process, Most interesting design
In case of any tie, the teams that tie will present their designs to the audience for a voice vote
About the organizer
The mission of The Foundry is to increase neighborhood prosperity by empowering individuals through education and entrepreneurship.
BUSINESS INCUBATION
We believe that creating the opportunities and conditions necessary for self sufficiency and economic stability promotes a healthier community. We accept budding entrepreneurs from throughout the city, but we're especially excited to welcome low-income, minority, women-owned and neighborhood-based businesses into our mix! If you're looking for space or know of someone who is, please contact us. or read more about the Incubator.
We assist with business incubation through affordable rental space, mentoring, business classes and workshops, and connections to local support services. Our Second Saturday open house events are themed neighborhood events with activities for all ages, including volunteer opportunities, vendors, classes, free kid's art activities, and much more.
EDUCATION, EMPOWERMENT AND EMPLOYMENT
In addition to entrepreneurship, working with youth to achieve meaningful, long-term employment and a well-rounded education is a priority for our organization. Economic stability and social health of people in our community is vital for the overall health of our neighborhood. We facilitate youth opportunities through STEM exploration for girls, job training partnerships (Baker-Victory Services, YouthBuild, Aspire), part time employment at the Foundry, career exploration, and youth entrepreneurship programs.