Description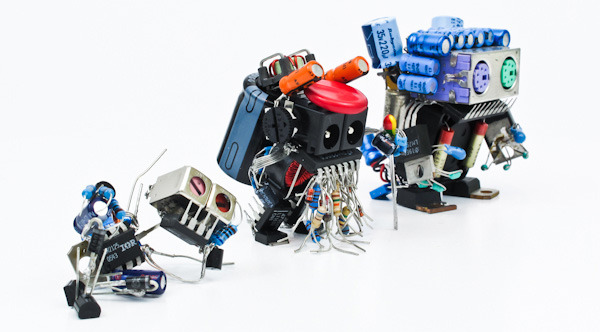 Come create some electronic component art with us. You'll solder and glue together old-school electronic components to make awesome little critters, robots, buildings, aliens, whatever your imagination can come up with! You'll be using soldering irons, glue-guns, and hand tools (tweasers, pliers, etc) to put components together.
We we will a half a dozen or more examples of this kind of art on hand to help inspire you, as well as print outs of pages of more examples from the internet. And our dedicated staff will also be more than willing to help you refine your ideas.
This workshop takes about an hour and a half - in the first 30 minutes, you'll be learning how to solder, coming up with your idea, and finding the right components from among our vast selection. In the remaining hour, you'll get to sit down at one of our crafting stations and actually assemble your creation. If you can't finish in an hour, no worries, there will be extra stations for you to stay at for a bit - but we will ask you to move on at the 2h point, to make room for others. At the end, you're more than welcome to take your new buddy with you, or you can leave it among friends in our "component critter zoo" to inspire others!
The workshop will be located at the Toronto Reference Library, during Maker Festival. It's in the Browsery, the large semi-circular glass room on the north side of the first floor, #120 on the map. As you enter the library through the gates, hang left and walk behind the stage, then past the TVs to the left, it's on the tile area near the windows, near the middle of the curve.