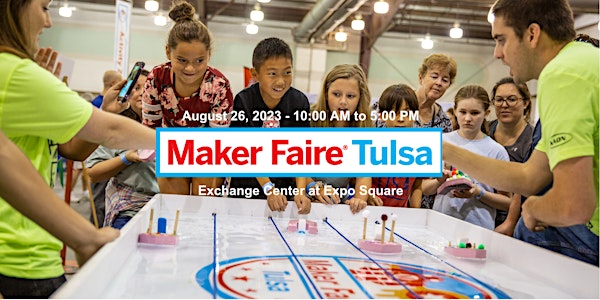 Maker Faire Tulsa 2023
The Greatest Show & Tell in Oklahoma
Date and time
Saturday, August 26 · 10am - 5pm CDT
Location
Exchange Center at Expo Square 4145 E 21st ST Tulsa, OK 74114
About this event
Over a Decade of Maker Fun: Maker Faire Tulsa is an award-winning, family-friendly event celebrating technology, education, science, arts, crafts, engineering, food, sustainability and making of all kinds. In 2023, Fab Lab Tulsa celebrates our 11th maker faire anniversary.
Seeing is Believing: Whether as hobbyists or professionals, makers are creative, resourceful and curious, developing projects that demonstrate how they can interact with the world around them. Maker Faire Tulsa highlights Tulsa's own Do-It-Yourself (DIY) mindset.
Join Us: The 11th annual Maker Faire Tulsa will be held from 10 AM to 5 PM on Saturday, August 26th, 2023 in the Exchange Center at Expo Square. Our goal is to make visible the projects and ideas that we don't encounter every day.
Attendance is Free. So Why Sign Up? Signing up for a ticket helps us gauge how many people are coming to better plan our exhibits and interactive displays so that we have enough materials for everyone to take part and enjoy.
Benefiting Fab Lab Tulsa: Maker Faire Tulsa is an outreach program of Fab Lab Tulsa, a non-profit makerspace located in the Kendall-Whittier neighborhood of Tulsa. The mission of Fab Lab Tulsa is to empower our community by providing education, workforce and business programming that teaches innovation, design-thinking, problem-solving and change-making, together with open and equitable access to 21st Century digital fabrication tools, equipment and technology. Proceeds of the event support our maker education programming.
Thank You to Our Sponsors: Maker Faire Tulsa is presented by AAON. The event features the QuikTrip Activity Zone, and the T.D. Williamson Robotics Zone.