Maker Faire Tulsa 2018

Saturday, August 25, 2018 from 10:00 AM to 5:00 PM (CDT)
Event Details
Now a Featured Maker Faire:  

Maker Faire Tulsa is an award-winning, family-friendly event celebrating technology, education, science, arts, crafts, engineering, food, sustainability, and making of all kinds.  In 2018, Fab Lab Tulsa celebrates our sixth maker faire anniversary by becoming one of just 30 Featured Faires in the world.
Seeing Is Believing:  

Maker Faire is an event created by MAKE Magazine.  Whether as hobbyists or professionals, makers are creative, resourceful and curious, developing projects that demonstrate how they can interact with the world around them.  Maker Faire Tulsa highlights Tulsa's own Do-It-Yourself (DIY) mindset.
Join Us: 

T

he 6th Annual Maker Faire Tulsa will be held from 10 a.m. to 5 p.m. on August 25th in Central Park Hall at Expo Square.  Our goal is to make visible the projects and ideas that we don't encounter every day.
Attendance is Free! So why sign up?  Signing up for a ticket will help us to gauge how many people will be coming and will help us to plan our exhibits and interactive displays so that we will have enough materials for everyone to take part and enjoy.
Hosted by Fab Lab Tulsa:  

Maker Faire Tulsa is hosted by Fab Lab Tulsa, a non-profit organization located in the Kendall-Whittier neighborhood of Tulsa.  Fab Lab Tulsa provides community access to advanced manufacturing and digital fabrication tools for learning skills, developing inventions, creating businesses and producing personalized products.
When & Where

Central Park Hall at Expo Square
1701 South Sandusky Avenue
Tulsa, OK 74112


Saturday, August 25, 2018 from 10:00 AM to 5:00 PM (CDT)
Add to my calendar
Organizer
About Maker Faire:
Maker Faire is the Greatest Show (and Tell) on Earth—a family-friendly showcase of invention, creativity and resourcefulness, and a celebration of the Maker Movement. It's a place where people show what they are making, and share what they are learning.
Makers range from tech enthusiasts to crafters to homesteaders to scientists to garage tinkerers. They are of all ages and backgrounds. The aim of Maker Faire is to entertain, inform, connect and grow this community.

The original Maker Faire event was held in San Mateo, CA and in 2016 celebrated its eleventh annual show with some 1300 makers and 150,000 people in attendance. World Maker Faire New York, the other flagship event, has grown in five years to 900+ makers and 90,000 attendees. Thirty-one larger scale Maker Faires occur in cities around the world—Detroit, Atlanta, Berlin, Paris, Rome, Tokyo, and Shenzhen to name a few— and over 150 community-driven, independently organized Mini Maker Faires are now being produced in the United States and in 34 other countries around the world.
About Make: Magazine: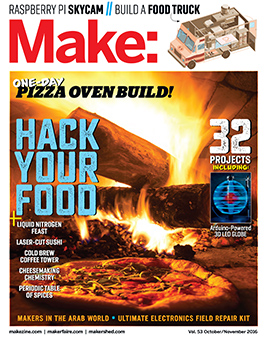 Make: is the first magazine devoted entirely to Do-It-Yourself (DIY) technology projects. Make: unites, inspires, informs, and entertains a growing community of resourceful people who undertake amazing projects in their backyards, basements, and garages. Make: celebrates your right to tweak, hack, and bend any technology to your will. Download a free issue here.
Besides the magazine and the faire, Make: is:
a vital online stream of news and projects, blog.makezine.com;
a retail outlet for kits and books, the Maker Shed;
a steady stream of fun and instruction via our YouTube channel;
Make: Projects, a library of projects with step-by-step instruction;
a publisher of best-in-category titles via Make: Books, including introductions to electronics, Raspberry Pi, 3D printing, Arduino and more.