Maker Faire Rochester 2019
Description
Maker Faire is the Greatest Show (and Tell) on Earth – a family-friendly showcase of invention, creativity and resourcefulness, and a celebration of the Maker movement.
The 6th Annual Maker Faire Rochester event takes place on Saturday, November 23, 2019, from 9 am to 5 pm at the Rochester Riverside Convention Center. The day will be filled with exciting exhibitions, demonstrations, and hands-on activities for all ages.
This celebration of the DIY spirit and creativity in the heart of Downtown Rochester is a full-on community festival with attractions, exhibits, demonstrations, and performances showcasing the intersection of science, technology, arts, and crafts -- many of them immersive and interactive.
Maker Faires expose attendees to technology, art, science, and engineering applied to projects that are built within the greater Rochester area and beyond. At the faire, attendees will learn to solder, make crafts, interact with physics experiments, and participate in other hands-on activities. We are hoping to inspire everyone who attends to go out and learn what it takes to create their own projects from what they learned and saw during the day.
A current and growing list of this year's makers can be found at: http://rochester.makerfaire.com/makers-exhibits/


FAQs
Where can I find more information about Maker Faire Rochester?
We have three main resources to distribute information:
1. Our website has a listing of all the great people and organizations that will be present at Maker Faire Rochester. rochester.makerfaire.com

2. We post updates regularly through Twitter at http://www.twitter.com/makerfaireroc
3. We frequently post updates, maker features, news, and other information through our Facebook Page. Like us on Facebook to stay up to date with everything we do. http://www.facebook.com/makerfairerochester
What day(s) and hour(s) will Maker Faire Rochester be open to the public?
The Maker Faire will take place on Saturday, November 23rd, 2018, from 9 am till 5 pm.
Where can I park?
Parking for the Rochester Riverside Convention Center can be found right across the street at the South Ave. Garage. Entrances can be found on South Ave, Broad Street, Stone Street, and through the Hyatt.
A sky bridge is located on the 3rd/yellow level of the garage over to the convention center.
Should I bring money?
The vast majority of our Makers offer FREE experiences, education, demonstrations, and hands-on activities. It is possible to have a great day at the faire, and spend NO additional money.
However, we do have a few makers that may charge a small fee to help cover the cost of their consumable materials for hands-on workshops and activities. We also have a few booths that will be selling items they make.
What about food?
We will have 4 food trucks parked in front of the Convention Center:
Chefs Catering
Eat Greek
Robs Kabobs
And a Dessert Crepes truck!
We will additionally have concessions featuring family friendly food within the Convention Center. Popcorn, Ice cream, salads, grilled chicken sandwiches, chicken fingers, etc.
Can I volunteer at Maker Faire Rochester
You can sign up to volunteer at: http://rochester.makerfaire.com/volunteer/

Where is the handicap parking located?
Handicap parking can also be found across the street at the South Ave. Garage.
Is public transportation available?
Multiple RTS bus stops can be found around the convention center. For more information, visit http://www.rgrta.com/MapsSchedules/RegionalTransitService(RTS).aspx.
Will you have bike parking?
Unfortunately, at this time we are unable to provide bike parking at the venue. We are however researching several possibilities and will update this section should the status change.
Can I bring my dog?
For the safety and well-being of our four-legged friends, please leave your pets at home. There are loud noises, many moveable parts, fire elements and large crowds, all of which do not create a safe environment for pets.
What if it rains or snows?
The show will go on! Bring rain or snow gear to keep you dry when walking outdoors. Fortunately, almost all our exhibits are indoors to keep the family dry.
What can I expect?
To have a fantastic time! You'll be surprised and intrigued with every corner that you turn.
Further Questions?
If you have any other questions, feel free to email rochesterfaireinfo@gmail.com and we will get back to you as soon as we can!
Organizer of Maker Faire Rochester 2019
About
Maker Faire Rochester

:

Maker Faire Rochester is sponsored by NYSCATE in conjunction with MAKE.

"NYSCATE is committed to transforming teaching and learning to provide children with an education that prepares them to lead meaningful and productive lives."  

Come celebrate with us, as we put on the 6th Annual Maker Faire Rochester.


Makers think, imagine, and create every day. The ingenuity, experiences, resourcefulness, innovation, and passion of Makers in the Maker movement is something we hope to replicate in our schools.  This has given us a desire to learn from, support, and help foster the Maker Movement within the greater community.  Having people young and old, wealthy and poor,  imagine, design, create, troubleshoot, and problem solve leads to more meaningful experiences, and helps build a mindset of making and tinkering that will serve them their entire lives.


Maker Faire Rochester celebrated its first event in November of 2014 with over 90 maker exhibits from across Western New York and 1,500 visitors in attendance. Since then, over 14,000 people have visited Maker Faire Rochester during the past 5 events, including more than 4k attendees in 2018. We're excited to celebrate our 6th year this year..




About Maker Faire:
Maker Faire is the Greatest Show (and Tell) on Earth—a family-friendly showcase of invention, creativity and resourcefulness, and a celebration of the Maker Movement. It's a place where people show what they are making, and share what they are learning.
Makers range from tech enthusiasts to crafters to homesteaders to scientists to garage tinkerers. They are of all ages and backgrounds. The aim of Maker Faire is to entertain, inform, connect and grow this community.

The original Maker Faire event was held in San Mateo, CA and in 2014 celebrated its ninth annual show with some 1100 makers and 130,000 people in attendance. World Maker Faire New York, the other flagship event, has grown in four years to 600+ makers and 80,000 attendees. Detroit, Kansas City, Atlanta, Milwaukee, Orlando, Silver Spring, Paris, Rome, Oslo, Trondheim, Tokyo, Newcastle (UK), and Shenzhen are the home of larger-scale, "featured" Maker Faires and over 120 community-driven, independently organized Mini Maker Faires are now being produced around the United States and the world.
Maker Faire is supported by Make: magazine and Maker Media.
About Make: Magazine: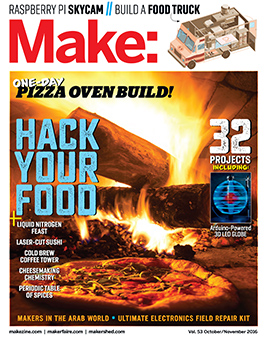 Make: is the first magazine devoted entirely to Do-It-Yourself (DIY) technology projects.
Make: unites, inspires, informs, and entertains a growing community of resourceful people who undertake amazing projects in their backyards, basements, and garages. Make: celebrates your right to tweak, hack, and bend any technology to your will.
Besides the magazine and the faire, Make: and Maker Media is: