| | |
| --- | --- |
| Maker Faire Education Day 2012 | |
Event Details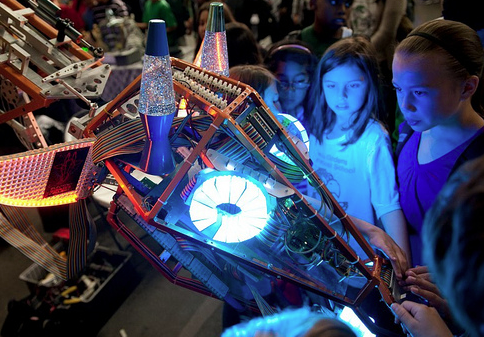 MAKE and Intel provide a special educational opportunity for grades K-12,
a preview tour of Maker Faire Bay Area.

Thursday, May 17, 2012
11:00am - 2:00pm

Preview tours are 90 minutes long and will have staggered arrival and departure times.
Inspire your students at Education Day, a unique preview of Maker Faire Bay Area. On Thursday, May 17, 2012, students get a sneak peek at some of our exhibits and workshops as Maker Faire is being set up for the weekend. Students meet and interact with selected Makers, participate in activities, and get a glimpse of the setup process for this large-scale event.
---

PAYMENT: Spaces for Maker Faire Education Day are not reserved until paid for in full. Admission fee includes one complimentary Maker Faire ticket for use on Saturday or Sunday.

ORDERING: The Tour Group package is valid for 12 to 15 students (age 18 and under) plus up to two adult chaperones. Tip: If you have 60 students, order 4 of these, not one of these and 45 add-ons. One adult chaperone must accompany 10 children, which will be free of charge on Thursday; adults in excess of this ratio must purchase additional tickets. If you would like to submit payment through a purchase order, please email us at education@makerfaire.com for assistance.

HOURS: 11:00am-2:00pm. Preview tours are 90 minutes long and will have staggered arrival and departure times. We recommend that groups with older students come earlier in the day and younger students come later in the day. Groups are requested to arrive 15 minutes before their tour begins and leave soon after their tour ends.

FOOD: We strongly urge Maker Faire Education Day participants to eat before or after the event, or to bring a bag lunch for this event. We'll identify a lunch area for those groups who need to eat on-site.

PARKING: There is no parking fee for Education Day (5/17/2012). Please follow the signs for Education Day Parking in the main San Mateo County Event Center parking lot off Saratoga.

SPECIAL NEEDS: If you have any special needs students, please let us know so that we can work with you to accommodate their needs to the best of our abilities.



---

AGREEMENTS

All attendees (students, teachers, and adult chaperones) must agree to the items listed below. We have created a PDF form to send home with students for parent/guardian signatures, available in English and Spanish.



At Maker Faire Education Day, there will be some opportunities to interact with exhibits and inventions.

RECORDINGS: You acknowledge that Maker Faire Education Day may be recorded in audio, visual, and/or audiovisual media and you consent to the making and use of such recordings by O'Reilly Media, Inc. and/or its licensees for any purpose. You release O'Reilly Media, Inc. and its licensees from and waive any claims related to or arising by reason of the making and/or use of any such recordings. You grant to O'Reilly Media, Inc. the right to use your name and likeness in connection with the use of the recordings.

ASSUMPTION OF RISK AND RELEASE: You agree that you are voluntarily participating in Maker Faire Education Day with knowledge of the risks of doing so, such as the risks of injury, property damage, or death resulting from the use of potentially dangerous tools or materials, and/or the active or passive negligence of O'Reilly Media, Inc., and/or Maker Faire sponsors and suppliers, and their respective officers, directors, employees, agents, and exhibitors (collectively, "we" or "us). You release us from all liability, claims, damage, or demands arising from or related to your participation in Maker Faire Education Day.

ACKNOWLEDGMENT: You acknowledge that you have read this Agreement and understand that it includes an assumption of the risk and a release of liability. We are relying on this waiver to allow you to be able to fully participate in Maker Faire Education Day.

 
Where
1346 Saratoga Drive
San Mateo, 94403


Organizer

Make: is the first magazine devoted entirely to Do-It-Yourself (DIY) technology projects. Make: unites, inspires, informs, and entertains a growing community of resourceful people who undertake amazing projects in their backyards, basements, and garages. Make: celebrates your right to tweak, hack, and bend any technology to your will. Make: is published bi-monthly by Maker Media, Inc. that also produces the wildly popular Make: Online (www.makezine.com) and the world's biggest DIY festival, Maker Faire (www.makerfaire.com).                                                                            
"The Maker movement has brought the pre-1970s world of basement workshops and amateur tinkering into the digital age." — The New York Times