Description
***TICKETS AVAILABLE AT THE GATE***
Same Prices as Online


Come celebrate Maker Faire Calgary's 6th year!
Maker Faire is a family friendly event with awesome exhibits and activities for all ages. It's like a giant show and tell of all the cool projects people make in their basements and garages that nobody ever sees. At Maker Faire these projects are on display and Makers enthusiastically share their design and build experiences. You will leave this event energized and wanting to make something too.
Want to see what Maker Faire looks like? Click here to check out the video from past years.
Saturday, October 28, 2017: 10 am – 5 pm
Sunday, October 29, 2017: 10 am – 5 pm
Here's a bit about Maker Faire Calgary to help you during the ticket purchase process.

Weather: Most Maker exhibits and activities are indoors and will not be affected by weather. We're also well prepared should it snow so that you can enjoy Maker Faire regardless of what the sky throws at us.
Costumes: While this is not officially a Halloween themed event, costumes are welcome and those wearing costumes can be sure to find treats.
Exhibits & Schedule: Explore the many Maker exhibits found here. The list is being added to daily. The presentation, performance, and demo schedule is also posted. It too is growing each day.
Discounts: For groups of 15 or more click here to unlock Adult Group Discount of 15%.
Free Passes: Just four hours of volunteering gets you a free pass. See below.
Volunteer: Volunteers get into Maker Faire free, plus other benefits. Click here to learn more.
Here are some frequently asked question highlights:
— Weekend Passes are good for both Saturday and Sunday, but cannot be shared between attendees.
— Single Day Passes can be used on Saturday OR Sunday only.
— Strollers and backpacks are allowed.
— Pets are not allowed, for their safety. Service animals are welcome.
— Free parking is available at Spruce Meadows in Parking Lots 7 & 8. There is also free shuttle bus service from the Somerset / Bridlewood LRT station parking lot departing every half-hour between 9am and 6pm.

Ticket Use Release of Liability:
This contract limits the liability of Making It Real Inc. and its affiliates. You acknowledge that Maker Faire exhibits and activities are inherently hazardous, and that risks to you as a Maker Faire attendee include physical injury and property damage. You are solely responsible for supervising/controlling the behavior of the children in your party for your/their safety. By using this ticket and/or participating in Maker Faire exhibits and/or activities, you assume all risks to you and/or your children of such, including damage, loss, harm, injury and death to your person(s) and all risks resulting from negligent instruction or supervision, and you release Making It Real Inc. from all corresponding liability to you and your successors. Your rights are waived to any images and/or recordings you may appear in while at Maker Faire and any/all related promotional or documentary materials.

Rain or shine. Tickets cannot be transferred to another Maker Faire.
Organizer of Maker Faire Calgary 2017
About Maker Faire:
Maker Faire is the Greatest Show (and Tell) on Earth—a family-friendly showcase of invention, creativity and resourcefulness, and a celebration of the Maker Movement. It's a place where people show what they are making, and share what they are learning.
Makers range from tech enthusiasts to crafters to homesteaders to scientists to garage tinkerers. They are of all ages and backgrounds. The aim of Maker Faire is to entertain, inform, connect and grow this community.

The original Maker Faire event was held in San Mateo, CA and in 2015 celebrated its tenth annual show with some 1100+ makers and 145,000 people in attendance. World Maker Faire New York, the other flagship event, has grown in four years to 600+ makers and 80,000 attendees. Detroit, Kansas City, Atlanta, Milwaukee, Orlando, Pittsburgh, San Diego, Silver Spring, Ottawa, Lisbon, Paris, Rome, Berlin, Newcastle, Hannover, Oslo, Trondheim, Seoul, Singapore, Taipei, Tokyo, and Shenzhen are the home of larger-scale, "featured" Maker Faires. In addition, over 120 community-driven, independently organized Mini Maker Faires are now being produced around the United States and the world—including right here in Red Deer.
Maker Faire is supported by Make: magazine and Maker Media.
About Make: Magazine: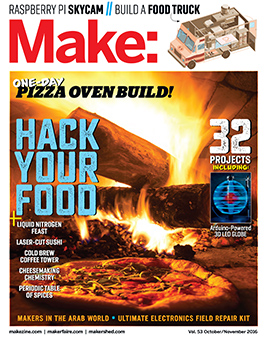 Make: is the first magazine devoted entirely to Do-It-Yourself (DIY) technology projects.
Make: unites, inspires, informs, and entertains a growing community of resourceful people who undertake amazing projects in their backyards, basements, and garages. Make: celebrates your right to tweak, hack, and bend any technology to your will.
Besides the magazine and the faire, Make: and Maker Media is: