Maker Faire Burlington 2017

Saturday, April 22, 2017 from 10:00 AM to 5:00 PM (EDT)
Event Details
Attendance is Free!  Why sign up for a ticket?
Signing up for a ticket will help us to gauge how many people will be coming and will help us plan our exhibits and interactive displays so that we will have enough materials for everyone to take part and enjoy.
What day(s) and hour(s) will Maker Faire Burlington be open to the public? 
Saturday, April 22, 10am-5pm
Where can I park? 
There is plenty of free regular and handicap parking. Maker Faire Burlington is held inside (and outside) a mall.
Is public transportation available? 
Burlington's bus system, Link Transit, Blue and Red lines runs directly to Holly Hill Mall.
Can I volunteer at Maker Burlington? 
Yes, we would love to have you volunteer! Please enter your email address here to receive volunteer updates, and fill out this form to volunteer!
What if it rains? 
The show will go on! Bring rain gear to keep you dry when walking outdoors. Fortunately, we will have many indoor exhibits to keep the family dry.
What can I expect?
To have a fantastic time! You'll be surprised and intrigued with every corner that you turn. 
Rain or Shine. No Refunds/Exchanges. Tickets cannot be replaced.
Maker Faire Burlington is independently organized and operated under license from Maker Media, Inc.  
I understand that by registering here,  Maker Media may provide me with updates and information about Maker Faires, other events, and products of interest to the maker community.  I understand that I may opt out of these communications at any time.
 
When & Where

Holly Hill Mall & Business Center
309 Huffman Mill Road
Burlington, NC 27215


Saturday, April 22, 2017 from 10:00 AM to 5:00 PM (EDT)
Add to my calendar
Organizer
About Alamance Makers Guild:
Alamance Makers Guild, based in Burlington, North Carolina is a 21st century organization focused on fostering community through a shared joy of making (technical to artistic, traditional to digitally fabricated, solid to virtual), learning and teaching, and creating opportunities for people from youth to retirees. We support STEM education for all.
About Maker Faire:
Maker Faire is the Greatest Show (and Tell) on Earth—a family-friendly showcase of invention, creativity and resourcefulness, and a celebration of the Maker Movement. It's a place where people show what they are making, and share what they are learning.
Makers range from tech enthusiasts to crafters to homesteaders to scientists to garage tinkerers. They are of all ages and backgrounds. The aim of Maker Faire is to entertain, inform, connect and grow this community.

The original Maker Faire event was held in San Mateo, CA and in 2014 celebrated its ninth annual show with some 1100 makers and 130,000 people in attendance. World Maker Faire New York, the other flagship event, has grown in four years to 600+ makers and 80,000 attendees. Detroit, Kansas City, Atlanta, Milwaukee, Orlando, Silver Spring, Paris, Rome, Oslo, Trondheim, Tokyo, Newcastle (UK), and Shenzhen are the home of larger-scale, "featured" Maker Faires and over 120 community-driven, independently organized Mini Maker Faires are now being produced around the United States and the world.
Maker Faire is supported by Make: magazine and Maker Media.
About Make: Magazine: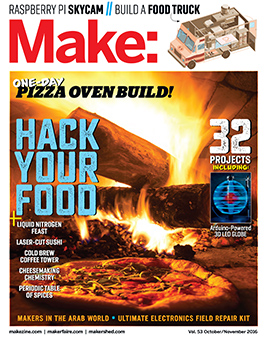 Make: is the first magazine devoted entirely to Do-It-Yourself (DIY) technology projects.
Make: unites, inspires, informs, and entertains a growing community of resourceful people who undertake amazing projects in their backyards, basements, and garages. Make: celebrates your right to tweak, hack, and bend any technology to your will.
Besides the magazine and the faire, Make: and Maker Media is: