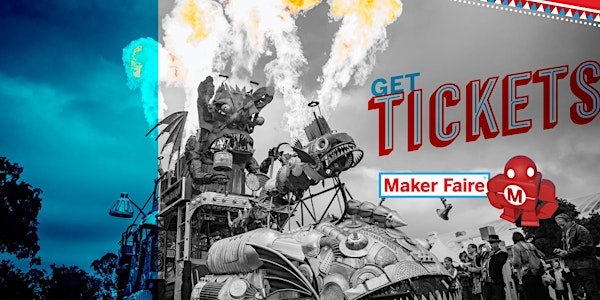 Maker Faire Bay Area—May 17-19, 2019
When and where
Location
San Mateo County Event Center 1346 Saratoga Drive San Mateo, CA 94403
Description
::: EXPERIENCE the FRONTIERS of FUN in science, art and technology at Maker Faire Bay Area :::
Immerse yourself in creative culture with over 800 exhibits and 8+ presentation and performance stages— all showcasing the creative and experimental folks who make, play, tinker and hack in areas like:
+ Robotics
+ Large-scale and kinetic art
+ Digital & analog fabrication
+ Electronics
+ Cosplay
+ Craft, fashion & design
+ Food
+ Science
+ Tools & materials
+ Much much more!
Plus TONS of hands-on making and learning with drop-in and scheduled workshops for all ages. Literally hundreds of opportunities to try tools, techniques, and materials like nowhere else!
Dates & Hours
— Friday, May 17, 2019: 1 pm – 5 pm; Special Preview Day "FRIDAY@MakerFaire"
— Saturday, May 18, 2019: 10 am – 7 pm
— Sunday, May 19, 2019: 10 am – 6 pm


Get more Maker Faire with these ticket packages:

ALL ACCESS: A three day weekend of full-on Maker Faire! Valid for entry to Friday@Maker Faire and Saturday & Sunday.
VIP ALL ACCESS: Everything "All Access" PLUS
- VIP lounge with Complimentary Beverages
- 3-day event parking
PATRON ALL ACCESS: Everything "All Access" PLUS

- Underwrites the participation of selected Makers
- 3-day event VIP parking and Priority Gate Entrance
- Entry into both Patron & VIP lounges, with Complimentary Beverages
- Maker Networking Dinner with entertainment Friday evening
- Limited Edition Maker Faire Swag
Discounts
View Maker Faire's discounts here. A variety of discounts off the full retail price including a Group/School Discount of 15% off for groups of 15+; Military Discount of $10 off all tickets. For Group Discounts on ALL ACCESS and VIP ticket levels, please email us at tickets@makerfaire.com.
More Information
Visit the Maker Faire Bay Area FAQ to get all of your ticket and Faire-related questions answered. Here are some highlights:
— Two Day Weekend Passes cannot be shared between attendees and do not include access to FRIDAY@MakerFaire.
— Single Day Passes can be used on Saturday OR Sunday, and do not include access to FRIDAY@MakerFaire.
— Tickets purchased via Eventbrite will receive an email confirmation with a link to print your eTickets from your computer. You may bring the printout of your tickets OR you may also add them to your mobile device
— No outside food or beverages are permitted through the gates unless you have special medical, dietary, or religious requirements. A wide variety of for-purchase food options will be available.
— Strollers, backpacks, and a bottle of water are allowed.
— No pets are allowed, for their safety. Service animals are welcome.
— ADA Compliance: A limited number of push wheelchairs will be available at the event site for rental on a first come, first served basis. Accessible water fountains, eating areas, and restrooms are also available.
— Parking and Transit: Bike and free off-site parking options + shuttles to the Faire will be available closer to the event.

Ticket Use Release of Liability
This contract limits the liability of Maker Media, Inc. ("MM") and its affiliates. You acknowledge that Maker Faire exhibits and activities are inherently hazardous and that risks to you as a Maker Faire attendee include physical injury and property damage. You are solely responsible for supervising/controlling the behavior of the children in your party for your/their safety. By using this ticket and/or participating in Maker Faire exhibits and/or activities, you assume all risks to you and/or your children of such, including damage, loss, harm, injury and death to your person(s) and all risks resulting from negligent instruction or supervision, and you release MM from all corresponding liability to you and your successors. Your rights are waived to any images and/or recordings you may appear in while at Maker Faire and any/all related promotional or documentary materials. http://makermedia.com/privacy

Maker Faire is a rain or shine event. No refunds or exchanges. Tickets cannot be replaced or transferred to another Faire.
Visit MakerFaire.com for more information on program, makers, schedule, transportation and much more.