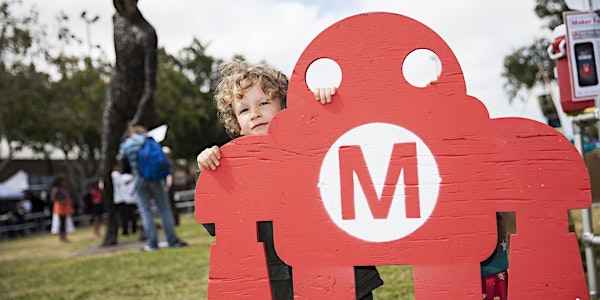 Maker Faire Bay Area 2016
When and where
Location
San Mateo County Event Center 1346 Saratoga Drive San Mateo, CA 94403
Description
Come celebrate Maker Media's 11th anniversary in the Bay Area, showcasing creative and resourceful people in the areas of science and technology, engineering, food, and arts and crafts.
Below are details about Maker Faire Bay Area 2016 to help you during the ticket purchase process. For more information about the Faire experience, visit the Maker Faire Bay Area FAQ to get your questions answered.
Getting to Maker Faire Details: http://makerfaire.com/bay-area-2016/getting-to-maker-faire
Rain or shine. No refunds or exchanges. Tickets cannot be replaced or transferred to another Faire.
Hours & Location:
FRIDAY@MakerFaire—Special Preview Day: Friday, May 20, 2016: 1 pm – 5 pm

Saturday, May 21, 2016: 10 am – 7 pm

Sunday, May 22, 2016: 10 am – 6 pm
Maker Faire Bay Area is held at the San Mateo Event Center in San Mateo, CA. View the location and map details to the right on this page.
Maker Faire Bay Area 2016 —Ticket Options & Pricing*: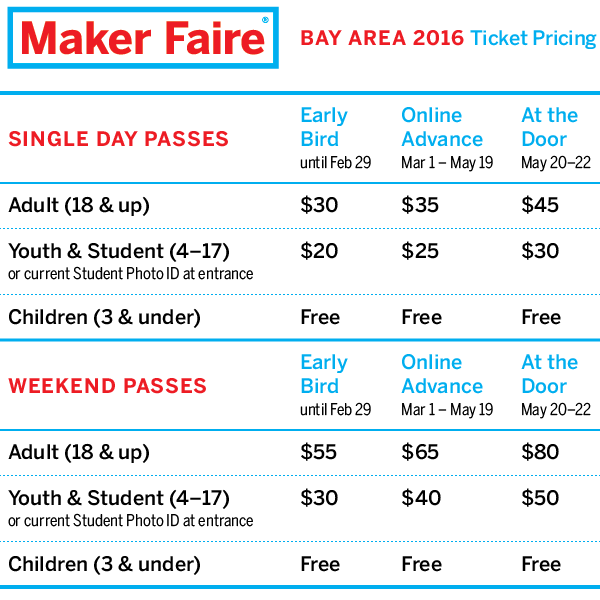 * Note: Tickets for Saturday & Sunday, May 21 & 22, do not include admission to FRIDAY@MakerFaire on Friday, May 20. Please make a separate purchase for FRIDAY@MakerFaire if you wish to attend this Special Preview Day.
San Mateo Residents: Purchase tickets in person at Whole Foods Market San Mateo. Single Day Passes (Student/Youth & Adult) for Saturday 5/21 & Sunday 5/22 on sale now while supplies last.
Discounts:
Maker Faire offers a variety of discounts off the full retail price.
— Student Discount: Students over 17 years old may purchase the "Youth/Student" ticket if they have a current student photo ID. Current student photo ID, with a ticket, will be required at the Faire entrance.
— Group/School Discount—15%: Discount for group of 15 or more. Must be purchased by May 19. Maker Faire was created for people with people! Come with your friends, family, clubs, company, posse, band, organization, etc. Just follow the directions below and have a blast! To take advantage of our group discount, tickets MUST be purchased at the same time by one person in your group (minimum of 15). Please click this link and fill out a bit of information for discount availability for groups of 15 or more. Group discounts cannot be combined with any other offer. Discount tickets must be purchased by May 19, 2016 (Midnight EDT).
— Military Discount—$10 OFF: Military Discount is good for all U.S. Active Duty (including all National Guard & Reservists) and retired military service members. Military Discount is $10 off all ticket types for Early Bird, Advance or Onsite ticket sales. Military ID will be required at the gate. Limit 4 tickets per transaction. This Military Discount cannot be combined with any other offer. To apply your military discount, please click here.
— Sunday Family Pass—$125.00: ONLINE purchase only by May 19. Your group of 5 people must arrive all together at the same entrance to Maker Faire between 10 am – 1 pm on Sunday, May 22. Sunday Family Pass attendees can stay until the Faire closes at 6 pm on Sunday. This pass is not available on Saturday. The Family Pass must be purchased online BEFORE you arrive on-site and cannot be purchased/combined with any other offers. Your "family" can consist of familyand/or friends to get to a total of 5 people. This special offer cannot be combined with other discounts, e.g., Group/School and/or Military.

More Information:
Weekend Passes cannot be shared between attendees and do not include access to FRIDAY@MakerFaire.
Single Day Passes can be used on Saturday OR Sunday, and do not include access to FRIDAY@MakerFaire.
Maker Booster Pass details available here.
Special Make: magazine Subscription + Ticket Offer: US addresses only (all 50 states). Subscriptions begin with Volume 51.
Activity Wristbands are required for ALL activities.
The name of the ticket purchaser DOES NOT need to match the ticket holder at the gate. If you would like to have the name on the ticket changed or removed, please contact tickets@makerfaire.com. Our team can assist with updating the tickets on your behalf.
Tickets purchased via Eventbrite will receive an email confirmation with a link to print your eTickets from your computer. You may bring the printout of your tickets (Adobe PDF reader required to print) OR you may also add them to your mobile device via the Eventbrite app, PassBook or any PDF Reader.
If you do not receive your email confirmation, check your spam or gray mail folder for it. If you are unable to find it, email tickets@makerfaire.com to have it resent. Please include the name and email address used to order the tickets, and your order number if you have it.
No outside food or beverages are permitted through the gates unless you have special medical, dietary, or religious requirements. A wide variety of for-purchase food options will be available.
Strollers, backpacks, and a bottle of water are allowed.
No pets are allowed, for their safety. Service animals are welcome.
ADA Compliance: A limited number of push wheelchairs will be available at the event site for rental on a first come, first served basis. Accessible water fountains, eating areas, and restrooms are also available.
Parking is not available at the San Mateo Event Center. More information about parking options and free shuttles to the Faire will be available closer to the event.
Bike parking is available at our free, secure Bike Valet lot located at the San Mateo Event Center.
Hotel information will be available closer to the event.
Don't forget to visit the Maker Faire Bay Area FAQ to get all of your ticket and Faire-related questions answered.
We look forward to seeing you at Maker Faire Bay Area 2016!
Ticket Use Release of Liability
This contract limits the liability of Maker Media, Inc. ("MM") and its affiliates. You acknowledge that Maker Faire exhibits and activities are inherently hazardous, and that risks to you as a Maker Faire attendee include physical injury and property damage. You are solely responsible for supervising/controlling the behavior of the children in your party for your/their safety. By using this ticket and/or participating in Maker Faire exhibits and/or activities, you assume all risks to you and/or your children of such, including damage, loss, harm, injury and death to your person(s) and all risks resulting from negligent instruction or supervision, and you release MM from all corresponding liability to you and your successors. Your rights are waived to any images and/or recordings you may appear in while at Maker Faire and any/all related promotional or documentary materials. http://makermedia.com/privacy
Rain or shine. No refunds or exchanges. Tickets cannot be replaced or transferred to another Faire.