Sales Have Ended
Ticket sales have ended
Thank you for registering!
Sales Have Ended
Ticket sales have ended
Thank you for registering!
World Record Holder, John Collins, shows you the tricks behind his best paper airplanes and more in 4 Weekly Sessions!
About this event
Program Details
Four 1-hour weekly sessions held on Mondays at 10am PDT starting June 15th
John's latest book that contains every plane from his world famous paper airplane show. $17.99 value FREE with sessions
You'll get John's paper airplane hangar, a series of videos teaching planes from John's books. $19.00 Value FREE with sessions
John usually charges $120 per hour for private, or semi-private classes. Four classes for $89 with a book and video instructions is a special offer through Maker Camp.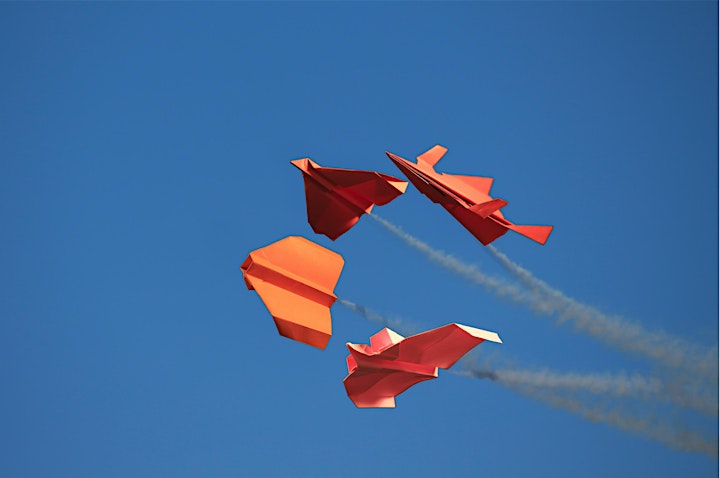 World Record Holder, John Collins, shows you the tricks behind his best paper airplanes, and teaches you how to make the world record plane. And that's just the beginning. You'll learn proper techniques along with key folding moves. You'll have a proper tool kit of folding skills, with which to start designing your own planes. What's the difference between a dart, a glider, and a stunt plane? You'll learn that too, along with throwing and adjusting tricks to make any paper airplane fly better.
Learn the aerodynamics along with the fun flying paper airplanes.
You'll learn at least 12 planes, 6 key origami techniques, proper folding techniques and some key aerodynamic principles: everything you need to start (or continue) designing your own paper airplanes. Time permitting, more planes will be added to each session. It's interactive, so ask questions, suggest models to learn, and have a great time! Fly for fun, or fly for competition. World Record Holder, John Collins reveals the secrets to making great paper airplanes.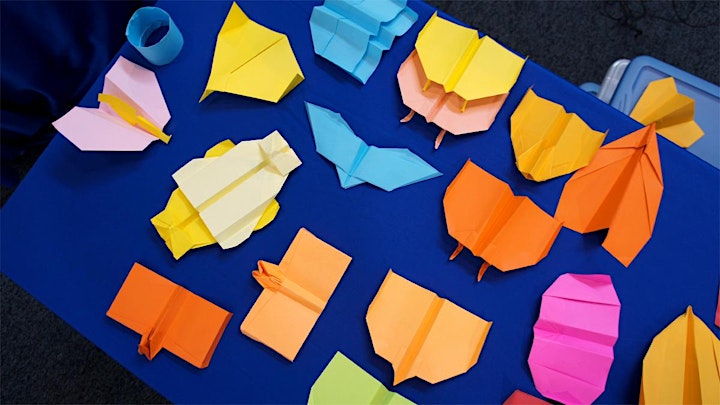 Session 1 – Intro to great planes
Meet the planes! John demonstrates some of his amazing paper airplanes and explains the science behind the fun. The Boomerang I, The Boomerang II, The Bat Plane, FFF-1, The Tumbling Wing, and more.
Campers will Learn
Basic paper folding technique
Basic Aerodynamic Forces
Adjusting Techniques
Throwing Tricks
The World Record Plane
The Plane (great glider)
The Tube
Session 2 – Level Up Your Technique
Campers will Learn
The Waterbomb Base – The key to inventing new planes
Squash Fold
Petal Fold
Sink Fold
Reverse Folds
Bonus Plane
The Swan
Interlock Dart / Interlock Biplane
Session 3 – Stunt Planes
You'll learn:
Phat Glider
The Boomerang I
The Boomerang II
Tumbling Wing
Throwing and adjusting
Aerodynamics particular to these planes
Session 4 – Performance Gliders
You'll learn
Locking Techniques to hold your planes together
Ultra-Glide
Max Lock
Phoenix Lock
Organizer of Maker Camp Paper Airplanes With World Record Holder John Collins
Make: 
i
s
the first magazine devoted entirely to Do-It-Yourself (DIY) technology projects.
Make:
 unites, inspires, informs, and entertains a growing community of resourceful people who undertake amazing projects in their backyards, basements, and garages.
Make:
 celebrates your right to tweak, hack, and bend any technology to your will. 
"The Maker movement has brought the pre-1970s world of basement workshops and amateur tinkering into the digital age."
— The New York Times