Make.Do.Sessions feat Nicole McLean of My Fabulous Boobies & Pink Fabulousl...
Description
You're invited to join us for the next Make. Do. Sessions on Saturday May 14 at 1:00pm featuring Blogger and Entrepreneur Nicole McLean. McLean started blogging immediately after she was diagnosed with breast cancer in 2008. My Fabulous Boobies began as a personal chronicle of her journey through treatment; a way for her friends and family to keep up with how she was doing. After providing a window into the life of a breast cancer patient and survivor for many years, Nicole found herself at a crossroad.
Many breast cancer blogs end after the survivor finishes treatment (or passes away). However, knowing that close to 250,000 people are diagnosed with breast cancer each year, keeping the blog open felt like the right thing to do. Therefore, the blog's tone is shifting from personal insights into broader tips and help to get through life after breast cancer. Survivorship is something that is not generally talked about in depth but it is a necessary conversation to have.
The shift in focus also helps to continue to provide inspiration as well as providing assistance for figuring out what's next after something so traumatic. My Fabulous Boobies has received several awards and acknowledgements from members of the breast cancer community. Nicole has provided patient advocacy insight to various organizations including the Susan G. Komen Foundation, GE Healthcare, Novartis and Siemens Healthcare. She has been an invited speaker to various audiences including the National Institute of Health's National Institute on Aging, WEGO Health, and Blogalicious (a blogging conference for bloggers of color). Nicole continues to blog regularly and is a multi-passionate entrepreneur with a tshirt line (Audacity Tees), and a subscription box service for survivors in pre-launch (Pink Fabulously).
About the Make. Do. Sessions.
The Make. Do. Sessions are a free monthly series featuring makers and doers sharing their stories on how they utilize resources around them to create or do something new. Sessions are part share, part show and tell and all social. The Make. Do. Sessions are created and curated by Seshat Y Walker, Creator/Chief Maker & Doer of The General Store Inc.The sessions are currently presented at Deanwood Public Library in partnership with DC Public Library.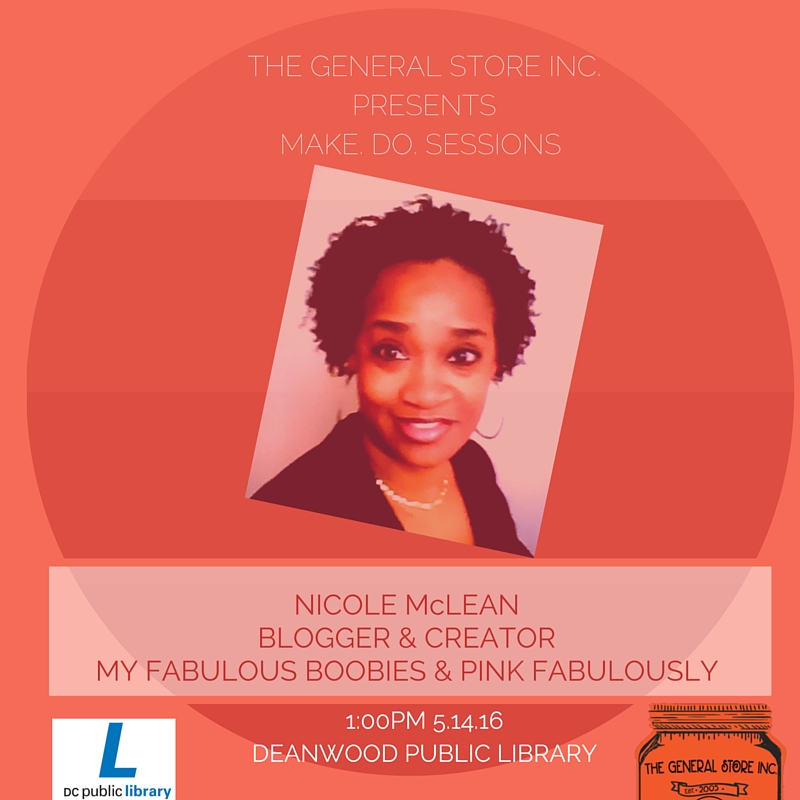 #makedosessions