Description
Make Your Own Colorful Chain Maille Pendants!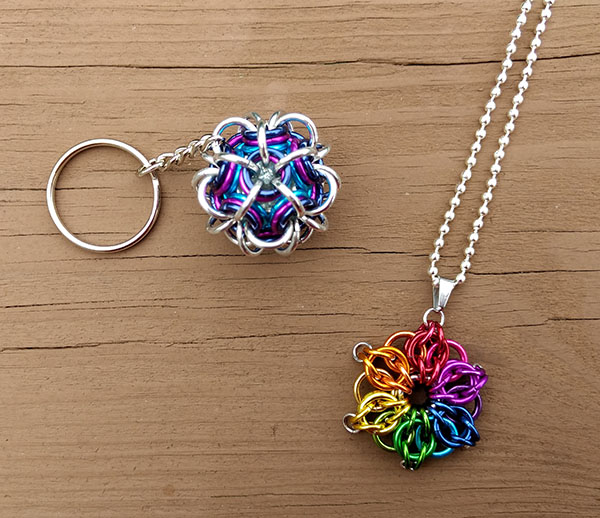 In this two hour jewelry making workshop, you will choose from over 25 colors and make two items - a Dodecahedron and a Celtic Star. Turn your pieces into your choice of pendant, key fob or holiday ornament. These introductory level projects are simple weaves and a great way to try out chainmaille to see if it's your new favorite hobby. Plus, just in time for the holiday, these patterns make great Christmas gifts! Make one for yourself and one for a loved one!
The process of creating chainmaille involves using two pairs of pliers (one in each hand), wielding them like a crab, and opening and closing split rings to create intricate patterns. It is simple and addictive. During the workshop, we will utilize anodized aluminum jump rings, a material that is lightweight, easy to work with, durable, and waterproof. Pieces stay bright and shiny with simple soap and water.
Pricing/Supplies: $30 + $2.74 Eventbrite fee. Includes materials to make one Dodecahedron and one Celtic Star, along with hardware to turn them into your choice of pendant, key fob, or holiday ornament.
Who can attend: Class is appropriate for those 12 years and older. People with arthritis or other hand sensitivities may have difficulty.
About Erin: Erin Hathaway of Split Infinity Jewelry has been working in chainmaille for over six years and loves creating intricate, vibrant jewelry in an amazing array of colors and weaves. She finds the pattern work of chainmaille to be both relaxing and intriguing, driving her to figure out new weaves and add to her repertoire. Chainmaille is a way of life, as Erin weaves while binge-watching Netflix, relaxing at the beach, sitting in the passenger seat of a car, drinking coffee with friends, and even flying on airplanes. She has also been teaching chainmaille since 2013 and enjoys showing her students the path to a newfound craft obsession. For photos of some of the pieces Erin has made, check out www.splitinfinityjewelry.com.
Questions? Please feel free to contact us with questions at any time! You can reach us by phone at 336-524-3488 or by e-mail at makerspace@steamjunction.com