Description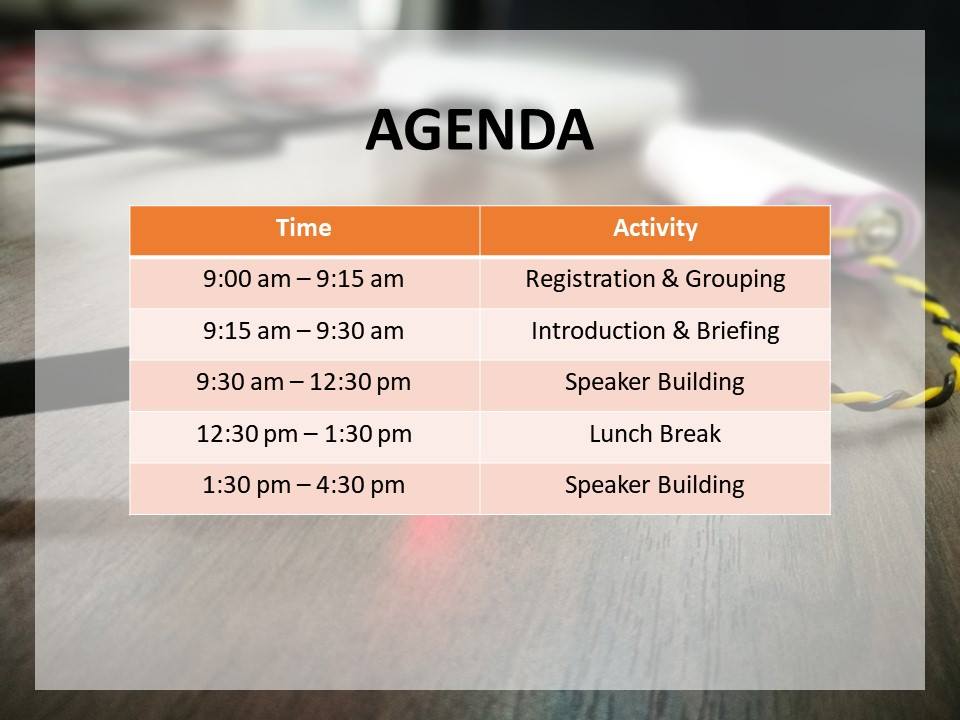 Hello there! We look forward to having you with us on this project to build your very own DIY Bluetooth Speaker!
This project will be conducted at TheGarage KL on the 28 - 29 of October 2017.
We hope that through this project that you can:
1. Gain exposure and learn more about electronics.
2. Build your own kickass Bluetooth Speaker!
What's included in this workshop?
We promise you the best components available on the market for a DIY Bluetooth speaker!
This will be a 1-day workshop in which you will be guided on building this speaker from scratch, where the process includes:
1. Soldering all electronics & troubleshooting
2. Speaker enclosure design (Spray Painting, Coating & Sharpie Drawing)
3. Full speaker assembly
All the equipment required will be provided! Even the spray paint, clear coat and tools to design, you can bring your own tools for design too!
What components are there?
1. Built in rechargeable battery with Micro USB charging port (approximately 10 hours)
2. Bluetooth 4.0 with aptX for low powered Bluetooth and high quality audio transmission
3. Class D amplifier boasts high efficiency operation for longer battery life
4. Full range speaker drivers for good sound reproduction
5. Passive radiator to boost the Bass Response of the speaker
6. Laser cut speaker enclosure made of Plywood
7. Tools for designing your speakers