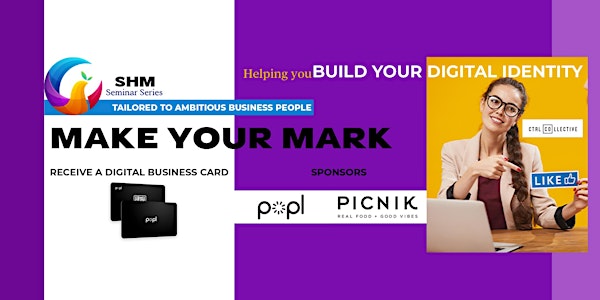 Make Your Mark
An introduction seminar and workshop to building your digital identity. Leverage the power of branding and media to make your mark.
When and where
Location
CTRL Collective Coworking & Office Space Pasadena 45 South Arroyo Parkway Pasadena, CA 91105
Refund Policy
Refunds up to 7 days before event
Eventbrite's fee is nonrefundable.
About this event
Steele Heroes Media and Envisionary Studio have developed a powerful seminar series specially tailored to provide ambitious business people and organizations with tools and insights to help leverage the power of effective branding and media strategy to rapidly accelerate the visibility and growth of their businesses.
The seminar series will include education and selected live demonstrations from experienced and seasoned professionals who specialize in market assessments, branding, photography, videography, podcasting, public speaking, social media strategy, the ingredients of "quality content", audience engagement, and much more.
This seminar is designed for all individuals seeking to dive in and/or expand their media investments.
*Receive a Certificate of Completion with a downloadable PDF file via email after attending and completing the workshops. See https://shmseminarseries.com for more details.
SPEAKERS: McCall Jones, Kennedy Phillips, Sage Polaris, Van Thu Nguyen, and Mike Kim
WHAT: A seminar to get you started on building your digital identity.
WHEN: Saturday, 30th April 2022
WHERE: CTRL Collective Coworking & Office Space Pasadena,1st floor in the Photo Studio
ADDRESS: 45 S Arroyo Pkwy, Pasadena, CA 91105
AGENDA
Welcome message by Cohosts: McCall Jones & Van Thu Nguyen
9:00am - 9:10am
The event begins with yoga and meditation instructor, Kathy Chu, to help you clear headspace and prime your mind for the seminar.
9:10am - 10:00am Meditation & Sound Bath
Speaker 1: McCall Jones
10:0am - 11:30am Introduction to photo and video as vehicles to rapidly build your brand
Receive an introduction to photography and video as vehicles to rapidly building your brand and enhancing your public reputation. Understand photography as the cornerstone of your public identity and building block of your branding. Understand video content as a "visibility multiplier" that accelerates the penetration of your branding and messaging into the marketplace. Learn how quality photography and video build trust, credibility, likability, and familiarity with your audience. Recognize your content as assets that pay-off in both the short and long terms. Content + Technology = building your audience while you sleep.
Capture your "perfect" self vs your "authentic" self. Prepare for your journey into creating your branding and messaging content; what you need vs. what you do not need. Introduction to strategic uses of your content.
Q&A
Speaker 2: Sage Polaris
11:30pm - 12:30pm From Story Telling to Story Selling
The one thing you need to start developing or refining your voice and website copy
The SEA method to turn online lookers into buyers on your website
How one brand voice misunderstanding resulted in $1.25 million in sales
Q&A
Luncheon & Connect
12:30pm - 1:30pm
It's that time to fuel your body and build relationships with other ambitious people like yourself. Attendees get served healthy menu items.
Speaker 3: Kennedy Phillips
1:30pm - 2:30pm The Flavors we tell: how to help your podcast stand out in an ocean of stories
How Kennedy got started. His story begins with him living on a sailboat for 12 yrs and how he sailed around the world with his family.
Make yourself the brand
Have a distinct flavor - storytime
The paradox of planned incompetence that the branding tactic Kennedy uses to build confidence. Allows Kennedy to be silly and fun. Find out what makes his story so compelling.
Let's cook a podcast!
Magus Elgar and Clutch A Kobold Stor-ee success & Kickstarter
Earn your audience
Q&A
Speaker 4: Van Thu Nguyen
2:30pm - 3:30pm Workshop: Build your digital identity
Learn how you can leverage the power of branding to turbocharge your PR and marketing. Case studies from clients and personal stories around how building your brand helps with accelerated goal achievement.
Gain tactical insight on digital positioning strategies. Discover how you can make a positive lasting first impression. Jumpstart your brand and create a sustainable business/brand using 360-degree branding for that premier brand experience that will get people to fall in love with your brand and come back for more.
Experiential empathic engagement - what is it and how you can use it to build great connections when you're networking.
Let's start building your brand. Van will share with you what she does to build new brands for her clients and walk you through how to do it for yourself.
You will receive an evaluation of your overall digital presence and tactics for you to enhance your digital identity as a quality individual/brand.
Speaker 5: Mike Kim
3:30pm - 4:30pm Put Yourself Out There
Be as vulnerable as possible
How being authentic protects your mental health as a public figure and how that helps you in the long game
Embrace yourself and build confidence through social media, instead of letting it tear you down.
Promote authenticity and be yourself.
Q&A
Closing Speech & Announcements
4:30pm - 4:40pm
The Podcast Experience
4:40pm - 5:00pm
Give podcasting a try. Kennedy will bring his equipment to walk you through the steps.
#SHMseries www.shmseminarseries.com
Disclaimer: Event schedule and agenda is subject to change.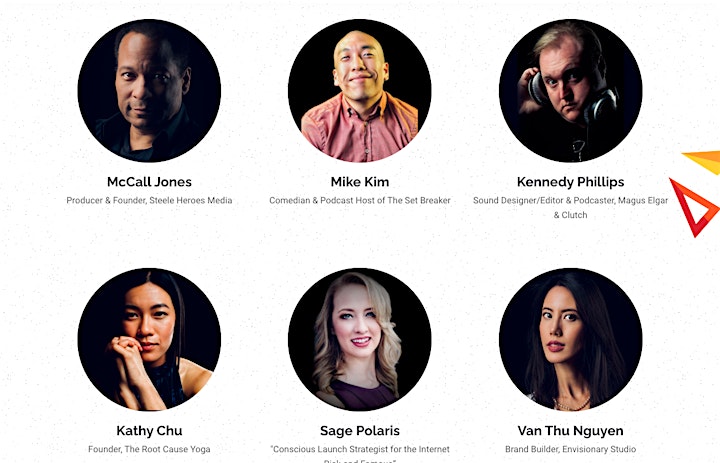 Meet our speakers
Meet our Meditation and Certified Yoga Teacher
CTRL Collective is a 2-story historic brick building built in the early 1900's at the corner of the two main arteries into Old Town: Arroyo Parkway & Colorado. Designed with a mid-century modern–meets–geometric motif, this location lends itself to the creative and technical minds of the Pasadena area. CTRL Collective website. Sign up to be a member and receive $50 off ticket price of SHM Seminar Series: Make Your Mark.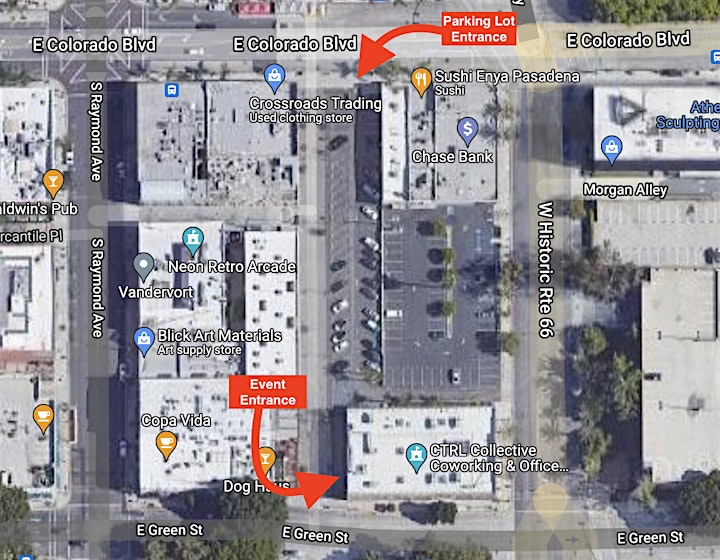 Private Parking Lot Address: 106 E. Colorado Blvd., Pasadena, CA 91105
Cost of Parking: Capped at $14/car, but $3/hour. Park using this link here or download AirGarage mobile app on iOS or Android.