Ran by Ruby L'amour, this workshop will have you giggling and learning how to do Ruby's signature make up looks all in the name of Charity.
About this Event
*To Book www.houseoftrixieblue.co.uk*
***
House of Trixie Blue Presents...
Make up with Ruby - Online Workshop for Charity (Peoples Kitchen)
***
Are you ready to get glammed up folks? Well here we go...
Ruby L'amour is Newcastle's finest Draglesque performer! She has been performing for 10 years and fine tuning her make-up look for the last 5 years and would like to show you how to do her favourite look.
In this workshop you will learn how to do a full face of make-up ready for the stage including an EXTRAVAGANT eye look. Get your brightest colours and biggest lashes at the ready!
This is a great chance to get glamorous, have a giggle with Ruby and raise money for the wonderful charity The Peoples Kitchen.
DISCLAIMER: Ruby isn't and doesn't claim to be a professional make-up artist, she has learnt tricks from the pros (and many Drag queens) and practiced to get her looks. This workshop will be based around what she does for the stage and you can adjust this to suit your style. This is all about the banter and raising money for a great charity.
***************************************
Date: Saturday 5th December 2020
Time: 2pm till 4pm UK
Duration: 2hr workshop
Price: £5 - All profits donated to The Peoples Kitchen Newcastle
Booking Essential
Online with Zoom
Charity - Peoples Kitchen - https://www.peopleskitchen.co.uk/
Please note – This is a non-refundable/transferable booking. Refund of the workshop will only be given if the class is cancelled by House of Trixie Blue directly, otherwise full payment is required.
************************************************
What to bring and what to expect:
The details about our workshop will whizz to your inbox upon enrollment on the workshop.
Please contact us to book your space today – www.houseoftrixieblue.co.uk
**************************************************
To Book:
Please head to www.houseoftrixieblue.co.uk
**********************************************
About Ruby L'amour
Resident draglesque, emolesque, glamlesque performer @ HOTB. Catch me over on insta @rubylamour with over 10 years in the burly biz.
1/5th of The Sapphire Whiskers
**********************************************
About House of Trixie Blue
Established 2006 as a music tuition company, House of Trixie Blue is an enterprise of entertainment, specialising in the art of burlesque. As we love burlesque so very much, we have opened our doors to everyone aged 18+ to get involved with burlesque however they see fit. Whether is it to attend our studio or online burlesque classes, book UK national performers for your show or perhaps attend one of our shows (always book as soon as possible, as we sell out!), there is always something for everyone under our roof. Our approachable and enthusiastic nature creates the foundation of our business, in which we strive to maintain an ethos as an accessible and inclusive burlesque entertainment company. Blue is not just a colour; it is a lifestyle.
https://www.facebook.com/houseoftrixieblue
www.houseoftrixieblue.co.uk
***************************************************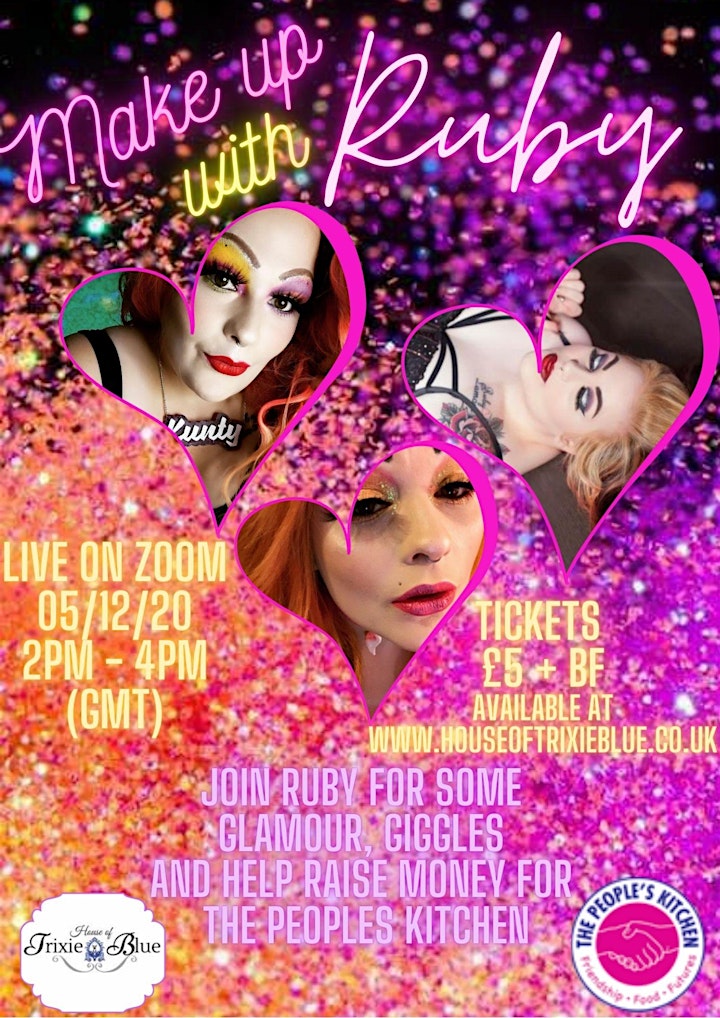 Date and Time
Location
Refund Policy