Make Retail Business & E-commerce PROFITABLE !

Wednesday, December 7, 2016 from 9:00 AM to 5:00 PM (Malaysia Time Malaysia (Kuala Lumpur) Time)
Event Details
 ARE YOU SMALL MEDIUM BUSINESSES WORRIED ..?
HOW TO GET MORE PROFITS & MORE TIME

HOW TO MORE IN CONTROL THE BUSINESS & STABILITY

HAVING HIGH STAFF TURN OVER

HARD TO GET GOOD PEOPLE

HOW TO HIRE & TRAIN GOOD PEOPLE

WANT TO SELL ONLINE BUT DON'T KNOW HOW
Program Detail 
Retail Management Seminar Series - 
Vol.05 - Are You M.B.A Ready (Marketing, Branding & Advertising)?

Part.02 - Basic Online, Offline & Mobile Marketing
Synopsis:
Many SMEs like to promote candidates who have great sales results to branch manager, and hope the branch manager can compete and be outstanding within the territory. But those candidates come without a proper marketing background. Becoming a branch manager is just like a self-employed individual running their own retail business, and they have to know how to master the key element in the business and make the brand unique and different to compete in the territory.
"Learn What Marketing is All About and Unleash the Myths of Marketing, Branding & Advertising"
Outline: (What will you learn)
With the global internet evolution, marketing has evolved from offline to online, from online to mobile, but many SMEs are still wondering and finding ways to start their internet marketing and some SMEs are trying to market on all platforms and that's not the best solution for business.
1. Instant Marketing – The Basic Five Ways
2. Choose The Right Platform for your Marketing Online / Offline
3. Why Mobile Marketing?
What you can implement in business to get benefit from the learning -
Understand Which Platform To Maximize The Return of Investment
Digital Marketing Seminar Series - 
Vol.04 - Team/Hiring/Outsourcing Structure
Part.12 - Digital Team Hiring and Outsourcing Process
Synopsis:
After understanding the difference between Online Branding and Direct Response Marketing, as well as the Resources needed for Digital Marketing Strategy implementation from the first 2 workshops in this Volume Series, companies/brand owners will need to have a framework for allocating budget. Direct Response Marketing has a different set of KPIs and objectives sought against the budget spent on Online Branding in Digital Marketing. Therefore, it is imminent that companies/brand owners to build a customized budgeting framework for Direct Response Marketing.
Outline: (What will you learn)
- What is the KPI for Direct Response Marketing
- What kind of numbers and variables needed to build a framework for Direct Response Marketing Budgeting
- How to Tie in the KPI in creating the Direct Response Marketing budgeting?
What you can implement in business to get benefit from the learning -
Define online Goals and Budgets For Online Campaigns Specific to Your Needs
------------------------------------------------------------------------------------------
Past Project - MRCA (Malaysia Retail Chain Association)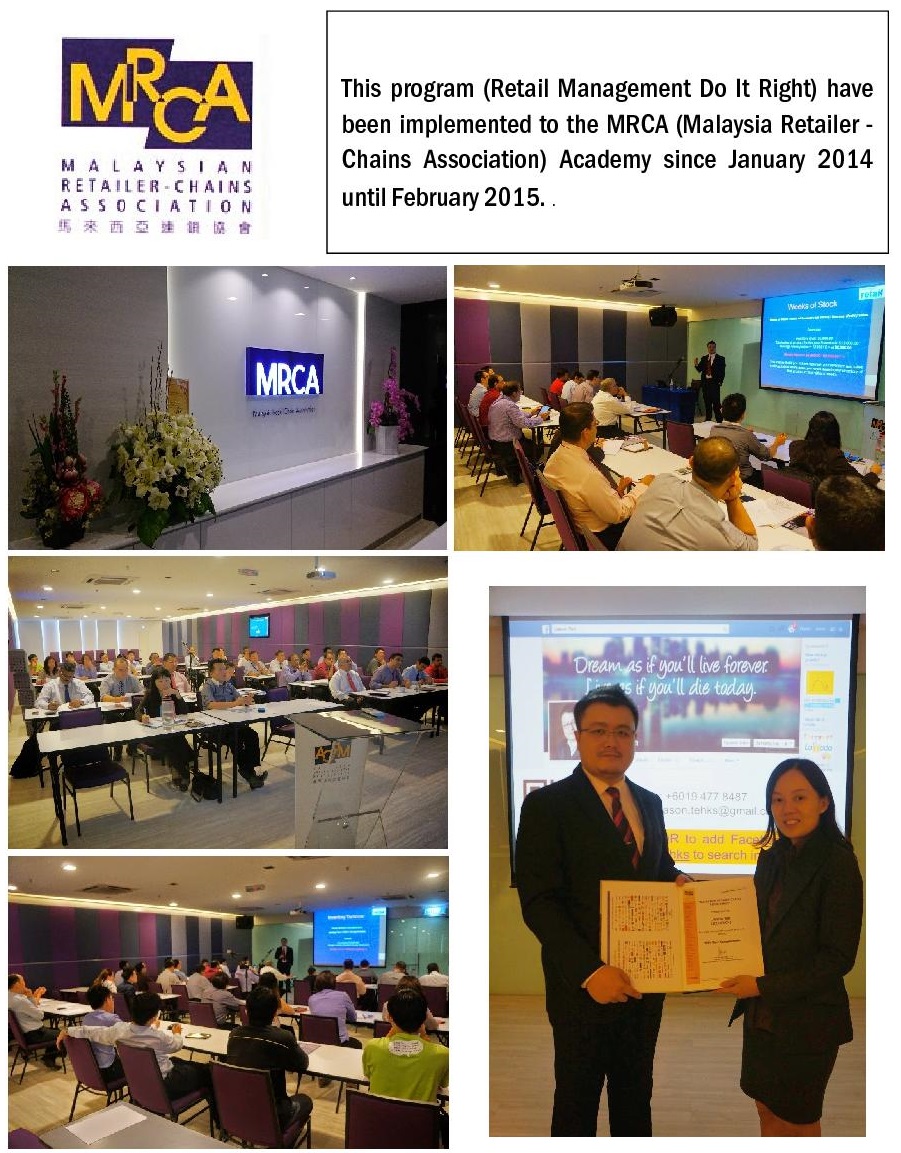 Participate Band

About The Speaker

What Do People Say About This Program...
09.00AM - 09.30AM Registration 
09.30AM - 12.30PM Retail Management Seminar
12.30PM - 02.00PM Lunch Time 
02.00PM - 05.00PM Digital Marketing Seminar
RESERVE MY FREE SEAT NOW!
We'll see you at the FREE seminar on Wednesday 07th December and we GUARANTEE this is NOT a preview session.
Register for your free seat now, to stay away from disappointment because it is going to be a full house event!
 Speak to the speaker directly: -
Mr Jason Teh - 019 4778487 (Whasaap)
When & Where

YMCA Kuala Lumpur
95 Jalan Padang Belia
Kuala Lumpur, Wilayah Persekutuan Kuala Lumpur 50470
Malaysia

Wednesday, December 7, 2016 from 9:00 AM to 5:00 PM (Malaysia Time Malaysia (Kuala Lumpur) Time)
Add to my calendar
Make Retail Business & E-commerce PROFITABLE !