Location
Nixon's Farm
2800 Nixon's Farm Lane
West Friendship, MD 21794
Description
Presents: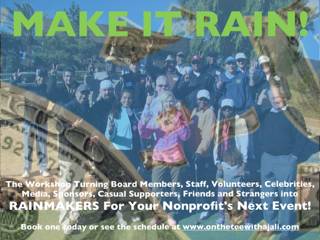 Eclipse Sports & Entertainment, a national leader in charity event consulting and production since 1999, presents a 4-hour workshop called "MAKE IT RAIN" to help make your next charity event more successful and profitable! If you're coordinating a golf fundraiser event, bowlathon, run/walk, gala, auction, dance, tennis tournament or any other charity fundraiser event, this is the best investment you'll ever make! Let us train your entire team and turn them into Rain Makers -- superheroes who can bring in loads of sponsor cash, gifts, celebrities, media coverage, auction items, participants and other value to make your event a huge success. This is a workshop to help you experience your best event ever.
"I thought I knew everything there was to know about running a golf event. I was netting $15,000 a year for my charity. I went through the workshop and they supercharged my golf event! I doubled my net profit just by implementing a fraction of the things I learned that day. I'd recommend it to anyone who wants a successful event." – James Dunning
WORKSHOP INCLUDES:
- MAKE IT RAIN training and materials from experts who have raised more than $25 million for charities nationwide.
- Incredible savings on gifts, prizes and services – made available only to workshop attendees – from the top charity event suppliers in the United States!
- Dozens of tips, plans and proven techniques for increasing your profit and decreasing your costs.
- Spreadsheets, templates and other tools to help you save time and effort and eliminate costly mistakes.
- MASTERMIND BREAKOUT SESSIONS that can increase your profits by $$$Thousands and expand your mental horizons!
- BONUS GIFTS and DOOR PRIZES.
- Networking and new relationships that can help you immensely.
A.J. Ali originally introduced this workshop in 2004 as "Supercharge Your Golf Event" and through the years, helped hundreds of events to raise millions of dollars. MAKE IT RAIN is a second edition with all new and updated material guaranteed to help you increase profits and quality for ANY TYPE OF CHARITY EVENT.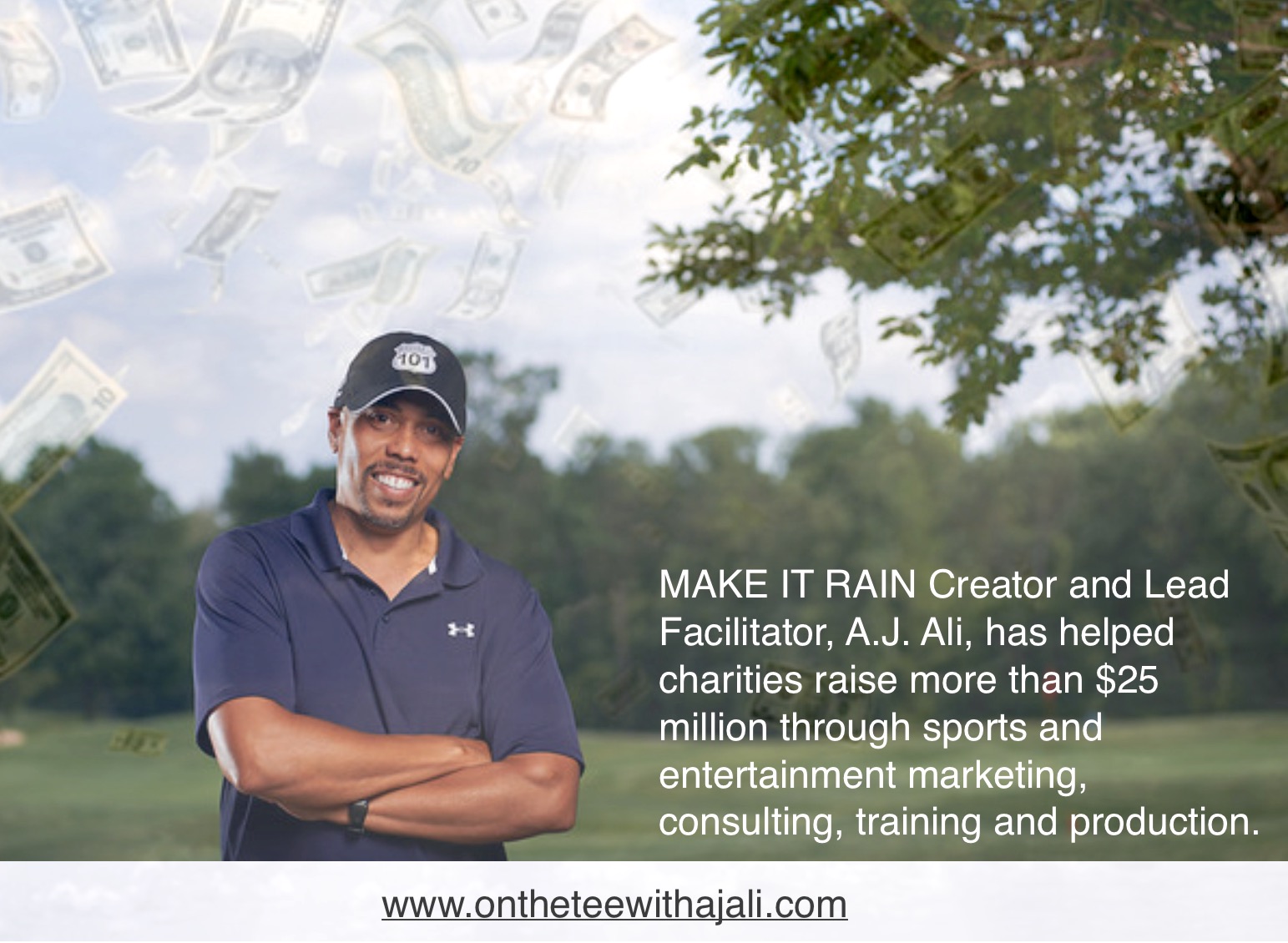 MAKE IT RAIN is an intensely powerful 4-hour workshop that has raised millions of dollars for charities nationwide. It is designed to help ANY charitable fundraising event become more profitable and successful. It will energize, galvanize and focus your team, creating an entire team of rainmakers -- with everyone having deal-closing super powers! The workshop is delivered in 4 interactive 60-minute sessions, with each session beginning with a 10-minute sponsor presentation from a company that can bring incredible value to your event, and ending with a 5-minute personal time break.
MAKE IT RAIN is the success template for any charity fundraising event including Golf Outings, Galas, Dances, Bowling, Runs, Walks, Cycling, Paintball, Swimming, Triathlons, Auctions, Dinners, Tennis, Concerts, Fishing, Raffles, Talks/Seminars, Art, Fashion, Cruises & more!
SECTION 1 - S.T.A.R.T. WITH YOUR STORY
This is where you assemble all of the narrative.
- Story -what are the reasons you exist and what must you accomplish?
- Team - who are your warriors?
- Art - how will people perceive you and the event?
- Reason - why should people support you?
- Timetable - when does it all need to happen and in what order?
SECTION 2 - CREATE YOUR SEVEN CIRCLES OF SUCCESS
Your organization, and your support structure, is made up of 7 distinct and important layers. Identifying those layers, and achieving benchmarks for each of those layers, will lead to event success. We have used this formula to raise millions of dollars for a wide variety of charitable organizations. We will teach you our proven proprietary model that will help you identify and build out your Seven Circles of Success during this hour.
SECTION 3 - MAKE P.A.L.S IN EACH CIRCLE: PARTNER ASSET LEVERAGING
Our proprietary Partner Asset Leveraging model helps you boost the power of success exponentially, turning sponsors into true strategic partners -- and turning $1,000 into $10,000, $5,000 into $25,000, or $25,000 into $100,000!
SECTION 4 - 10 STEPS TO THE GOLD
Olympic athletes train 4 years for one moment. Some of those moments are less than a minute in time. Take for example, the hundred meter dash. This special breed of athlete trains for tens of thousands of hours for one moment that lasts less than 10 seconds! These athletes are so finely tuned that many of the races come down to what happens DURING THE FINAL 10 STEPS! Charitable events are like athletes, competing for dollars. In most cities, there are several fundraising events taking place nearly every week of the year. What is it that will set your event apart from the crowd? Your event, and the two weeks surrounding your event -- that's your golden moment. Seize the gold with these 10 steps:
1. Fire up the troops for the big battle!
2. The buildup. In the week leading up to the event you should send out a daily blast highlighting one feature of the event to look forward to in each daily blast, especially auctions, raffles and other money generating activities. This is a time to get people excited, to get more people committed and to prepare everyone to BRING THEIR MONEY.
3. The show must be a spectacle - an unforgettable experience layered with excitement (but wait, there's more!)
4. Run it like a Swiss watch - there may be a thousand pieces, but all of them must work expertly, in unison to achieve one goal: To tell TIME (Treasure, Inspiration (this is where people will say "aha, here's where I can get involved!"), Movement (get commitments from the inspired), Emotion (they must leave there emotionally attached to your mission and to you)
5. Cater to your core, but make the rest feel like the best
6. Get The Money!
7. Conclude and commemorate as family (WITH A SONG!) -- We are family! I get by with a little help from my friends! Let's stay together! You are the sunshine of my life! Lean on Me! One! We Are The World!
8. OMGYSHBT (Oh My God, You Should Have Been There!) - encourage a social media explosion by giving people incentives to share their experiences, photos, etc. via social media using #whateverforyourevent
9. The Week of Wonder - This is an intense 7 days of follow up with everyone through surveys, letters, links to their photos, personal calls and emails (acknowledging what you discussed on the call and any follow up). After a week, you've missed the window. Everyone has moved on to "the next thing." Make this week count and you'll be in wonder of how much more you will raise!
10. Hold a team gathering to Conduct a Post Mortem and Celebrate Your Success.
MAKE IT RAIN is Presented By: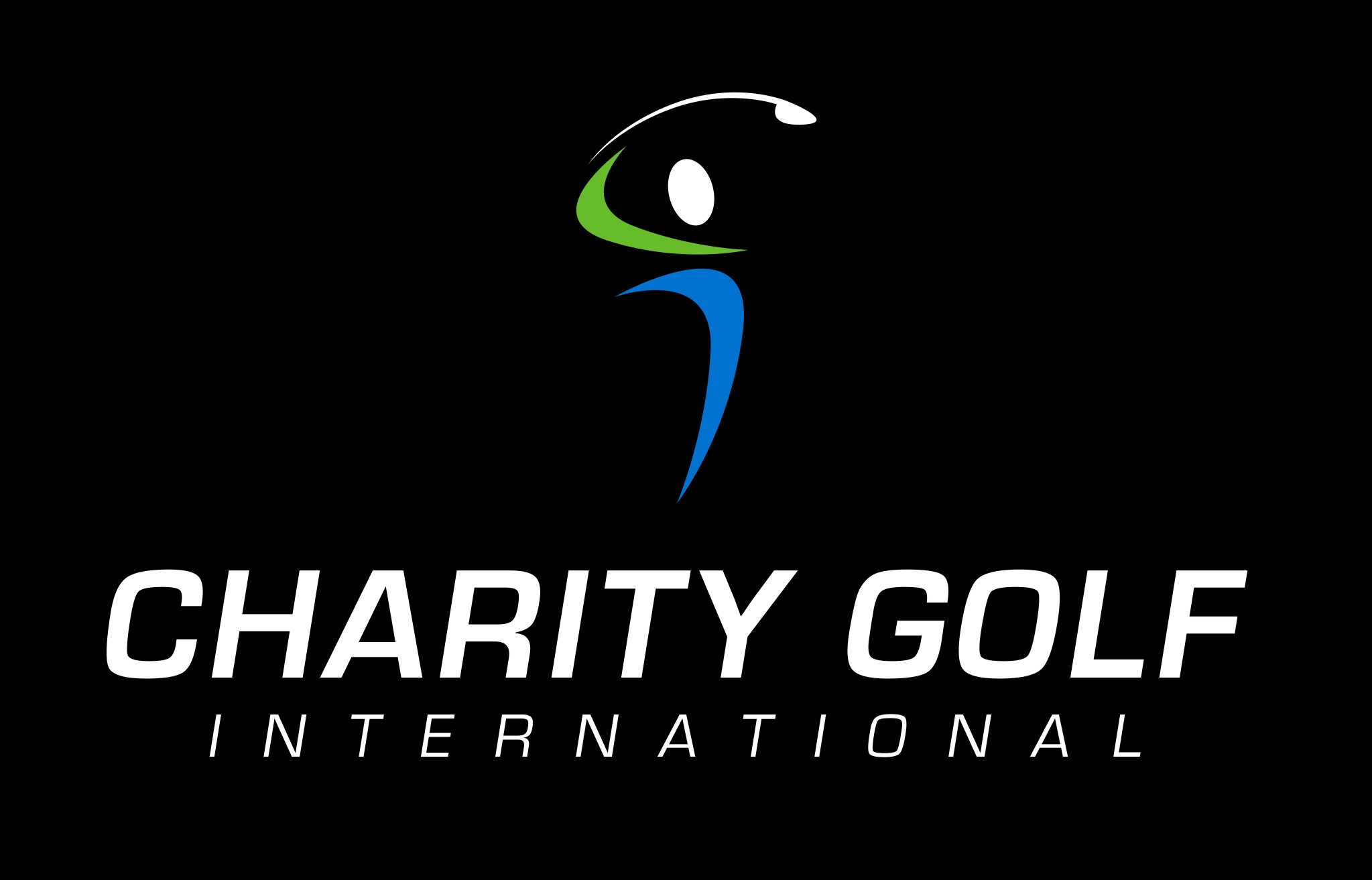 CONTACT:
A.J. Ali
"The Wellness Motivator!"
Host & Executive Producer, Wellness 101
Writer | Producer | Actor | Host
323-577-5976 or 443-463-5009
www.ontheteewithajali.com
www.wellness101life.com
Here are some sample testimonials from previous Eclipse workshops: