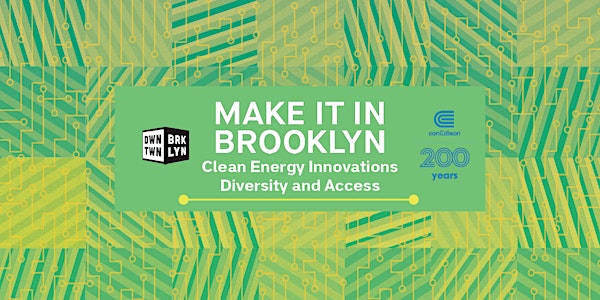 Make It in Brooklyn Panel: Clean Energy Innovations - Diversity and Access
Hear expert panelists discuss issues of diversity and access in the Clean Energy sector at both the executive and workforce levels.
By Downtown Brooklyn Partnership
Date and time
Wednesday, June 14 · 5:30 - 7:30pm EDT
Location
Gotham Market at The Ashland 590 Fulton Street Brooklyn, NY 11201
About this event
Clean energy is an increasingly important sector within green technology. As climate change becomes an urgent issue, cities are turning to cleaner solutions for sourcing power. Although climate tech and clean energy industries are on the rise, the issue of equal access remains. In 2022, Business Insider reported that at both the startup and manufacturing/labor force levels, underrepresented communities, such as women and people of color, are largely excluded from clean energy industries.
New York City, and Brooklyn in particular, have growing green tech industries. Make It in Brooklyn is presenting a panel of local M/WBE entrepreneurs and founders in clean energy, who will discuss how they are tackling the issue of diversity in the field and the need for access to foundational and educational support networks.
Join us with with brooklyn-based founders, business leaders, students, and budding entrepreneurs and learn from challenges overcome by leaders in the clean energy sector. Network with peers about renewable energy technologies and gain exposure to business resources and pathways to success in climate tech.
Moderator:
Kiana Michaan, Clean Energy Advocate, Black Girl Environmentalist
Kiana Michaan (she/her) is a renewable energy professional and climate justice organizer. She currently works on solar policy with Ecogy Energy. Kiana previously worked at Sologistics where she provided permitting, utility interconnection, and project management for hundreds of solar projects across New York City. She has also worked on intersectional climate justice storytelling with Our Climate Voices and worked with WE ACT for Environmental Justice. Kiana was a fellow with the Clean Energy Leadership Institute, is an NYC lead with Black Girl Environmentalist, and serves as a member of the advisory panel for Diversity in Sustainability.
Panelists:
Tiya Gordon, itselectric
Tiya holds 20 years experience in design, leadership, and operations across a range of disciplines for some of the country's top firms and institutions. She is now venturing to spend the next 20 years on projects that use design to wage war against the Climate Crisis.
Tiya's work has received the industry's top accolades, including The National Design Award from the Cooper Hewitt, Smithsonian Design Museum; the SXSW Innovation Award for Urban Infrastructure; the Inaugural Cannes Gold Lion for Creative Data; the Emerging Filmmaker Showcase at the Cannes Film Festival; and the designation of second most innovative design firm in the world by Fast Company.
Melina Acevedo, D.E. Shaw Renewable Investments and Latinxs in Sustainability
Melina Acevedo (she/her) is a Leadership Team Member and Partnerships Lead at Latinxs in Sustainability (LiS) and a Project Development Manager at D.E. Shaw Renewable Investments, where she manages the development of utility-scale solar projects across the US.
As a first-generation college graduate and immigrant from Peru, Melina is passionate about removing the barriers to entry for environmental jobs, particularly for students and young professionals from historically marginalized communities, and building a diverse and equitable leadership pipeline. At LiS, she is leading a workforce development program with the City College of New York, connecting students with employment opportunities throughout NYC.
Martine Lunis, Wildgrid
Martine is the Partnerships Manager at Wildgrid. She joined the team in March 2022 and manages relationships, logistics and projects involving their solar partners and the Wildgrid platform. She received her MS in Business for Social Impact and Sustainability from Glasgow Caledonian New York College. She's committed to using a career of management skills to find innovative and accessible ways for everyday people to combat climate change
Laura Fox, Streetlife Ventures
Laura is the Co-founder and Managing Partner of Streetlife Ventures, a seed-stage venture fund investing in urban climate solutions to transform sectors including mobility, waste, water, buildings, and energy. Prior to co-founding Streetlife, she was the General Manager for Citi Bike at Lyft - growing it to a $100M ARR business, while increasing female ridership from 28% to 41% and diverse riders to over 60% (and remodeling her own leadership team to 80% female and diverse). Laura deeply believes that the future of our planet and cities requires diverse perspectives and founders to create the change that we need, and is excited to be a catalyst to that.