Description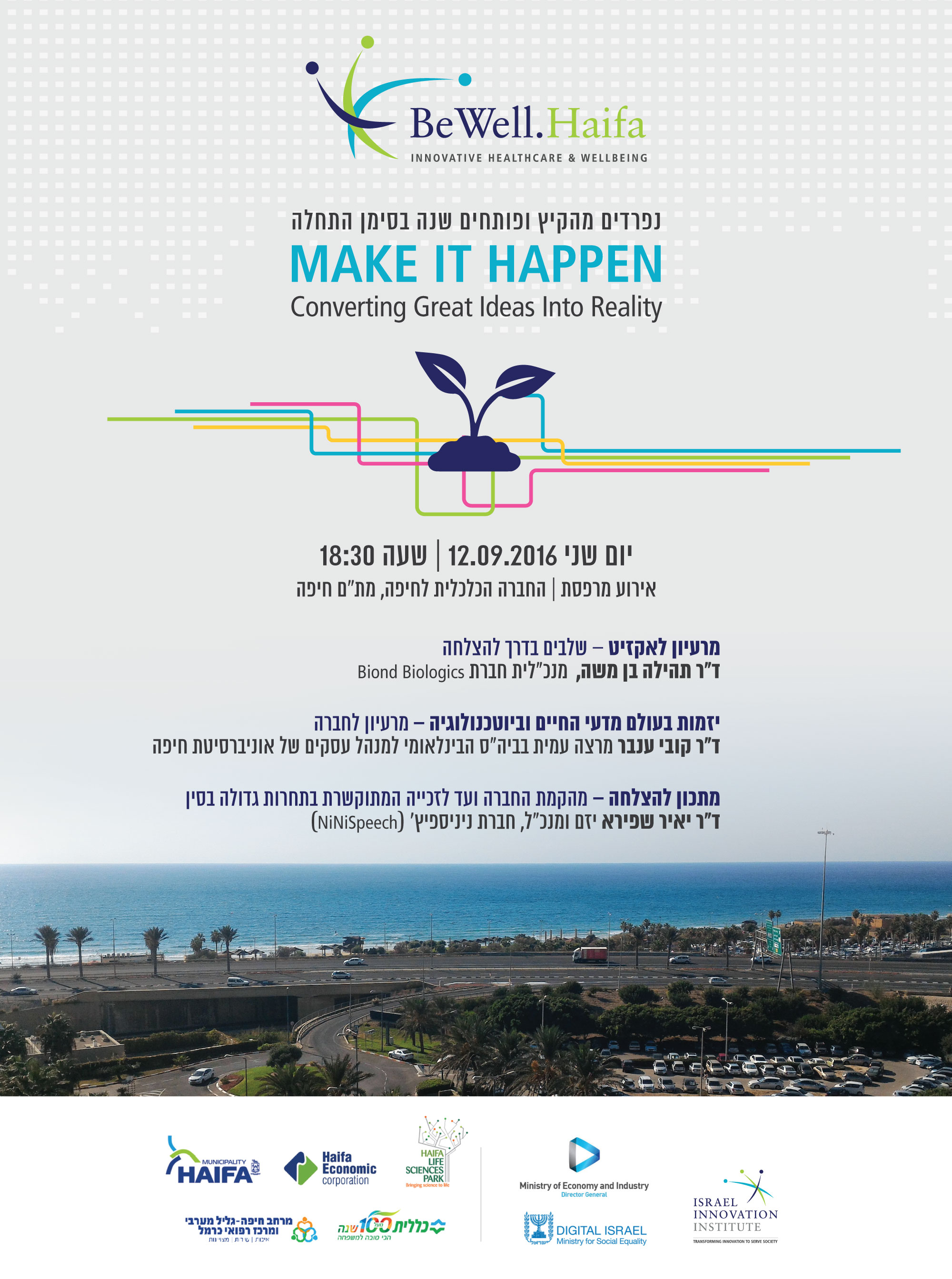 ---
על הדוברים:
ד"ר תהילה בן משה, מנכ"לית חברת Biond Biologics
לשעבר מנהלת וסמנכ"לית הפיתוח של חברת סיקאם, אשר נמכרה לענקית התרופות "מרק" ("Merck"), ב-95 מיליון דולר, סכום שעתיד לטפס עד ל-510 מיליון דולר. לפני כן, תהילה עבדה בחברת התרופות "פרוטליקס" והשלימה את לימודי הדוקטורט במעבדה של פרופ' וולך במכון ויצמן למדע. כיום תהילה מנהלת את חברת Biond Biologics, המפתחת תרופות חדשניות בתחום של אימונו-אונקולוגיה ומשתפת פעולה עם BioRap וחברת Pfizer בפיתוח תרופה אוטואימונית חדשנית.
​
ד"ר קובי ענבר, מרצה עמית בביה"ס הבינלאומי למנהל עסקים של אוניברסיטת חיפה
בעל שנים רבות של ניסיון ניהולי ועסקי בתחומי הפארמה, מכשור רפואי וביוטכנולוגיה. ד"ר ענבר הוא יזם עם פעילויות בארץ ובחו"ל ומשמש כמנהל ויועץ לחברות ולמשקיעים בתחום מדעי החיים, חקלאות וטכנולוגיות נקיות. לד"ר ענבר דוקטורט מהפקולטה לחקלאות של האוניברסיטה העברית ותואר שני במנהל עסקים (MBA) מהמרכז הבינתחומי בהרצליה. ד"ר ענבר משמש כיום מרצה ליזמות באוניברסיטת אריאל בשומרון, באוניברסיטת חיפה ובאוניברסיטה העברית בירושלים.
ד"ר יאיר שפירא, יזם ומנכ"ל, חברת ניניספיץ' (NiNiSpeech)
יאיר הקים את ניניספיץ' לאחר 20 שנים בהן שירת בתפקידי ניהול בחברות סטארט-אפ מצליחות. יאיר הוביל קבוצות עסקיות וטכנולוגיות, והחדיר לשווקים טכנולוגיות, מוצרים ושירותים בתחומים שונים. ליאיר דוקטורט בהנדסה ביו-רפואית מהטכניון. בנו של יאיר סובל מגמגום
Organizer of MAKE IT HAPPEN
BeWell.Haifa, a Israel Innovation Institute and Haifa Economic Corporation joint venture, was established to support the infrastructure of the healthcare ecosystem, to nurture growth and create real-world opportunities for all players, in- and out-side of Haifa. Whether you are a healthcare entrepreneur, investor, physician, researcher, student, or any other team-player, we invite you to join us to create and explore Haifa's multidisciplinary professional healthcare environment.