MAKE IT FASHUN! - waysted studio FASHION WEEK pop-up shoppe
About this Event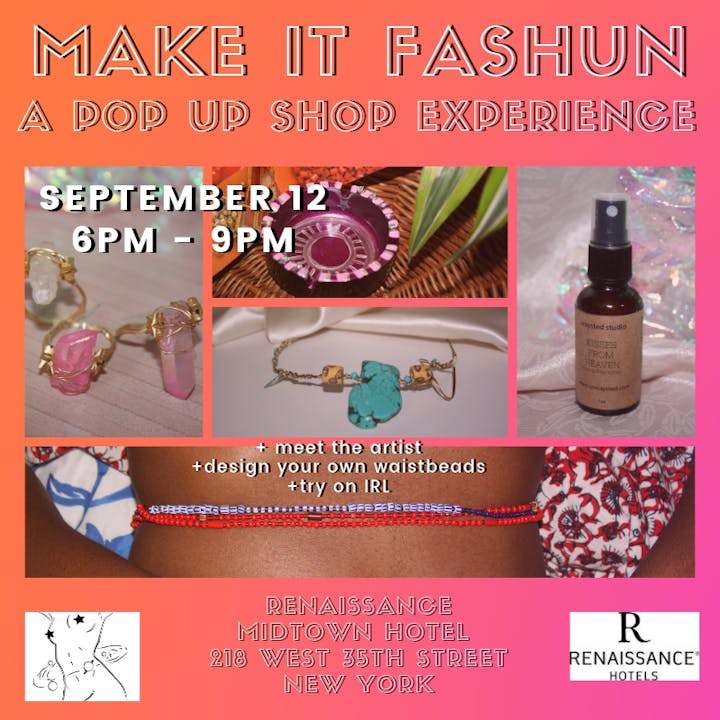 It's always waistbead season!
FASHION | CULTURE | LIFESTYLE | BEAUTY| ART | STYLE
Kick off NY Fashion Week in style with WAYSTED STUDIO - MAKE IT FASHUN POP-UP SHOPPE - an evening of fabulous accessories and delicious cocktails.
Come celebrate the launch of my exclusive ready-to-wear pieces during New York Fashion Week. Build your Autumn look with a selection of exclusive curated wearable art & self care products.
Find the confidence to start your wellness journey with WAYSTED STUDIO during an exclusive, private Fashion Week experience. Stop by after work and get your weekend started early! The event will be at Renaissance New York Midtown Hotel - 218 West 35th Street, New York, NY 10001 from 6-9pm.
Get hyped, feel body confident and go home with a special item from my new collection.
~Music, drinks and food available at the Renaissance Hotel lounge~ Bring a friend or two...see you there!
This unique pop-up shop experience features fun beaded jewelry, natural self-care goods, custom waistbead fittings and more! Come thru and let me adorn your waist in my beautiful wearable art. After all, you are a masterpiece!
ABOUT THE BRAND
Waysted Studio is lifestyle brand created to empower women everywhere. Shop unique wearable art and natural handmade self care goods all designed to adorn the work or art we call our bodies! #getwaysted with wearable art for the wyld and whimsical.