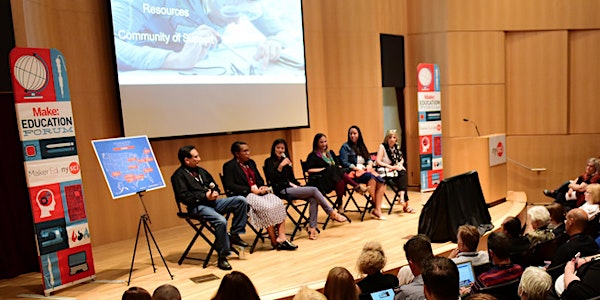 Make: Education Forum @ Maker Faire
When and where
Location
New York Hall of Science 47-01 111th Street Corona, NY 11368
Description
Make:

Education Forum @ Maker Faire

Join Make: for our 3rd annual education program focused on the leaders, influencers, and practitioners providing support, services, and programs to bring making into schools.
Co-hosted with our partner, New York Hall of Science (NYSCI), the event is Friday, September 22nd, at the New York Hall of Science from 10am to 4pm in NYSCI's Auditorium.
This year, our focus will be on computational making, rethinking professional development for maker education and how making is not just about creating a makerspace but creating a maker culture. Hear from educators, makerspace organizers, librarians, local and federal state department representatives, and youth organizations who have developed models and platforms to serve this agenda. If you are an individual who is either formally or informally supporting and/or creating project-based learning programs for kids that support general STEM areas, as educational policy makers, superintendents and principals, or youth programing coordinators, please join us.
Space is limited. Register today.
As part of your registration, you will receive one ADULT DAY PASS to World Maker Faire New York (good for either Saturday or Sunday entrance) - valued at $45.


Agenda/Schedule
9:00 am Registration Opens; Coffee; Showcase Open
10:00 am Make: Education Forum begins; Introductions from:
Dale Dougherty, CEO & Founder, Maker Media

Dr. Margaret Honey, President & CEO, New York Hall of Science
10:15 am Keynote - Making, Thinking & Creating
Dr. Kylie Peppler,

Associate Professor of Learning Sciences & Director of The Creativity Labs at Indiana University Bloomington
11:00 am Programming Paper Craft
Jie Qi, MIT Media Lab & Chibitronics
11:15 am Get Creative, Get Connected, Get Coding with Micro:bit!
11:30 am Making, Thinking & Creating Discussion
Dale Dougherty, CEO & Founder, Maker Media, Moderator
Dr. Kylie Peppler, Associate Professor of Learning Sciences & Director of The Creativity Labs at Indiana University Bloomington
Jie Qi, MIT Media Lab & Chibitronics
Hal Speed, Micro:bit
Daniel Rabuzzi, Executive Director, Mouse.org
Jason Kridner, Co-Founder & Board Member, BeagleBoard.org Fourndation
12:15 pm Making Math Visible
George Hart, Research Professor at Stony Brook University
12:30 pm Lunch and Making Activity
Kathy Ceceri, Make: Author & Educator, Activity: Make A Light Up Origami Jumping Frog
1:30 pm Making - Creating the Bridge to Inclusion
Beth Watson - WW Director Education Partner Marketing, Microsoft
Jacqueline Russell - Program Manager for Microsoft MakeCode
Microsoft Partners
2:00 pm Re-thinking Professional Development Panel for Maker Educators
Trey Lathe, Executive Director, MakerEd, Moderator
David Wells, NYSCI, Co-Moderator
Josh Weisgrau, Digital Promise
Chad Ratliff, ACPS
Lori Stahl-Van Brackle, Director of Instructional Technology, Manhattan Field Support Center/NYCDOE
Annalise Phillips, Makerspace Coordinator, NYSCI
2:45 pm From Makerspaces to Maker Schools Case Study
Luke Bauer, Principal, The Urban Assembly Maker Academy
3:00 pm Closing Remarks - Become a DK Maker

Kristen Pozzuoli, Associate Marketing Manager, Children's, DK Publishing
4:00 pm Tour of World Maker Faire
Sponsor inquiries, contact: partnerships@makermedia.com
Made possible with the support of DK Publishing and Microsoft!

Parking & Transportation: Please note there is no parking at NYSCI. We respectfully request attendees do not park in the surrounding neighborhood as a courtesy to NYSCI's neighbors during this very busy time. Please utilize public transportation for the event. Review our website, http://makerfaire.com/new-york/getting-to-maker-faire/, for more details on public transportation, ride-share, biking, etc.
Refund Policy: There are no refunds on Make: Education Forum tickets and tickets are not transferable to another Forum or Maker Faire event, including World Maker Faire.
Code of Conduct:
We are proud that the Maker community is diverse, intelligent, and collegial. Our code of conduct is intended to protect the dignity and rights of all.
We don't condone harassment or offensive behavior at our conferences, forums, or Faires. We expect appropriate behavior by all participants at Maker Media events. We invite you to help us make of our gatherings welcoming and respectful to all participants, regardless of race, gender, age, sexual orientation, disability, physical appearance, national origin, ethnicity, or religion. We do not tolerate harassment of event participants in any form—in person or online.
Examples of harassment include offensive comments, verbal threats or demands, sexualized images in public spaces, intimidation, stalking, harassing photography or recording, sustained disruption of sessions or events, and unwelcome physical contact or sexual attention.
These guidelines extend to conference-related social events at off-site locations, in related online communities, and on social media. Participants asked to stop any harassing behavior are expected to comply immediately. Participants who violate this code of conduct may be expelled from an event without a refund, and/or banned from future Maker Media events at our discretion.
Please bring any concerns to the immediate attention of the event staff or contact Maker Media vice president Sherry Huss. We thank you for your help in keeping all Maker Media events welcoming, respectful, and friendly to all participants.