Make Better Business Decisions with Analytics
Make Better Business Decisions with Analytics
About this event
Learn Best Practices and analyze trends about how customers engage with your business online, then turn insights into well-informed, actionable decisions.
Spread the word! Florida Foreign Trade Association in partnership with Millennia Atlantic University will be hosting a free #GrowWithGoogle workshop to support our local community, students, entrepreneurs. Local business owners are invited to learn how free tools & resources can help them grow. Want to promote your business online? It's easier than you might think ...
Presented by: Mr. Vicente Pimienta, Miami's Grow with Google Digital Coach.
About Grow with Google:
Grow with Google helps ensure that the opportunities created by technology are available to everyone. Since launching in 2017, we've trained more than six million Americans on digital skills. And through a network of more than 8,500 partner organizations–including local libraries, schools, and nonprofits–more people across the country can reach their full potential. To learn more about Grow with Google partners and the available tools and resources, visit google.com/grow.
#GrowWithGoogle, #GoogleDigitalCoaches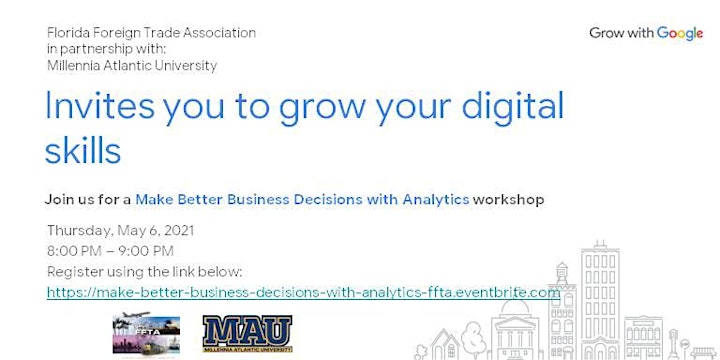 Organizer of Make Better Business Decisions with Analytics
The Florida Foreign Trade Association (FFTA) is a non-profit trade organization incorporated in July 1985 that represents the most diverse group of individuals and companies in the foreign trade.
FFTA is an effective networking organization that provides everyone an opportunity to expand their business by visiting new markets, safely and economically through its outbound trade mission program.   In addition, the association holds workshops and seminars designed to train beginners and executives in import/export, franchise opportunities and other related topics. FFTA is also known by its successful business expos and other after-hour networking events.
FFTA created the inbound trade mission TRADE-USA program in 2000. The target foreign markets for several years have been countries in Latin America and the Caribbean all part of Miami's Top 50 Merchandise Export Destinations.  TRADE-USA's objectives are to increase U.S. exports, bilateral trade, sustain/expand current key export destinations, business and investment opportunities, and the development of products/services into new markets by offering free one-on-one business meetings with foreign prospects.
For more information visit: www.ffta.com or call 305-471-0737.
Florida Foreign Trade Association
1865 Brickell Avenue | Suite A2008 | Miami, FL 33129
Phone: (305) 471-0737 | Fax: (305) 471-7636
www.ffta.com | info@ffta.com | tradeusa@ffta.com