Description
Class Description
Unlike normal pottery classes this one teaches you how to use skills that date back to the BC era, when people did not have a pottery wheels and used their hands to create amazing works of art. Normally handbuilding classes use terracotta or other kiln fired clay but in this class we will be using baking clay that can be brought home and baked in a kitchen oven. In class we will go over techniques used to create, bowls, cups and mini dishware.
Instructor Bio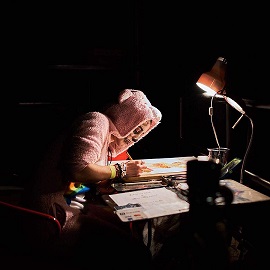 Ink is an artist hailing from Maine. Her roots of public painting began from graffitiing on walls, under bridges and abandoned buildings. She started with just a little "toy" name that complimented her love of hip-hop. From that love erupted her creative mind to branch out more; to follow her true calling, her passion and make her tools be an extension of self. Her art is more than just an expression and creative outlet, to her it is another form of entrainment. She tries to capture environmental dilemas, beauty, humor, everyday life and emotions to help people see life in her perspective.
IMPORTANT EVENT INFO
Parental accompaniment required.
Class fees : All class fees include materials.
Refund policy: 7 Days