Description
Description:
Spend a day in the Artisan's Asylum jewelry studio learning to make several rings that will impress your friends!
Starting with a simple soldered brass band ring, students will learn the basics of measuring, sawing and shaping your ring. We will introduce a rolling mill for texturing and hammers for making a decorative impression.

Moving on to stacking rings, students will make three individual sterling silver rings with small soldered decorative elements.

The final ring is a sterling silver spinning ring, to help us learn the process of convex form.
Students will learn how to make good solder seams and the fundamentals of polishing with a buffing machine and a tumbler.
Class Goals:
Students will leave the class with an array of basic metalworking skills, a basic understanding of jewelry fabrication, and several rings of their own design.
Prerequisites:
No previous experience required. Students must be at least 18 years of age.
Materials Provided:
For a $35 materials fee included in the ticket price, students will be provided with silver, brass, and consumable supplies such as sand paper, solder, drill bits and more.
What to Bring:
Notebook, magnifying glasses or reading glasses if necessary. Please wear closed-toed shoes.
Instructor Biography: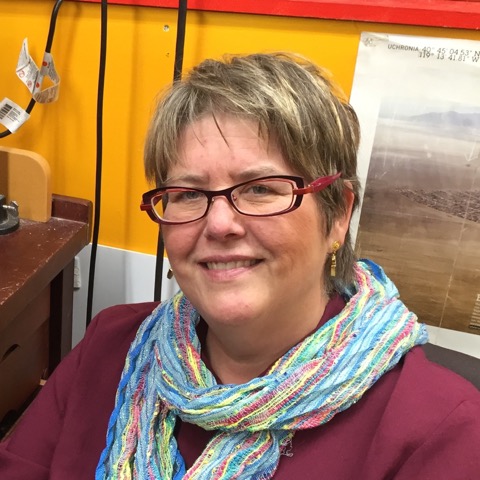 Karen Christians is an educator and maker in the metal arts. Karen holds a BFA with High Honors from the Massachusetts College of Art in 1997. From 1997 – 2000, she developed the Studio Saturdays, and taught jewelry classes and workshops at the Cambridge Center for Adult Education. In 1998, she founded Metalwerx in Waltham, a non-profit school for jewelry and the metal arts, and in 2012, the Hot Craft Jewelry Shop at Artisans Asylum in Somerville. She teaches nationally, lectures around the country, and is published in many professional and technical magazines. She is the author of two books, Making the Most of Your Flex-Shaft Her second book, Jewelry of Burning Man. Currently she is working on her third book, Jewelry of Star Trek.
Event Time:
This is a one-day workshop running Saturday, July 9, 2016 10:15am-5:15pm.
---